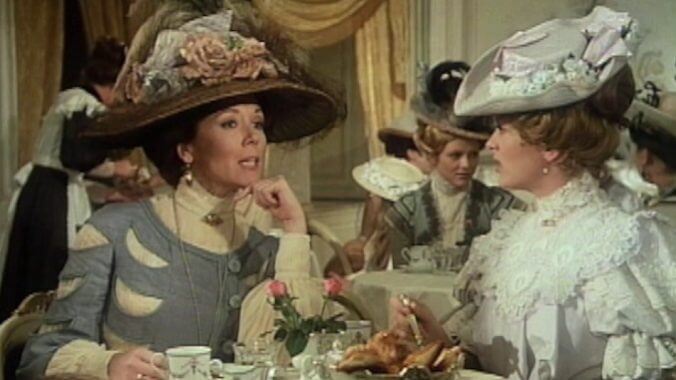 Stephen Sondheim's most emotionally ambitious musical, Sunday in the Park with George, follows the obsessive painter George Seurat as he works on his masterpiece, A Sunday Afternoon on the Island of La Grande Jatte. He dwells on the details that will lend this piece of art ageless qualities, preoccupied with transcending this moment and outliving his naysayers. Early in the number "Finishing The Hat" he describes how he is forced to "watch the rest of the world from a window." It is a summary of his style and an insight into the character's insecurity. But considering Sondheim was a proclaimed cinephile, it is also, unwittingly, a warning and instruction for filmgoers. An encouragement to interact with the form and the frame, and to consider the distance between observer and subject when identifying with the world beyond the window. But despite the composer's love for the movies, Sondheim's work remains largely confined to the stage, distinctly un-cinematic.
A Little Night Music falls into this un-cinematic bracket. After premiering on Broadway in 1973, it was immediately hailed as a masterclass in songwriting, weaving the rugged texture of regret into the overly manicured world of the Swedish aristocracy. It took no time for people to drum up buzz for a likely film adaptation. In 1977, Harold Prince's feature film was unveiled. Despite the star cast (notably Elizabeth Taylor and Diana Rigg) helping chart the overlapping romances of Fredrik, his young wife Anne and his old flame Desiree, A Little Night Music received a slew of bad reviews and remains largely forgotten (and were it not for a lone YouTuber, impossible to stream). Sondheim would later admit that he had never wanted this text to be reimagined as a film; scared of its sharpness being forcibly rounded into a blunt social commentary, he was insistent on defending A Little Night Music's untranslatable theatricality. 
Despite this retroactive distancing, Prince was one of Sondheim's most frequent onstage collaborators. As a stage director, he was consistently able to make sense of Sondheim's endless, tangential musings on art, love and sacrifice. As with all great artistic partnerships, Sondheim and Prince's relationship was partially down to luck—great material aligned with moments of personal breakthrough for both of them. But Prince's consistent skill was in imagining how people, themes and music could be physically positioned against one another to elicit the most compelling friction, letting the story unfold in ways surprising and inevitable. Think of Sweeney Todd, one of Sondheim's greatest songwriting achievements, which Prince initially passed on for its unbridled melodrama before he was able to imagine the stage as a churning, metallic, grimy analogy for the fatal impact of the industrial revolution. 
While A Little Night Music's score is shorter than many other Sondheim pieces, it packs a lot into a smaller timeframe, with the characters snidely responding to one another's lines across time and space. This was the distillation of Sondheim's counterpoint composition. Visualizing this meant juggling the moving parts of a song, putting true intentions in conversation with performance. Prince decided to introduce the principal cast by locking the existing couples in an uncomfortable waltz. This dreamy imagery would spread across the rest of the show—characters reflecting one another across the stage in a tense tête-à-tête. Desiree summarizes this direction best in "Send in the Clowns:" There will always be "one who keeps tearing around" and "one who can't move."
Yet Prince loses all interest in these characters' physical relation to one another in the film. He makes frequent attempts to mimic the interconnectedness of the stage show by starting a scene focused on a slight detail and zooming out to frame it in relation to the setting, but the result is decidedly inert, slowing the pace of each number to a halt. Instead of bearing witness to the strange, intoxicating whirl of bodies that the stage was able to nurture, film audiences are called to passively observe these people through Prince's incurious lens. For a director so willing to employ risks when imagining the musical on stage, using practical effects to reach a new scale for theatrical productions, the A Little Night Music film is driven by caution. The camera remains static, like one long run-on sentence uninterrupted by the close-ups and wide shots necessary for movie-musical language.
Bob Fosse was a musical theater talent who translated his onstage skill into filmic boldness. He successfully built on Hal Prince's success in directing the original Cabaret. Fosse's film wields the stage as a dreamlike space, bridging the gap between the audience and the darkness buried within the film. But Kander and Ebb's score, while thematically groundbreaking, remains stylistically simple. Sondheim's work remains largely devoid of snappy singles, and demands more patience from the audience, layering music together in bewildering shades. Film directors struggle to navigate this complexity, diluting the humanism of the musical's scale by misleading the audience in different ways. 
Rob Marshall's Into the Woods sacrifices gruesome lessons on the cost of adulthood to market a Disney fantasy to a younger demographic. The original production uses the heightened reality of the stage to grapple with the terrifying specter of adulthood; the Giant's footsteps reverberate through the theater rather than literally towering over the protagonists in horrifying CGI. What is lost in rendering the villain with such definition is thematic cohesion. In James Lapine's original direction, "No One Is Alone" imagines the song as a weighty response to the world of interpersonal strife: "Witches can be right / Giants can be good" they acknowledge, sitting on a darkened stage. Marshall upends this complexity through his literal interpretation.
There is more to admire with Tim Burton's Sweeney Todd: The Demon Barber of Fleet Street, including Helena Bonham Carter's wounded portrayal of Mrs. Lovett. On the surface, Sweeney Todd is a good match for Burton's gothic sensibilities. As a musical, it undoubtedly remains an outlier in Sondheim's work by following the rules of genre storytelling, but it is still a story primarily concerned with people and their prickly relationships. Burton's preoccupation with style over character muddles Sweeney Todd, turning a harrowing story of rage and loss into a gory slasher that revels in the gushes of fake blood.
To a lesser degree, A Little Night Music is guilty of flattening its unruly message into something easier for a wider audience. The original production introduces a quintet of opera singers that hangs over the tangled web of lovers, bestowing them with observations like a Greek chorus; the film abandons this choice. Instead, the movie opens at the theater, using this as an incomplete framing device, gesturing towards the heightened emotions of the stage rather than incorporating the ethereal, interpretative quality of the chorus, or combining the two as Fosse did with Cabaret. 
Going forward, there will no doubt be countless more adaptations of Sondheim's work, but perhaps none will be as successful in interpreting his source material as Original Cast Album: Company. The documentary details the trials and errors of recording the Company cast album, drawing on the small moments of clarity, affection and frustration that make art possible. Sondheim is captured throughout, belabored, waving a cigarette and offering impossibly specific instructions ("Yeah, you are doing an A there," he remarks to Pamela Myers. "It used to be an F sharp"). After a day of strenuous recording, they cut to the next day with Elaine Stritch's successful rendition of "Ladies Who Lunch". The creative team sits in the recording booth with exhausted grins. The only thing left to do is the next show. 
Ironically, Original Cast Album: Company better elaborates on the truths that A Little Night Music was concerned with: Seeking perfection is an ever-present impulse; our reliance on one another is not weakness; sometimes the only way to ascertain what we want is to slow down. Let's hope that the next director to tackle Sondheim's material will keep this in mind before reframing his world "from a window."
---
London-based film writer Anna McKibbin loves digging into classic film stars and movie musicals. Find her on Twitter to see what she is currently obsessed with.