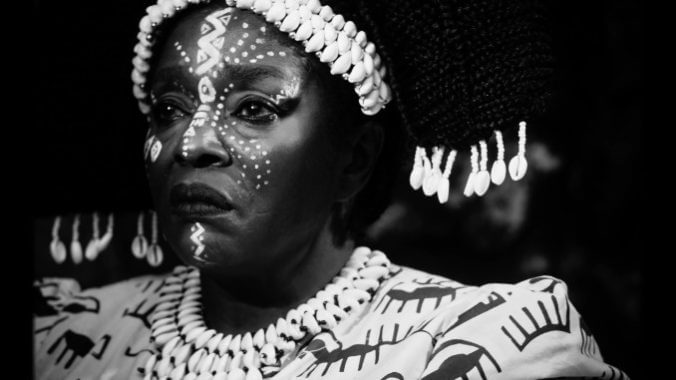 As characters debate spirituality in West African Pidgin, and lights pop to enhance a dreamy mid-forest sequence's bold black-and-white, you find yourself fully immersed in the mystic fable of Mami Wata. Stray English words and images that almost feel like they've been taken from a postcard, or seen flipping through the channels late at night, contribute to a film ready to wash you away into its uncanny world. Filmmaker C.J. "Fiery" Obasi brings us to the shoreline of Iyi, where technology stops with the tide and a religious leader is under threat. Shot with a striking, Expressionist style by the Nollywood staple, Obasi's story of a village, its water goddess, the women channeling her and the men trying to wrest control is a beautiful, stark fantasy.
Linking the lives of Iyi's residents, both those native to the village and those that keep washing up on its Elysium shores, saved from death—presumably—by the benevolence of Mami Wata, is the faith in the ocean's deity. Mama Efe (Rita Edochie) is her medium. Offerings are made to her in order for the crops to come in well, and for sick children to have full recoveries. Zinwe (Uzoamaka Aniunoh), her daughter, and Prisca (Evelyne Ily Juhen), her second-in-command, are next in line to this mystical succession, though both have their doubts about the culture's deeper truths. It doesn't help that Efe's power seems to be waning. Kids are dying, and the unseen powers of Mami Wata aren't working like they used to.
There's a thumping, crashing, mesmerizing rhythm to the film, which always returns back to the waves demarcating the town's barriers. Beyond its whitecaps are cities with hospitals. Schools. Paved roads. Iyi's skeptics, growing in number and potency after an especially egregious-feeling tribute payment, have every right to push back. It's a testament to Obasi's ability with this mythmaking that their grievances feel sound. The outside world, influenced by the West, is villainized by the religious leaders—And why shouldn't it be? Colonization paves over cultures just like dirt roads—but it also might give their children a better chance to live on, and preserve that very culture.
Until the guns show up, that is. Before Jasper (Emeka Amakeze) arrives on their shores, an outsider with a past mired in war, Mami Wata's stagey lighting, intense contrasts and flat-out jaw-dropping hair and make-up build a little corner of the world where magic is everywhere. Aniunoh, Juhen and Edochie are hypnotic, their confident debates bolstered by their elaborate, towering, complex hair, face paint and puka jewelry. The tone they strike is engrossing and unique, full of pomp and opulence—something rubbed in the faces of their peers. When the ex-rebel is rescued from the surf, that bold, stark glow fades, leaving behind the harshness of reality and its consequences.
Obasi is an impeccable visual storyteller. His crossfades are sensual, provoking our instincts—we realize a sex scene is imminent simply from the intimacy he generates with juxtaposed, chaste images. (Well, they're not chaste for long, and that's good too.) We're swept up in the visions of Mama Efe, whose relationship with her supernatural boss is facing its own troubled waters. When the tale turns to a more plot-driven narrative, with Jasper acting as the macho face of all that personifies the threats coming from within and without Africa (weapon deals with white men; a casual disregard for human life that stems from his own tragic loss), the winningly elliptical style settles into something a bit more straightforward and a bit less satisfying.
This regression culminates in a bad third-act action scene, which contains a distractingly gross moment of transmisogyny. There's an undercurrent of sexism throughout the female-led film, as emasculated men on the sidelines threaten their worldview, but the thoughtlessness with which an act of violence is deployed reflects poorly on a narrative otherwise interested in larger problems of oppression.
Mami Wata's fairy tale of tested, lost, then rediscovered faith and the dangers of inflexibility comes in the most visually stunning package possible. A well-spun myth with gilded illustrations so lovely that each is worth framing, it's full of complex moralizing and art departments working overtime to make the most of their resources. A few key performances and a filmmaker with a clear vision unite for a film that truly feels fantastical, like someone somehow snuck a camera as they were falling into a holy reverie. While it doesn't quite sustain that magic throughout its entire run, the atmosphere Obasi conjures is uniquely, empoweringly transportative—and one you'll want to revisit over and over again.
Director: C.J. "Fiery" Obasi
Writer: C.J. "Fiery" Obasi
Starring: Evelyne Ily, Uzoamaka Aniunoh, Kelechi Udegbe, Emeka Amakeze, Rita Edochie, Tough Bone
Release Date: January 23, 2023 (Sundance)
---
Jacob Oller is Movies Editor at Paste Magazine. You can follow him on Twitter at @jacoboller.
For all the latest movie news, reviews, lists and features, follow @PasteMovies.