David Byrne Dons an Iconic Suit in First Promo for Stop Making Sense Rerelease from A24
Photos via A24
Movies
News
Talking Heads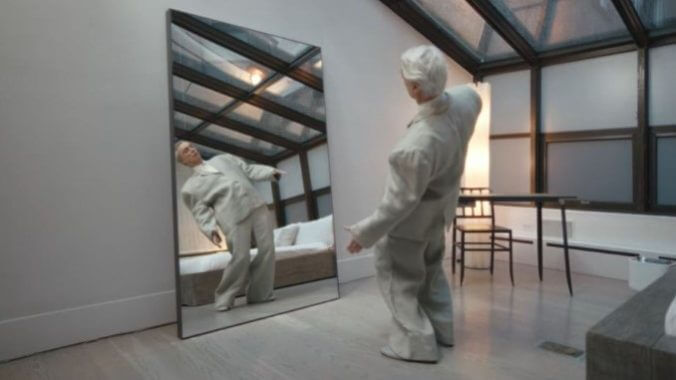 We have always been unworthy of the genius of David Byrne, and this will surely always be the case as long as the Talking Heads frontman is still among us. You have to love the way the man is willing to play with his own legacy, continuing to innovate on new musical creations while always making time to give Talking Heads fans the nostalgia they crave. And he certainly does play along on the embedded promo below, as A24 announces a major theatrical event for 2023: The rerelease of a newly remastered, 4K restoration of iconic 1984 concert film Stop Making Sense.
In the video below, Byrne can be seen visiting the dry cleaners, and savvy Talking Heads fans will likely know exactly where things are headed from there. He is of course there to fetch the famed, extra-baggy gray suit he dons through the second half of Stop Making Sense, explaining that "it's been here for a while." That suit, which adorned posters for the Jonathan Demme-directed concert film, would go on to become one of the most enduring visuals representing the band, with proportions described by costume designer Gail Blacker as "more of an architectural project than a clothing project." It's a joy just to see Byrne put it back on again, bobbing and weaving a bit in front of his home mirror.
The performances of Stop Making Sense were shot by Demme almost 40 years ago at this point, over the course of three nights at Hollywood's Pantages Theater in Dec. of 1983. Core band members David Byrne, Tina Weymouth, Chris Frantz and Jerry Harrison are featured, along with Alex Weird, Steve Scales, Lynn Mabry, Bernie Worrell and Edna Holt. Many of the band's best-known tracks are featured, including the likes of "Psycho Killer," "This Must Be the Place" and "Once in a Lifetime." And for many fans, this will be a first-ever opportunity to see the footage on the big screen, though no exact date in 2023 has yet been announced.
One thing that has been announced: Record label Rhino will be selling a new, "deluxe version" of the soundtrack on vinyl and digital starting on Aug. 18, with the first complete, start-to-finish recording of the Stop Making Sense concert. In the meantime, check out the funny video of Byrne and his newly reclaimed suit below.