Neo-Noir Thriller The Burnt Orange Heresy Adds Christopher Walken and Elizabeth Debicki
Photos by Ilya S. Savenok/Getty, Andreas Rentz/Getty
Movies
News
The Burnt Orange Heresy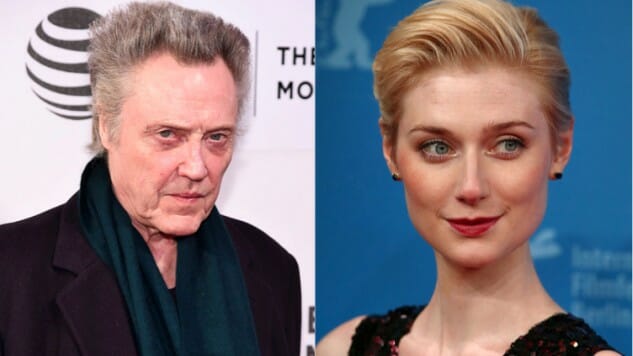 Academy Award winner Christopher Walken and up-and-comer Elizabeth Debicki have been cast in the forthcoming neo-noir thriller The Burnt Orange Heresy from a team of BAFTA- and Oscar-nominated producers. Willem Horberg of Cold Mountain and The Talented Mr. Ripley will produce alongside Rumble Films founder David Lancaster of Whiplash and Nightcrawler, and David Zander of the cult hit Spring Breakers. Stephanie Wilcox, head of development at Rumble Films, will executive produce.
In 1970 Italy, a yet-to-be-cast charismatic art critic, James Figueras, connects with a fellow American tourist, Berenice Hollis, played by Debicki. Figueras is a charming anti-hero, masking his true ambition, while Hollis is a flighty innocent American tourist enjoying her privileged life being whoever she wants to be. The lovers travel to the extravagant Lake Como estate of an art-collecting lawyer, who reveals that Hollis is a patron of reclusive artistic master Jerome Debney, played by Walken. Hollis implores Figueras to steal one of Debney's masterpieces from his studio after meeting him.
The film is classified under a neo-noir category of thriller, meaning that it is a more modern version of an old Hollywood film-noir. The film is likely to include cinematic elements such as awkward and tilted camera angles, and an emphasis on shadows interplaying between brightness and contrast. Most noir films also include themes like blurred lines between good and evil, revenge, alienation and paranoia, but a work of neo-noir is updated to involve modern issues and content.
Currently in pre-production, The Burnt Orange Heresy's international sales agent Hanway Films is looking for distribution at the 68th Berlin International Film Festival going on right now, according to THR. The film is based off of a screenplay adapted from a cult-classic novel of the same name by Charles Willeford.
"I started my career falling in love with Miami Blues, another great Willeford novel that I brought to Jonathan Demme and Mike Medavoy at Orion," said Horberg in a statement. "Making The Burnt Orange Heresy in Italy with Hanway and this talented group of filmmakers and actors is a dream come true for me, and I hope will bring back some of the magic of the films I loved growing up in the '70's."
Lancaster and Wilcox of Rumble Films added, "Reading the script for The Burnt Orange Heresy reminded us a lot of reading Nightcrawler for the first time. We love James' obsessive pursuit of fame and legacy within the context of the fickle art world, which mocks his ambition at every turn. Perhaps that says something about us as producers?"
Debicki first gained prominence when she played Jordan Baker in the 2013 adaptation of The Great Gatsby opposite Leonardo DiCaprio and Carey Mulligan. She has since been seen in The Man From U.N.C.L.E. with Henry Cavill, Macbeth with Michael Fassbender and Marion Cotillard, AMC's limited series The Night Manager with Tom Hiddleston and Netflix's recent The Cloverfield Paradox.
Walken needs no introduction, but the veteran actor is best known for his work in Catch Me If You Can with Leonardo DiCaprio, Tarantino's Pulp Fiction, Wedding Crasher with Owen Wilson, and of course his Oscar-winning performance in The Deer Hunter opposite Meryl Streep and Robert De Niro.