Exclusive: Prepare for Amazon's Adam Driver-Starring The Report with David Wingo's "Their Side of the Story"
Photos by Atsushi Nishijima
Movies
News
The Report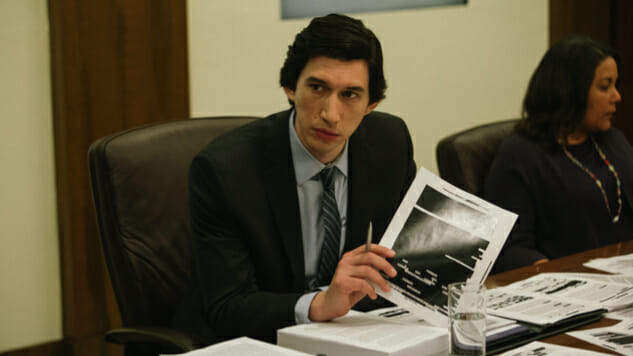 Two weeks ahead of the Nov. 15 premiere of Amazon's acclaimed political thriller The Report and release of the film's soundtrack via Lakeshore Records, Paste is doing its duty by declassifying an exclusive piece of Emmy nominee David Wingo's (Midnight Special) score for the film.
"Their Side of the Story" melds strings, keys and synths into an engrossing and tense soundscape, the kind of compelling composition that makes the process of a man compiling a 6,700-page document watchable. There's much more to those documents than simple paper and ink, of course, as The Report's synopsis explains:
The Report is a riveting thriller based on actual events. Idealistic staffer Daniel J. Jones (Adam Driver) is tasked by his boss Senator Dianne Feinstein (Annette Bening) to lead an investigation of the CIA's Detention and Interrogation Program, which was created in the aftermath of 9/11. Jones' relentless pursuit of the truth leads to explosive findings that uncover the lengths to which the nation's top intelligence agency went to destroy evidence, subvert the law, and hide a brutal secret from the American public.
Though led by the always-welcome Driver and Bening, The Report boasts an ensemble cast befitting the gravity of its subject matter, with Jon Hamm, Sarah Goldberg, Michael C. Hall, Douglas Hodge, Fajer Kaisi, Ted Levine, Jennifer Morrison, Tim Blake Nelson, Linda Powell, Matthew Rhys, T. Ryder Smith, Corey Stoll and Maura Tierney rounding out a top-notch group. The Report is only the second directorial effort from acclaimed screenwriter Scott Z. Burns, the mind behind such fact-based thrillers as The Laundromat, Side Effects, Contagion and The Informant!
Says Wingo of his career-defining score for the film in a statement:
In some ways, I feel like I'd been preparing my whole career to do the score for The Report. I've always been so drawn to the kind of tightly-wound investigative thrillers like All The President's Men and The Conversation, which this film feels like a descendant of, and the way David Shire's scores create an atmosphere of such claustrophobia, anxiety and nervous anticipation over what are essentially scenes of people talking and exchanging information, has always been such a subtly impressive and inspiring feat to me. Along with that, Cliff Martinez's work on Steven Soderbergh's films, including of course Contagion (which Scott Z. Burns wrote), have always provided a real guiding light for me in terms of his approach to composing non-traditional film music for these same kinds of intelligent, tightly-wound films. So, when I got the call about The Report and learned what the subject matter was, who was behind it, and saw a cut of the film—I really did feel like all the work I'd done led me to this point where hopefully, I had learned enough to be able to adequately write the kind of score for the type of film that has always been so important and inspiring to me both as a composer as well as a film-lover. I am endlessly thankful to Scott and the team for trusting me to provide the music for such an important and timely film as this. Having the opportunity to work on it with them was most certainly a creative and career highlight up to this point for me.
Wingo, who was once kind enough to speak with Paste about his favorite film soundtracks of all time, got started working with David Gordon Green, scoring Green's 2000 debut George Washington and the bulk of the director's subsequent features, and collaborating with Explosions in the Sky on Green's Avalanche and Manglehorn. Wingo has also collaborated extensively with Jeff Nichols, scoring his 2010 film Take Shelter and each Nichols film since, including Mud, Midnight Special and Loving. In 2018, Wingo moved into TV in a big way, scoring Showtime's Kidding and HBO's Barry, receiving an Outstanding Music Composition for a Series Emmy nom for the latter.
The Report—Original Motion Picture Soundtrack is out digitally on Nov. 15 and available for preorder via Lakeshore right here, while the film itself comes to select theaters Nov. 15 and Prime Video on Nov. 29.
Hear "Their Side of the Story," watch The Report's latest trailer and see the details of its soundtrack below.
The Report—Original Motion Picture Soundtrack Album Art:
The Report—Original Motion Picture Soundtrack Tracklist:
01. I Think I Should Start At The Beginning
02. Dan Comes To DC Pt 1
03. Dan Comes To DC Pt 2
04. Dan Comes To DC Pt 3
05. The Rules
06. Dan Gets To Work
07. Real Work Begins
08. Travelling to NYC
09. Torture
10. Dr. Nathan
11. Dr. Nathan Return
12. Gul Rahman
13. Panetta Discovery
14. Good Morning
15. Worry About Changing The World Later
16. DOJ
17. First Dead End
18. Thanksgiving
19. Whiteboard
20. Rahim
21. At Least
22. Committee Vote
23. We Knew It Wouldn't Be Easy
24. Their Side Of The Story
25. New Dead End
26. Panetta Review
27. Breaking In
28. Gonna Need A Lawyer
29. Sunlight Problem
30. Brennan Goes Public
31. IG Is Here
32. You'll Have The Pen
33. Strong Pills
34. Election Night
35. Last Stand
36. Faith In The System
37. Dan Walks Away