Adam Driver Uncovers the Truth in First The Report Teaser
Image via Amazon Studios
Movies
News
The Report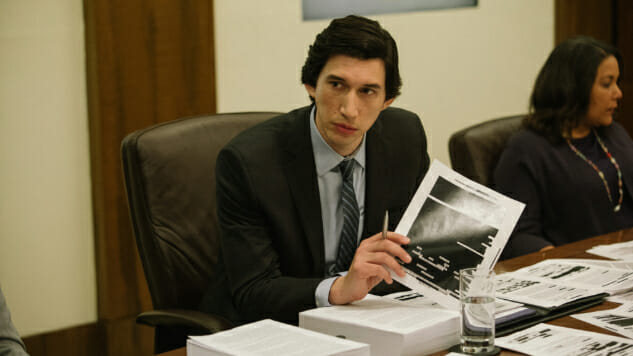 The first trailer for Amazon's forthcoming film The Report questions just how far the United States is willing to go in the name of national security. The taut political thriller, based on true events, garnered some strong awards buzz at this year's Sundance Film Festival, and it's easy to see why. Adam Driver and his castmates—including Annette Bening (The Kids Are All Right) and Jon Hamm (Mad Men)—appear to be in rare form here.
As Senate staffer Daniel Jones, Driver uncovers our government's questionable methods of intel-gathering in the years following 9/11. The film's official synopsis gives us a peek at what should make even the most naive of us a little uneasy:
Idealistic staffer Daniel J. Jones (Adam Driver) is tasked by his boss, Senator Dianne Feinstein (Annette Bening), to lead an investigation of the CIA's Detention and Interrogation Program, which was created in the aftermath of 9/11. Jones' relentless pursuit of the truth leads to explosive findings that uncover the lengths to which the nation's top intelligence agency went to destroy evidence, subvert the law, and hide a brutal secret from the American public.
"Democracy is messy," Hamm's Denis McDonough states gravely. The truth is more intense than fiction can ever hope to be.
The Report is written and directed by Scott Z. Burns, and produced by Steven Soderbergh. Fleshing out the cast are Sarah Goldberg, Michael C. Hall, Douglas Hodge, Fajer Kaisi, Ted Levine, Jennifer Morrison, Tim Blake Nelson, Linda Powell, Matthew Rhys, T. Ryder Smith, Corey Stoll and Maura Tierney.
The film will hit select theaters Nov. 15 and Amazon Prime Video Nov. 29. Check out the trailer and one-sheet below.