The Sopranos Prequel Film on the Way From Series Creator David Chase
The '60s-set film's working title is The Many Saints of Newark
Image via HBO
Movies
News
The Sopranos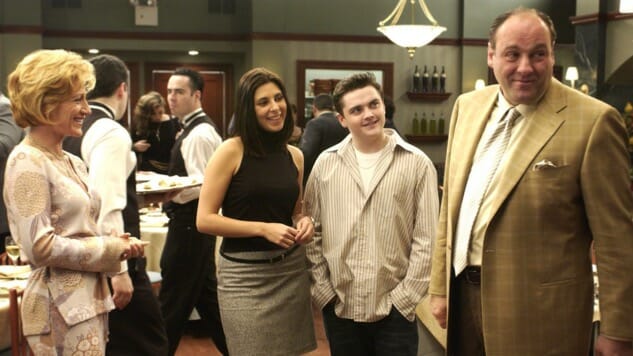 Viewers can soon return to the world of one of the greatest television series of all time: The Sopranos creator David Chase has sold a prequel film script to New Line Cinema. The screenplay's working title is The Many Saints of Newark, and it's set in the '60s, during the era of the Newark, N.J. riots, which Deadline describes as "a time when the African-Americans and the Italians of Newark were at each other's throats, and amongst the gangsters of each group, those conflicts became especially lethal." Some beloved characters from the original HBO series will appear in the film, but beyond that, plot details are being kept under wraps.
Chase wrote the prequel's script with prolific film and TV writer Lawrence Konner, with whom he also worked on The Sopranos. Chase will serve as a producer on the project, and he will have a hand in the studio's ongoing search for a director. "David is a masterful storyteller and we, along with our colleagues at HBO, are thrilled that he has decided to revisit, and enlarge, the Sopranos universe in a feature film," said Warner Bros. chairman Toby Emmerich in a statement.
It's possible that, given The Many Saints of Newark's time period, we may see young versions of certain older characters from the HBO series, including Tony Soprano's (the late, great James Gandolfini) parents, Giovanni "Johnny Boy" Soprano (Joseph Siravo) and Livia (Nancy Marchand), as well as his uncle Junior (Dominic Chianese). We may even see young Tony himself, who was portrayed at one point in the original series by Bobby Boriello.
The Sopranos ran for six seasons on HBO, airing from 1999-2007. As Deadline points out, the series "put HBO on the map, established the market for DVD sales of popular series, and won 21 Primetime Emmy Awards, five Golden Globe Awards, and Peabody Awards for its first two seasons." Paste has highlighted the series as one of HBO's best of all time, listing the series finale as one of the most shocking moments in TV history.