New Toy Story 4 Teaser Introduces Key & Peele's Characters
Image via Disney-Pixar
Movies
News
Toy Story 4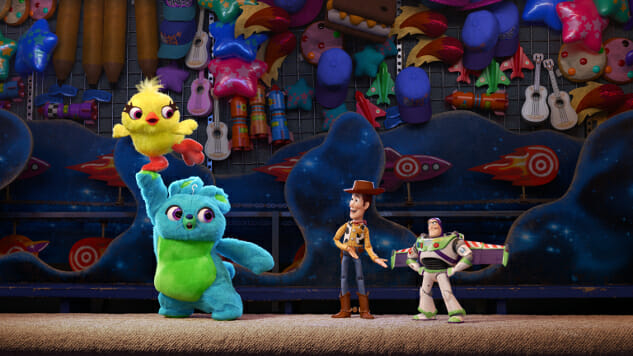 Not to be outdone by Detective Pikachu, Pixar has released a second teaser for Toy Story 4, just one day after the first. The new teaser adds two more characters to the fold, Ducky (voiced by Keegan-Michael Key) and Bunny (voiced by Jordan Peele). Toy Story 4 reunites the Key & Peele duo in voice roles for the first time since 2016's Storks. Pixar also released three new character posters today, featuring Buzz Lightyear along with new characters Forky, and Ducky & Bunny:
See 3 new character posters from #ToyStory4, featuring Buzz Lightyear (voice of @ofctimallen), Forky (voice of @MrTonyHale), and Ducky (voice of @KeeganMKey) & Bunny (voice of @JordanPeele). pic.twitter.com/DyQGTsjA1m

— Disney•Pixar (@DisneyPixar) November 13, 2018
The new teaser—labeled a "teaser reaction"—follows Ducky and Bunny as they rag on the existence of a fourth Toy Story movie, essentially recreating Key & Peele's beloved cinephile valet bit, only to meet with the original duo of Woody and Buzz Lightyear at the end.
Key and Peele's characters were also introduced to the Toy Story 4 world with the following synopsis:
Woody's journey in Toy Story 4 includes a visit to a carnival where he meets Ducky and Bunny, two carnival prizes who are eager to be won. But when their plans are rudely interrupted by Woody and his friends, they find themselves on an unexpected adventure with a group of toys who have no idea what it feels like to be tacked to a prize wall.
"Keegan-Michael Key and Jordan Peele, who voice Ducky and Bunny, are two of the most brilliant minds I've ever seen," said director Josh Cooley in a statement. "Of course, they are effortlessly funny, which would be enough. But they are incredible actors that understand story. Their improvs weren't just for comedy sake, they were story motivated which elevated Ducky and Bunny and the film to a level I never could have expected."
The duo have kept quite busy in the time since their last collaboration. Key is set to provide his voice for Disney's highly anticipated live-action The Lion King, out next year, while Peele is writing and directing the mysterious Us, his follow-up to his 2016 breakout Get Out, updates on which you can follow along with here. It was also announced in March that Netflix had snagged the stop-motion animation film Wendell and Wild, which will feature the duo's voices.
Toy Story 4 arrives in theaters on June 21, 2019.
Watch the new teaser below.