Donald Glover, Ryan Gosling Reportedly on the Shortlist to Lead Warner Bros.' Willy Wonka Film
Photos by Jamie McCarthy/Getty, Kevin Winter/Getty
Movies
News
Willy Wonka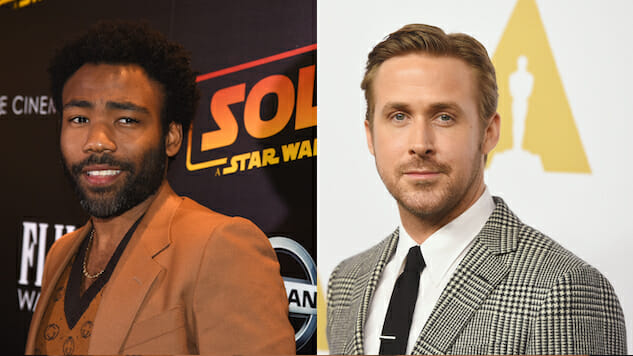 Ever since we got wind of a potential Willy Wonka film, we have been trying to figure out who might step into Gene Wilder's iconic shoes to play the titular role.
Well, according to a Collider report, Warner Brothers has begun putting together a casting shortlist for their Wonka, and it's led by Donald Glover, Ryan Gosling and Ezra Miller.
With a list this varied, we are interested in seeing what direction the studio takes for the adaptation. We have never seen any of these actors in a comparable role, and any of the three picks could send the film in a wildly different direction. We imagine it will come down to whoever can pull off the best somersault.
The film will be helmed by Paddington director Paul King and produced by David Heyman, who produced Paddington as well as many of the Harry Potter films. While there is no official word on the film's plot yet, there are rumors that it will be a prequel, moving into uncharted territory from the classic 1971 Willy Wonka & the Chocolate Factory and Tim Burton's 2005 version, Charlie and the Chocolate Factory.