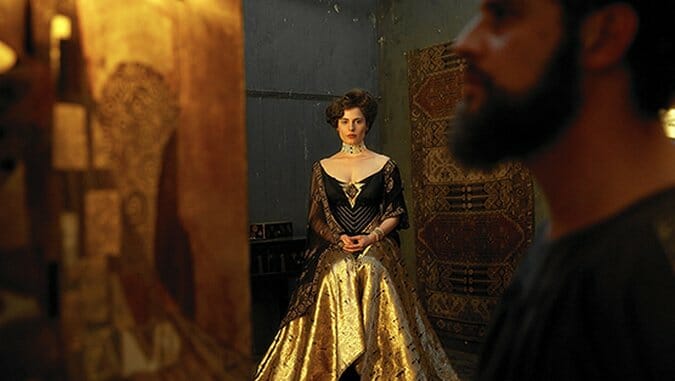 Can a single great performance elevate an otherwise middle-of-the-road movie? Judging by the recent big-screen efforts of Simon Curtis: absolutely. The British filmmaker made waves in 2011 with My Week With Marilyn, a movie held aloft by a tremendous turn from the luminous Michelle Williams, who spends the picture making everyone look better both in front of and behind the camera just by gracing the frame with her presence. The same holds true for Curtis's new film, Woman in Gold, and its star, Helen Mirren, who has so much gravitas that she can make even well-meaning but goofy genre joints like Red (and someday a Fast and Furious film, one can only hope) feel like respectable affairs.
Like My Week With Marilyn, Woman in Gold purports to chronicle a True Story, this time about Nazis and art restitution. Mirren plays the late Maria Altmann, a Holocaust survivor transplanted from Vienna to Los Angeles during World War II, who in the film's present day (1998) initiates a round of fisticuffs with the Austrian government over ownership of a portrait of her late aunt, Adele Bloch-Bauer. We see her painted by the great German symbolist Gustav Klimt (Moritz Bleibtreu) in the film's delicate, entrancing opening sequence, which details Klimt's painstaking efforts to immortalize Adele (Antje Traue) on canvas. It's a lovely and mesmeric moment, and the film might have been well served by the inclusion of more like it.
But Woman in Gold isn't about how the painting came to be—instead it's about how it came to return to the possession of its rightful owner. Maria connects with young up and coming lawyer E. Randol Schoenberg (Ryan Reynolds, very at home with his character's witticisms but less comfortable with his grand courtroom overtures) in the movie's first 15 minutes or so, and without any further preamble our odd couple strikes out overseas to try to wrest the immensely valuable painting from Austria's desperate clutches. The reasoning behind the ensuing legal battle makes intellectual sense—half a decade after the war, "Portrait of Adele Bloch-Bauer I" became something of an Austrian national treasure—but we're in Maria's corner from the start. Nobody likes Nazis, after all; it doesn't help that the people in charge of the portrait are one handlebar mustache away from verging on Snidely Whiplash territory.
Most of all, Maria is a delight. Mirren, sporting an accent that's about as close to Viennese as an English Dame can likely get, imbues Maria with pluck, high dignity and a vulnerability that's kept hidden beneath exterior reserve. She's quite a lady, but above all else, she's a link to her country's tragic past. Woman in Gold's primary plot concerns itself with the new millennium, but much of the story occurs in flashback as Maria remembers better days and darker ones overtaken by the terror of Hitler's rise to power. Curtis doesn't trust his audience to be able to tell 1930s Austria from 1990s LA, of course, and so he washes these scenes with the gloomiest, dustiest filters possible.
He has two films on his hands: a legal drama with buddy comedy sensibilities, and a standard but no less gripping Holocaust thriller, which he stolidly fuses together with all the grace of an industrial welder. In the latter, Maria is played by Orphan Black's Tatiana Maslany, cast alongside the dashing Max Irons, who portrays Maria's husband. Maslany and Irons don't have much to work with beyond the tension inherent in their characters' situations, and they make the most of both the material and their partnership. By contrast, Mirren and Reynolds have much beefier roles, but Curtis orchestrates Maria's fight to regain control over the painting in big, cheesy strokes of melodrama that belie his lack of self-assurance. His lead quibbles about going to Vienna with Randol not once but twice, and in both instances she resolves her own misgivings within minutes of presenting them. This is a movie about a landmark case of foreign sovereignty. The stakes are high enough without bowing to bad plot conventions.
Still, Woman in Gold is harmless and mildly arresting thanks to the efforts of its leads. It just doesn't rise much above being more than just half-cocked schmaltz, which is a bummer at best and an insult to Altmann's struggle at worst. Maria is (or was) an incredible person with an incredible story, neither of which deserves mediocrity in artistic representation. It's much to ask Curtis to show the same care toward his film as Klimt did toward his paintings, but perhaps he could have shown greater care than this.
Director: Simon Curtis
Writer: Alexi Kaye Campbell
Starring: Helen Mirren, Ryan Reynolds, Daniel Brühl, Katie Holmes, Tatiana Maslany, Max Irons, Antje Traue, Elizabeth McGovern, Charles Dance, Moritz Bleibtreu
Release Date: April 1, 2015
---
Boston-based critic Andy Crump has been writing about film for the web since 2009, and has been scribbling for Paste Magazine since 2013. He also contributes to Screen Rant, Movie Mezzanine, and Badass Digest. You can follow him on Twitter. Currently he has given up on shaving.