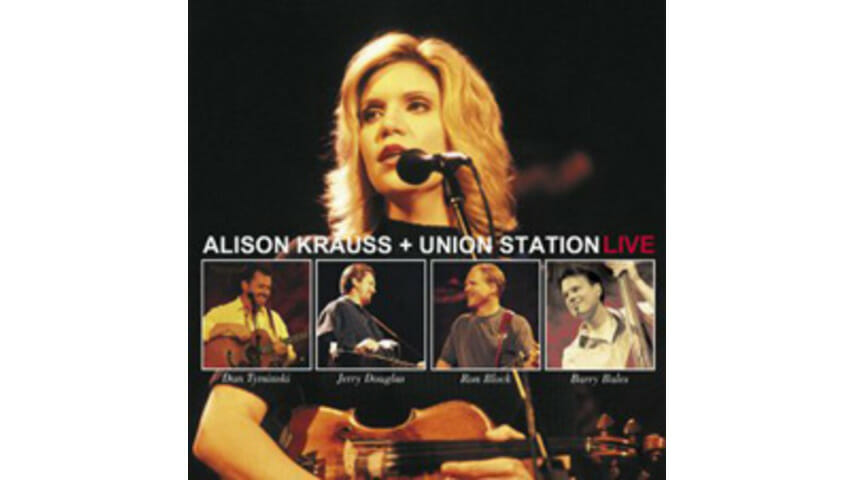 You might not think of Alison Krauss and her Union Station compatriots Dan Tyminski, Barry Bales, Ron Block, and Jerry Douglas as a power band, but the lively energy and sheer fun they have playing together certainly comes through on their studio recordings. This 25-track, two-disc project, recorded live at the Louisville Palace during the their recent New Favorite tour, highlights those aspects of the group's character.
Just enough of audience presence flavors the recording, but the real exchange with the listeners is in the music. There's Tyminski's driving take on the Civil War tale "Bright Sunny South"; Tyminski also pleases the audience with his award-winning tune from the O Brother soundtrack, "Man of Constant Sorrow." Ace dobro player Jerry Douglas offers Celtic, bluegrass, and jazz-flavored instrumentals, and Ron Block's "Faraway Land" is another highlight.
Krauss herself is especially vibrant on "Ghost in This House" and "When You Say Nothing at All," and the group concludes the evening with fresh and original harmonies on two faith-based tunes, "Down to the River to Pray" (the lone track from another gig, recorded at an Austin City Limits taping) and "There Is a Reason." Engineer Gary Paczosa vividly captures of the band's live presence, allowing even longtime AK+US fans to find new dimensions in these recordings. For new listeners, it's a great place to start.