Apple Music Lists Most-Streamed Female Artists of All Time
Plus Shazam's biggest artists of 2018
Photos by Kevork Djansezian/Getty, Mike Coppola/Getty
Music
News
Apple Music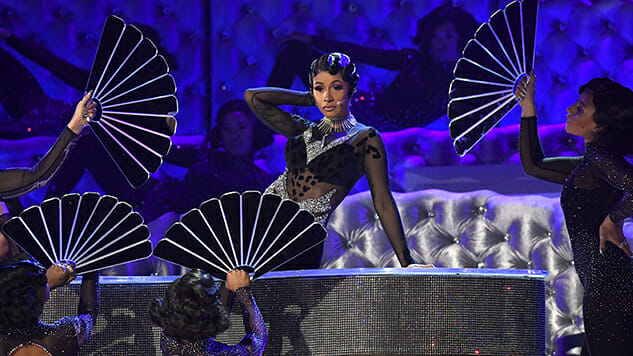 To commemorate International Women's Day, Apple Music has curated a playlist of the top-streamed female artists through their platform of all time. Additionally, the song-identifier app Shazam has released their list of the most "Shazam'd" artists of last year.
The lists reveal that the most streamed female artist of all time is Ariana Grande, with Cardi B holding the title of the most Shazam'd. The two lists naturally contain a lot of crossover between them, and perhaps even more unsurprisingly, consist entirely of pop artists.
Apple Music will continue the trend of female-centric playlists throughout the month of March with their "Visionary Women" series.
Listen to the "Top Women In Streaming" playlist through Apple Music here, and see the full list of ladies dominating the streaming scene below.
Most-Streamed Women of All Time on Apple Music:
01. Ariana Grande
02. Taylor Swift
03. Rihanna
04. Beyoncé
05. Nicki Minaj
06. Cardi B
07. Adele
08. Sia
09. Lady Gaga
10. Halsey
11. Lana Del Rey
12. SZA
13. Demi Lovato
14. Selena Gomez
15. Katy Perry
16. P!nk
17. Camila Cabello
18. Mariah Carey
19. Ella Mai
20. Billie Eilish
Most Shazam'd Women of 2018:
01. Cardi B
02. Sia (inc LSD)
03. Dua Lipa
04. Nicki Minaj
05. Demi Lovato
06. Halsey
07. Rihanna
08. Anne-Marie
09. Ariana Grande
10. Camila Cabello
11. Selena Gomez
12. Bebe Rexha
13. Beyoncé (incl. The Carters)
14. Lady Gaga
15. Jess Glynne
16. Rita Ora
17. Becky G
18. P!nk
19. Katy Perry
20. Taylor Swift