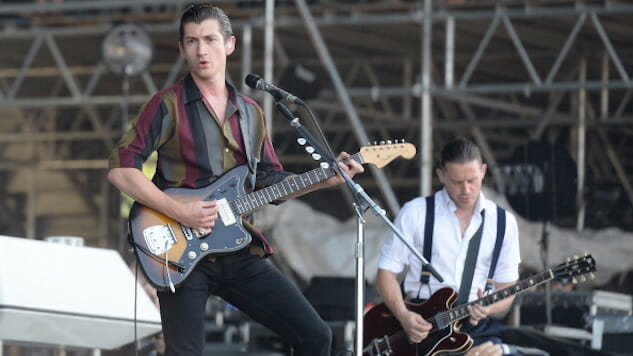 Arctic Monkeys' new album, Tranquility Base Hotel & Casino, is set to drop on May 11 via Domino Records, and thus far the band has been very secretive about its contents, hinting at new singles by only saying that they'll be coming out "soon."
While there has been no official single from the album as of yet, there is a set of videos going around that have the band performing not one, but four (yes, count them, four) new songs off Tranquility Base Hotel & Casino.
The band previewed songs from their forthcoming album during a concert on Wednesday night at the Observatory North Park in San Diego. The show marked the Monkeys' first live show in nearly four years. To honor that moment, they debuted the new material: "Four Out of Five," "One Point Perspective," "American Sports," and "She Looks Like Fun," per Spin.
To top it all off, Tame Impala's Cameron Avery joined the band onstage during the performance. Avery helped create Arctic Monkeys' new album, which also features help from members of Klaxons and Mini Mansions (per NME).
Arctic Monkeys are set to continue their ongoing North American tour, with the next show coming up May 5 in L.A.'s Hollywood Forever Cemetery. See their full tour slate right here.
Watch fan-shot video of the four new Arctic Monkeys singles down below. Then, revisit Paste's take on what we can expect from the band's new album here. You can preorder Tranquility Base Hotel & Casino before its May 11 release through the band's website.
"Four out of Five"
"One Point Perspective / American Sports"
"She Looks Like Fun"
"Four Out Of Five" / "One Point Perspective" / "American Sports"