Austra Release Video for New Song "Utopia," Announce Forthcoming Album
Photo by Renata Raksha
Music
Video
Austra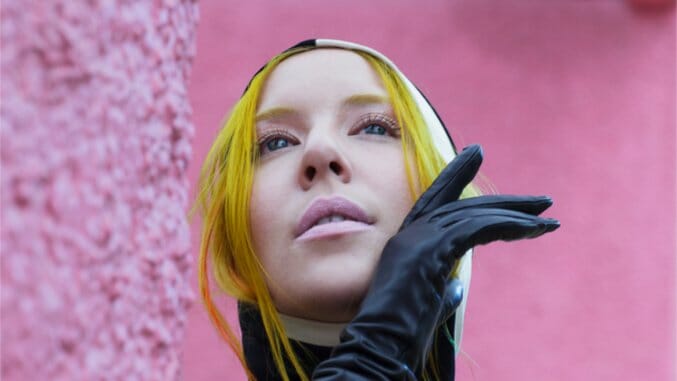 In the video for their new song "Utopia," Austra give horror an uncommonly danceable soundtrack. Singer Katie Stelmanis eats bugs while she's imprisoned in a blindingly white room, an environment which is—like Thomas More's classic utopian ideal—anything but perfect.
But Stelmanis dreams of better things. While reflecting on the grim nature of her surroundings and the world at large, she pivots to love: "But I only wanna hold your hand," she sings, and "can picture a place where everybody feels it too."
Austra have also announced that they'll release a new album, Future Politics, on Jan. 20 via Domino. The album, their third, will continue the project that "Utopia" begins: asking listeners for "a commitment to replace the approaching dystopia," Stelmanis said in a statement.
You can preorder the album in digital form here, in physical form here and on Bandcamp here. Check out the tracklist and album art below, and watch the "Utopia" video above.
Future Politics Track List:
1. We Were Alive
2. Future Politics
3. Utopia
4. I'm A Monster
5. I Love You More Than You Love Yourself
6. Angel In Your Eye
7. Freepower
8. Gaia
9. Beyond A Mortal
10. Deep Thought
11. 43