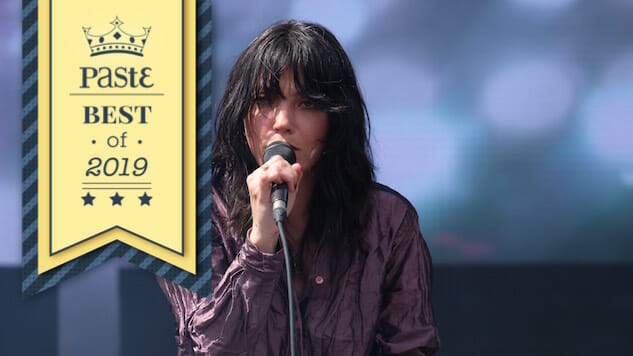 The indie rock albums released in 2019 often occupied one of two spaces: quiet and subdued, or loud and biting. Julia Jacklin's Crushing, one of our top 10 favorite albums of the year, fell on the quieter side, nearly breaching folk territory. Sharon Van Etten's Remind Me Tomorrow was droning and sometimes abrasive. But many of our favorite records of the year, like Angel Olsen's All Mirrors and The National's I Am Easy To Find, fell somewhere in the middle, as each of those benefitted from swelling strings and grand arrangements. We also heard releases from indie rock greats like The National and Vampire Weekend, proving that even as bands grow and evolve, they can stay true to the indie rock sound. But to make matters a bit confusing—the "indie rock" sound isn't just one thing. It's guitar music that fluctuates from artist to artist. Here, we have rock 'n' roll mixed in with poppier findings, folk-leaning pieces and punk records. Yet, they vary in size—not all of these are strictly "indie." So with that non-definition definition in mind, here are our 20 favorite indie rock albums of the year, ranked.
Listen to our Best Indie Rock Albums of 2019 playlist on Spotify right here.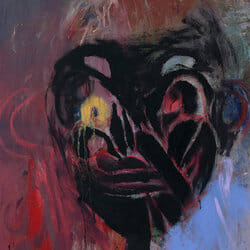 20. DIIV: Deceiver
It's easy to oversimplify the path that recovering addicts must take toward rehabilitation. From the outside, the objective is simple: Stay clean long enough and the monkey on your back eventually hops off. But the reality is that breaking the cycle of addiction is a Sisyphean endeavor that keeps those undergoing it in an eternal state of recovery—only those on the inside can fully understand its tribulations. Zachary Cole Smith—the central voice behind DIIV—has long been on the inside of addiction. After the group released their sophomore album, Is the Is Are, Cole entered a long-haul inpatient treatment for heroin addiction, a struggle that became public in 2013 when he and his then-girlfriend Sky Ferreira were busted for possession. Cole's experiences in rehab became the inspiration for the group's latest record, Deceiver, and while the album displays the group's darkest sound yet, it also ends up being their most earnest. The wider, dynamic sound texture across Deceiver is one of the most apparent improvements from past records with a clear, crisp approach that avoids sterility. The album's epic closer, "Acheron," shows just how much life good production can breathe into a song when it explodes into a gigantic finale of fuzz. The sound matches the scope of blackgaze contemporaries like Deafheaven—who DIIV have toured with—without crossing the threshold into metal. Nonetheless, the lush, sometimes crushing instrumentation speaks to the daunting task Cole has undergone to restore himself. —Hayden Goodridge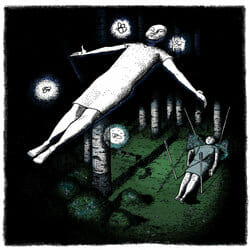 19. Great Grandpa: Four of Arrows
On their 2017 debut Plastic Cough, Seattle five-piece Great Grandpa took a good-humored, often light approach to grunge. For their sophomore effort, however, the group traded tales of zombies and pizza for darker, more personal lyrics and a more streamlined grunge-pop sound. However, they're not content to remain loyal to just one sound here: "Digger" is teeming with '90s-inspired ambience, the banjo-featuring "English Garden" floats like a modern indie-folk classic and "Mono no Aware" is hardly classifiable, but it's oblique and melodic not unlike a Palehound tune. The best lyric on the album just might be the first on hearty pop-rocker "Bloom": "I get anxious on the weekends / When I feel I'm wasting time / But then I think about Tom Petty / And how he wrote his best songs when he was 39." And the chorus that follows is even better—and more to the point that growing up yields beauty: "And let your spirit bloom / Step into whatever you want to." Now there's a command we can get behind. A few songs before the album's end is a soaring piano number, "Endling," that'll make you think you've been sitting through a period piece film as opposed to an album. That's just the magic of Four of Arrows—it's visceral, from start to finish. —Ellen Johnson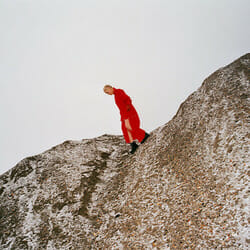 18. Cate Le Bon: Reward
Cate Le Bon's Reward cleaves into two distinct halves, one that pulses with ideas and legible emotions and another that wanders, sputters, and jars under a pretense of free-associative experimentation. In her previous work, the Welsh musician has purveyed left-of-center, dreamy yet slightly discordant psych-folk. Blessed with both a classically gorgeous voice and an ear for friction and quirk, Le Bon uses her silken vocals like a decoy, teasing low-key balladry while guitars, horns and xylophones abrade together in the production. Reward's more illuminating songs clock the malaise of living in a techno-capitalist proto-dystopia, our psyches warped by devices through which we send nudes but don't talk. It's a status quo that's both decaying our souls and reigning very much supreme, and these songs register ambient anxiety that pricks the brain like a migraine that won't go away. Thanks to her zeal for odd sonic experiments, Le Bon effectively transposes that jarring state of consciousness into sound. —Annie Galvin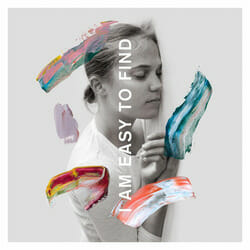 17. The National: I Am Easy To Find
For all intents and purposes, Matt Berninger is a New Yorker. He's been there long enough to write about the city with authority. So when he sings "You were never much of a New Yorker / It wasn't in your eyes," alongside This Is The Kit's Kate Stables on the title track of The National's new album, I Am Easy to Find, he knows what he's talking about. But for the first time in quite a while, Berninger went back to his hometown of Cincinnati on "Not in Kansas," I Am Easy to Find's keystone track. Instead of writing about his negative memories of the place ("I never married but Ohio don't remember me" he sang on 2010's "Bloodbuzz Ohio"), he experienced firsthand how both he and the Midwest had changed, particularly since the election of Donald Trump, launching into a full and abstract stream of consciousness about his journey home. From the plucky and frenzied guitars on lead single "You Had Your Soul With You" to the pulsating percussion of fan-favorite "Rylan" to the dazzling orchestral strings on album closer "Light Years" (another track that could be argued as one of The National's best to date), I Am Easy to Find doesn't radically change the formula they developed over the past couple of releases, but it nearly perfects it, resulting in a record as elegant as the suits Berninger routinely wears onstage. —Steven Edelstone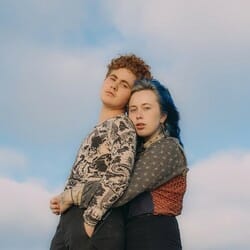 16. Girlpool: What Chaos Is Imaginary
Listening to Girlpool's startling 2015 debut Before the World Was Big felt like digging into a bag of saltwater taffy, unwrapping small portions that were taut, sticky sweet, and a little bit briny. On "Ideal World" and "Crowded Stranger," Harmony Tividad and Cleo Tucker sang in bright unison, delivering lyrics about the tribulations of teenager-hood through the vocal equivalent of a forced smile. On its third album, What Chaos Is Imaginary, Girlpool has given the music room to stretch out, inflate and generally take up more space—not just in total running time but also in thematic scope and instrumental accompaniment. What Chaos was produced by David Tolomei, who has engineered records for Beach House, Daughter, Torres, and other groups known for summoning darkness through bold vocals swirled into maelstroms of electronic noise. The album thickens Girlpool's sound by adding drum tracks, synthesizers, and even a string octet on the title track. Dreary, sustained organ chords have become a sonic hallmark, as have grungy guitars and multi-tracked vocals trudging forward at a dour pace. (The cut "Minute in Your Mind" exemplifies this tendency.) In many ways, this new aesthetic suits Girlpool's evolution: from a point-of-view that was unabashedly adolescent to a phase of young adulthood often processed through wandering rumination rather than pithy, sarcastic takes on life. But this newfound expansiveness comes with certain drawbacks, for pulling something into new and bigger shapes risks stretching the material thin. —Annie Galvin

15. Kevin Morby: Oh My God
Kevin Morby is not religious. Yet by his own admission, he has made a "non-religious religious record." Oh My God, the dizzying and fantastic fifth album from the increasingly prolific folk-rocker, is preoccupied with the language of exaltation, from its gospel-choir refrains to its outrageous album cover, which depicts Morby, shirtless, posing beneath a famous painting of Saint Cecilia playing piano for the angels. Somehow, none of this scans as ironic or overtly hokey: When Morby sings lines like "Dear God, please forgive me" three times with a children's choir accompanying him on "Congratulations"—and then caps that off with a searing guitar solo worthy of a Springsteen climax—it's hard to believe he is a nonbeliever. Morby's previous work, particularly the back-to-back Singing Saw (2016) and City Music (2017), has been frequently compared to the singer-songwriter greats of the 1970s, notably Bob Dylan and Leonard Cohen. Oh My God has a ramshackle energy to it, as well as a distinctly vintage instrumental ambience, that's likely to encourage such comparisons. The pianos crackle; the organs rumble and groan (see: "Nothing Sacred / All Things Wild"); everything has that fuzzy analog glow. Oh My God also has a certain unabashed exuberance that's uncommon in circa-2019 indie rock. You can hear it in the church-choir backing vocals, in how Morby shouts "Oh! My! God!" throughout "Piss River," pausing to let each syllable hang in the air. Some records demand to be heard with headphones. Oh My God is not one of them. I first heard the album shortly after being laid off from a newsroom job, which meant Morby's music was ringing out loudly in my empty apartment instead of piping into my headphones on an overcrowded subway. This seemed to suit its messy, god-obsessed exuberance: Let it ring out wherever you can. If any actual believers were within earshot—well, that's fine too. —Zach Schonfeld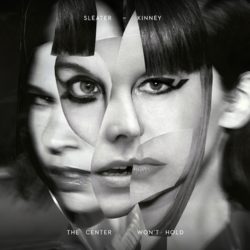 14. Sleater-Kinney: The Center Won't Hold
There is no room for nostalgia in Sleater-Kinney's reunion. The band's excellent 2015 reentry point, No Cities to Love, was not exactly a rote run-through of past glories. And the trio (now duo) did not spend 2017 going around playing Dig Me Out on some obligatory 20th anniversary run. It barely even feels like a reunion at this point—how has this band not always been here, making its bass-resistant racket and soundtracking our slide into right-wing authoritarianism? Like 2005's The Woods, The Center Won't Hold finds Sleater-Kinney bringing in a big name producer to jolt their routines and play more than a symbolic role in the record-making process. Except this time, the friendly intruder is art-rock maestro St. Vincent, not Dave Fridmann. And unlike The Woods, which was largely tracked live—all the better to reimagine the band's sound as a ferocious Zeppelin-esque roar—Center finds Sleater-Kinney more inclined than ever to utilize the studio as an instrument. At its best, The Center Won't Hold is an urgent and deliriously impolite record about powering through exhaustion, despair and the ambient dread any feminist feels pretty much constantly in 2019. Full of transformation and deserved indignation, The Center Won't Hold is the first Sleater-Kinney album since the rest of the world started to catch up. —Zach Schonfeld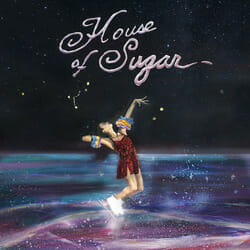 13. (Sandy) Alex G: House of Sugar
At the southern tip of Philadelphia's Fishtown neighborhood, there's an imposing structure on the Delaware River that somehow looks equal parts parking garage, hospital and convention center. The building is none of these things, but it's just as overwhelming as each one of them. It houses SugarHouse Casino, a dystopian abyss of colorful images leaping forth from slot machines and laser-bright ceiling lights hovering over card tables where gamblers can earn $150 in blackjack, lose it and swear off gambling forever (which may or may not have happened to this writer). Philly resident (Sandy) Alex G's newest album, House of Sugar, his third for storied label Domino (and eighth or ninth overall, depending on who you ask), is named for this casino. As unsettling as its namesake, the newest record from Alex Giannascoli at times improves on the inscrutable, circuitous experimentation of his Domino debut, Beach Music. At other times, it refines the accessible but still characteristically sauntering country-lite of Rocket, his masterful second album for the British indie label. In other words, House of Sugar sounds like a middle ground between the two albums that preceded it. —Max Freedman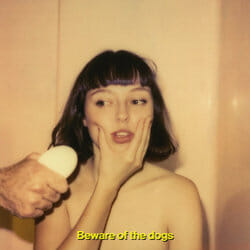 12. Stella Donnelly: Beware of the Dogs
Stella Donnelly references the '90s one minute and 10 seconds into her debut album, Beware of the Dogs. It's not what you think. She does not quote a Pavement lyric or drop a gnarly riff from a Hole song. Donnelly, who is in her mid-20s and from Perth, Australia, is the rare indie-rocker who alludes to the '90s without a hint of nostalgia. "This is not '93 / You lost your spot on the team," she sings in that opening cut, a deceptively sunny-sounding kiss-off to an abusive man. The song is called "Old Man," and it's a fine introduction to Donnelly's songwriting, which is frequently funny, confrontational, and charged with an awareness that the personal is political. These wry indie-pop songs unfold like short stories populated by assholes and assorted misadventures. They are often breezy and uncomplicated in arrangement, but Donnelly remains a compelling narrator: On Beware of the Dogs, the songwriter roasts an obnoxious date ("Tricks"), takes inventory of the indignities of the touring life ("Lunch"), stresses about mortality ("Die), and turns in a sober and knowing protest of rape culture. The resulting album is an imaginative indie-pop chronicle of millennial malaise. Throughout, Donnelly sings in a thick Perth accent, and her vocals are dotted with audible laughter, theatrical flourishes, inspired instances of talk-singing, and other oddities. It's almost as though her stories can't quite be contained within the limited space of the songs themselves. —Zach Schonfeld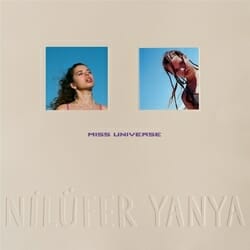 11. Nilüfer Yanya: Miss Universe
Style over substance is never a smart method for making art, and London based singer/songwriter Nilüfer Yanya masterfully obliterates that concept on her debut album, Miss Universe. With an album that borders on soul, pop, jazz and rock, Yanya is far too preoccupied with her inner demons and unique artistry to quibble over what one particular genre her music most closely resembles. In a current musical climate ruled by increased musical accessibility from streaming and in a world where so many people struggle with mental health, Miss Universe is a post-genre attempt at self-care that feels needed. This is an emotionally multi-faceted album to luxuriate in. Whether you take solace in her sultry, rich voice, instrumentals that range from bubbly to rugged or become invested in her confessional storytelling, Nilüfer Yanya's Miss Universe can be easily enjoyed during a night out or night in. There are exultant singalongs ("In Your Head," "Heavyweight Champion of the World"), luscious, bittersweet slow-burners ("Melt," "Safety Net"), and sometimes humorous, sometimes alarming spoken-word interludes, which cultivate a transcendent alternate reality ("WWAY HEALTH," "Sparkle GOD HELP ME," "Experience?"). It's an angsty LP concerned with entrapment, fear and expectations versus reality. Perhaps most triumphantly, Yanya pulls off jazz-infused, scrappy guitar pop with much more emotional and musical nuance than the buzzy, male-dominated "sad boi" acts like Rex Orange County or other beanie-donning dudes with keyboards and Stratocasters. —Lizzie Manno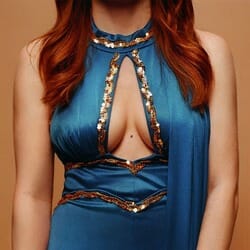 10. Jenny Lewis: On The Line
To witness a shape-shifting musician like Jenny Lewis truly evolve throughout the years—succeed in multiple projects, try on manifold musical styles, experience pain and loss and outline it all in her songs—and then arrive at a sensational album like On The Line feels monumental. First as the frontwoman of one of the most beloved indie-rock groups of the aughts and then as a realized soloist and supergroup hero, Lewis has had a brilliant career, even when things took a turn for the rocky in her personal life. The best of her four albums outside of Rilo Kiley, On The Line is absolutely dazzling. It sounds decidedly grown up, mature both lyrically and musically, and it's a spectacular studio effort. Lewis sings contemplative lyrics with a glamorous edge, giving us an album that's as much a rock 'n' roll relaxer as it is a lyrical thunderbolt. The On the Line singles are all illustrious earworms, but the album opener, "Heads Gonna Roll," is especially grandiose. As ever, Lewis' attention to detail and location is mesmerizing. She makes a boxing reference, namedrops Elliott Smith and the "sycophants in Marrakesh," recalls a run-in with "Harlem nuns" and relaxes with a pack of Marlboros all before proclaiming, "Maybe a little bit of hooking up is good for the soul." In a most delightful way, "Heads Gonna Roll" is about everything and nothing. Marking at least the second mention of cocktail ingredients on this album, "Red Bull & Hennessy" is a delicious display of desire. On The Line, her best solo work to date, finds her trading chaos for peace and pain for parties. And West Coast rock combined with piano glam and Lewis' lyrics makes for a most celebratory listen, indeed. —Ellen Johnson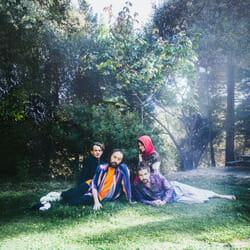 9. Big Thief: U.F.O.F
New York indie-folk outfit Big Thief have been touring constantly for four years in conjunction with their first two full-lengths—2016's Masterpiece and 2017's Capacity—and their third album U.F.O.F. was largely informed by their relentless touring schedule and the band's heightened personal and musical synergy. Some of the songs were recorded just hours after they were written. As a result, this album's blustery whooshes contribute to an otherworldliness not yet wholly strung together on a Big Thief album. The sonic wisp of "Contact," the celestial lyrics of "U.F.O.F." and the cacophonies that close "Cattails" and "Jenni" all contribute to an incorporeal sheen. On U.F.O.F., Big Thief embrace their more subtle and mystical sides while capturing a wider array of landscapes—the cosmic ("U.F.O.F."), bucolic ("Cattails"), domestic ("From") and urban ("Betsy"). —Lizzie Manno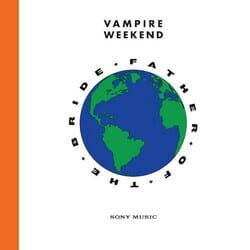 8. Vampire Weekend: Father of the Bride
If such a decree is not already at large, I hereby declare Father of the Bride the official album of summer 2019. If you're still skeptical, just listen to it outside, maybe while eating a popsicle. Let Danielle Haim and a choir of children sing you down the aisle on "Hold You Now;" let the bendy "Bambina" rock you into a summer stupor. Let it be easy. It's light without being too flighty, thoughtful but not esoteric and chock full of tiny little musical treasures. Peel back what some have perceived to be a lyrical disaster, and Vampire Weekend's fourth full-length is an album of rewarding moments and juicy samples. A record that's roughly five songs too long and as many choruses too cheesy may not sound like the most enticing listen, but Ezra Koenig expertly spins even the shabbiest couplets into nuance—and he does it to the tune of pure sunshine. He adopted a passion for the Grateful Dead, intensified one for character studies and swapped boat shoes for Birkenstocks, and the result here is the rare album that not only works as picnic music but also makes for a fine conversation topic. Vampire Weekend proved their talent with a trio of excellent albums in 2008-2013. With this comeback, Koenig proves they're not going anywhere. —Ellen Johnson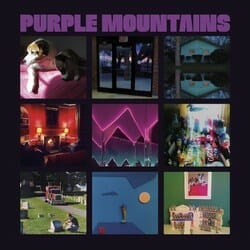 7. Purple Mountains: Purple Mountains
For 15 years bookending the turn of the 21st century, David Berman was not only the primary creative force behind indie-folk faves Silver Jews, he was considered by many to be the poet laureate of the underground. Across six solid albums—peaking with 1998's American Water—his songs spilled over with double-take-worthy wisdom and witticisms built from approachable language. On his latest and, sadly, last album—self-titled and released under the name Purple Mountains—Berman doesn't sound like a different person than the one that walked away a decade ago. He sounds like himself, an endlessly thoughtful and unnervingly honest master arranger of words. He sounds rejuvenated, perhaps buoyed by his new backing band, the Brooklyn psych-folk group Woods. He was just as bummed out as ever on Purple Mountains, and he still makes being bummed out sound better than just about anyone else. —Ben Salmon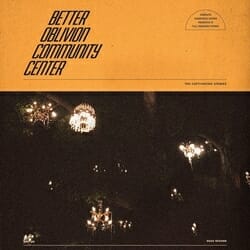 6. Better Oblivion Community Center: Better Oblivion Community Center
Phoebe Bridgers and Conor Oberst come from the same musical orbit. One could even argue, the two songwriters—ages 25 and 38 respectively—are like long-lost musical siblings. Though at vastly different points in their careers, both musicians know how to crush and revive listeners with inspired woe, romantic poignancy and their instantly recognizable, consoling pipes. The stars aligned just in time for Bridgers and Oberst to write, record and surprise-drop a haunting album together for a brand new project: Better Oblivion Community Center—which really is their band name and not actually the name of a utopian old folks home. Better Oblivion Community Center is an unsurprisingly tender, affecting excursion. Its largely upbeat instrumentation ebbs and flows with understated folky strums and scintillating keyboards, and the occasional ray of buoyant rock 'n' roll peeks out just when you need some lighthearted relief from their lyrics. Though many male-female vocal duos lean heavily on duets, this pair elected to skirt that norm by singing mostly in unison and in harmony rather than engaging in the sometimes cheesy call and response. Much of the record could still loosely fall into the folk camp, but there are moments that you wouldn't expect from Oberst and Bridgers. The throbbing electro keyboards of "Exception to the Rule," the fuzzy rock surge at the end of "Big Black Heart" and the psychedelic guitar swells on "My City" all represent a venture into new frontiers. —Lizzie Manno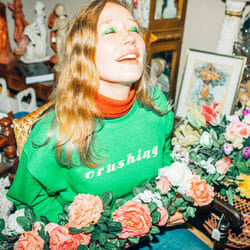 5. Julia Jacklin: Crushing
Autonomy can be damn frightening. The realization—the one arriving after a breakup, before a solo move, following a graduation, etc.—that you're actually in this thing alone and only you are in the driver's seat can leave you feeling scared silly. Or it can leave you feeling high on independence. Julia Jacklin's Crushing is a striking search for self, a call to upend that which tethers you down. But it's also rooted, deeply, in a sense of calm. The Aussie songwriter's ability to process emotion is out-of-this-world sharp, and this album is her best, most piercing work to date. Crushing can change from melodic balladry to anthemic rock at the drop of a hat. And for its entirety, Jacklin, slowly gaining cred as one of the most underrated singer/songwriters working, basks in a newfound clarity. Crushing is the brave story of a woman—and an artist —coming into her own. Securing that agency, however, was no walk in the park. Jacklin clearly had to sort through mountains of wreckage to arrive here, but the album's autobiographical nature is what makes it so affecting. Jacklin said, in writing it, she realized "how not very special" she is (evident in "Body," as she sings, "It's just my body / I guess it's just my life"). But in recognizing the non-exclusivity of her experiences, she made something singular. —Ellen Johnson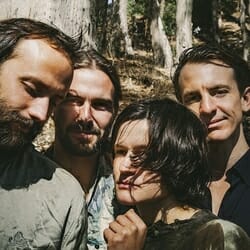 4. Big Thief: Two Hands
Big Thief has amassed a large and devoted fanbase the old-fashioned way: by releasing four astonishingly good albums in just three-and-a-half years, by touring relentlessly and seemingly without rest, by Instagramming a lot of photos of themselves grinning and embracing each other in various bucolic settings. In 2019, much of Big Thief's ethos feels like a throwback to the LP era: the prolific output (think Creedence circa 1969-1970), the album-stream-as-vinyl-sides, the band's creative intimacy and affinity for recording live with minimal overdubs. Which is appropriate, since this band's razor-sharp songwriting has always felt somewhat adrift in time, belonging as much to the 1970s or early 2000s as it does to the present. Two Hands does not dramatically depart from the mesmerizing folk-rock fusion of U.F.O.F., but its best moments emphasize the band's gnarled electric energy, particularly on the career highlight "Not." When an artist releases two studio albums in one year, it's customary for critics to grumble about hubris, usually accompanied by the suggestion that the two separate releases should have been whittled down into one. Often—as with Justin Timberlake's The 20/20 Experience and its turgid sequel—this charge is accurate. With Big Thief, it won't be. Both records stand as outstanding and individual statements from a band operating at some rare creative peak. Both records deserve to exist, and we're fortunate that they do. —Zach Schonfeld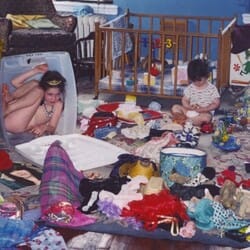 3. Sharon Van Etten: Remind Me Tomorrow
Singer/songwriter Sharon Van Etten experienced a lot of change after the release of her last album, 2014's Are We There, and they're the kind of life-altering shifts—newfound romantic partnership, motherhood, career advancements—that are all but destined to reveal themselves in one's art. And here, on her fifth studio effort Remind Me Tomorrow, those evolutions are apparent in a powerful sonic swerve, and in Van Etten's desire to explore both nostalgia and rebirth, and maybe even how they intertwine. Remind Me Tomorrow was the first great rock album of the year, and it would behoove any and all of Van Etten's fans, even those who staunchly prefer her folk-leaning material, and rock 'n' roll aficionados of all stripes to open their ears (and their hearts) to this beautifully executed pivot. And for all its bold sonic upheavals—the addition of drum machines and electric shred and cavernous synth—Remind Me Tomorrow maintains Van Etten's gothic sensibilities. Sharon Van Etten was already one of the great lyricists of the '10s, but with this breathtaking project, she's proved an artistic pliancy her contemporaries may not possess. She hit her stride with Are We There, but here she's not even on the ground. —Ellen Johnson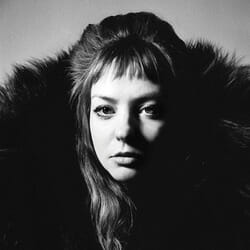 2. Angel Olsen: All Mirrors
From her very earliest recordings, Angel Olsen has mined drama from her relationships with physically present but psychologically absent partners. Across her often-brilliant catalog, the Asheville singer/songwriter has sung candidly about staying with these partners despite recognizing their awful qualities. Her fascination with this unhealthy dynamic, in addition to her unmistakable, showstopping vibrato, has tied her songs together across multiple genres, from haunting lo-fi folk (2010's Strange Cacti EP, 2012's Half Way Home) to scorching rock (2014's Burn Your Fire For No Witness, 2016's My Woman). Olsen still deals with bad partners on her fourth album, All Mirrors, but this time around, she escapes their destruction and finds not just happiness, but catharsis. She narrates her journey alongside a 14-piece orchestra, with string co-arrangement from Ben Babbitt and conductor-arranger Jherek Bischoff (and co-production from the ever-busy John Congleton, who also co-produced Burn Your Fire). Her newfound embrace of violins, violas and cellos elevates her shadowy, often synth-infused rock to extraordinarily goosebump-inducing heights, making All Mirrors her third consecutive (and likely best) masterpiece to date. —Max Freedman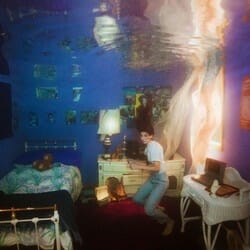 1. Weyes Blood: Titanic Rising
Natalie Mering's work under the name Weyes Blood feels less like a catalog of music and more like a journey. And each time she releases a full-length album, her destination comes a little more into focus. That's especially true on Titanic Rising, which finds Mering edging her peculiar psych-folk closer than ever to the sound of traditional pop music. For someone with a documented predilection for idiosyncrasy and experimentation, she sounds completely at ease in these songs, and ready for bigger things ahead. Folks who know her debut, 2011's The Outside Room, might be surprised to hear Weyes Blood in 2019, but they shouldn't be shocked. Even on that lo-fi bundle of echo and noise, you could hear Mering's gift for haunting melody and the folk form hovering slightly below the surface. Titanic Rising doesn't feel blissfully adrift. Instead, it feels like Mering knows exactly where she's going. You can hear it in the robust string sections of album opener "A Lot's Gonna Change" and the sturdy backbone-beat of "Andromeda" and the sentiments of "Wild Time," a patient ambler with a '70s soft-rock vibe (including a hint of "Landslide") and a plainspoken bridge: "Everyone's broken now," Mering sings, "And no one knows just how we could have all gotten so far from truth." —Ben Salmon

Listen to our Best Indie Rock Albums of 2019 playlist on Spotify right here.