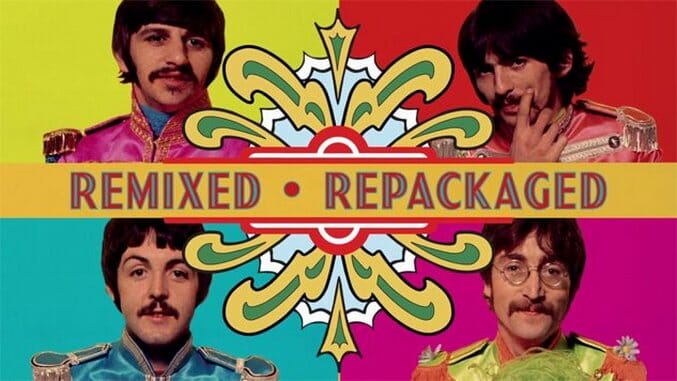 Instead of the monthly album review recap in April, Paste offered our Best Albums of the Year (So Far) list. So, to go back to our regularly scheduled retrospective, here are the six records—from live jazz to Puerto Rican garage rock—that Paste writers reviewed the highest in May 2017.
6. AJ Dávila, El Futuro
Rating: 8.8
The language of garage punk is not well adapted to expressing optimism. It's usually more about fighting bad vibes with worse ones and flipping the bird at ill fortune, even (especially) if you brought it on yourself. On El Futuro, the third solo album from AJ Dávila, however, the former guitarist for sadly defunct Puerto Rican garage punk band Dávila 666 expands the genre's vocabulary with an updated sound that promises a way forward for his music and for fucks-free rock 'n' roll in general.
Every song on El Futuro is tight and aesthetically purposeful, but the main shift from anything he's done before is a brighter sound and a slightly better attitude (even on songs like "Hienas" telling off false friends and "SS Youth" skewering the mindset that gives rise to fascism). So maybe Dávila isn't really that optimistic on El Futuro. If it isn't, it might just be something better. —Beverly Bryan
Read the full review here.
5. (Sandy) Alex G, Rocket
Rating: 8.8
Before there was Car Seat Headrest, the hyper-productive bedroom-recording hero of Bandcamp was a guy named Alex G, aka Alex Giannascoli, aka Sandy. As of April, he's rebranded as (Sandy) Alex G. Now, thanks to some credits on Endless and Blonde. (Sandy) Alex G has become widely known as "Frank Ocean collaborator (Sandy) Alex G" in headlines on music websites.
But Giannascoli's work stands on its own, never more so than on Rocket, a 14-track travelogue of the 24-year-old's varied interests. Throughout the record, he dabbles in country, mope-rock and dreamy experimentalism throughout the record because (Sandy) Alex G doesn't seem satisfied with being a preternaturally talented indie-pop-rock singer-songwriter. He wants more. He wants to try it all. He's as interested in misshaping a great song as he is perfecting it. Most of the truly great ones have that quality. (Sandy) Alex G seems headed that way. —Ben Salmon
Read the full review here
4. Chris Price, Stop Talking
Rating: 8.8
Somewhere along the line, "singer-songwriter" went from being a job description to being a genre to being a pejorative. Still, it's the best way to describe Stop Talking, Chris Price's follow up to his acclaimed 2012 debut Homesick. It's full up with uncommonly good singing and smart, surprising songwriting. Drawing from a well of pop knowledge, Price constructs melodies that are both sure and unexpected. Every song has a whiff of the familiar, but where an ordinary tune would turn right, Price's turn left, and just like that, he's widened the domain of pop songwriting. Most importantly, though, with Stop Talking, Price pushes further and reinvigorates the entire singer-songwriter idiom for the 21st century. —Craig Dorfman
Read the full review here
3. Jaco Pastorius, Truth, Liberty & Soul: Live in NYC
Rating: 8.9
Great lost recordings are hard to come by, particularly in situations like those of Jaco Pastorius. Approaching obscurity upon his tragically early passing, the pioneering bassist's legend has only grown with time, particularly because he's exactly the type of figure classic jazz needs in its fight for mindshare among youth increasingly unfamiliar with the form. Pastorius was a rock star, an innovator, a flamboyant comet recognized by disciples who range across all genres (including his loudest supporter, Robert Trujillo of Metallica).
In and of itself Truth Liberty & Soul is a fantastic performance. But better still, it provides a counterintuitively good look at what was special about Jaco. With its spare moments and occasional jaunty covers, though, this set aptly captures so many of Jaco's main points of style: his elegant use of harmonics, the fluidity of his basslines, his ability to tear off with speed and then return to quiet, beautiful tones. For those looking for a way into Jaco, Truth Liberty & Soul isn't the only document you need, but it's a very good start. For those already converted, it really does constitute an essential discovery. —Jeff Leven
Read the full review here
2. Jade Jackson, Gilded
Rating: 9.1
With an old-soul collection of self-penned story songs and an entrancing syrup-and-sandpaper vocal rasp, it's hard to listen to Jade Jackson's Gilded and not picture her as a seasoned veteran wistfully looking back over a lifetime filled with more downs than ups. On the contrary, Jackson's debut album is an arresting introduction for this young songwriter that showcases her gift for melodic storytelling and her grasp of the beauty found in a song sung blue. Although this is Jackson's first notable release, she's actually been writing and performing for over a decade—a fact that lends credence and context to the heightened level of maturity and sophistication that, while not often found on a debut album, is in overabundance here. —Will Hodge
Read the full review here
1. The Beatles, Sgt. Pepper's Lonely Hearts Club Band: Anniversary Edition
Rating: 10.0
If you're reading this review, chances are you've already made up your mind about whether you're going to plunk down some cash for one of the four versions of this "Anniversary Edition" of Sgt. Pepper's Lonely Hearts Club Band. Heck, you probably decided that when this lavish six-disc set reissue was first announced. What you're really looking for is justification for your purchase of this famed record, this version lovingly mixed in stereo by Giles Martin, the son of the Fab Four's producer George Martin. The simple truth is that you're going to be satisfied no matter your level of Beatlemania. —Robert Ham
Read the full review here