Bikini Kill Add Southeastern U.S. Dates to Their International Tour
Photos by Debi Del Grande, Tammy Rae Carland
Music
News
Bikini Kill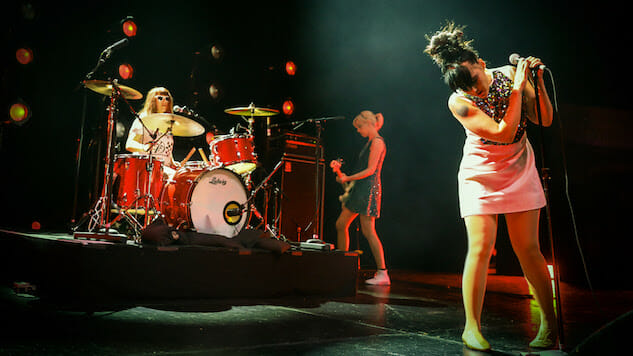 '90s riot grrrl punk band Bikini Kill are in perpetually high demand—their reunion tour last year sold out in seconds, and tickets for additional international tour dates for 2020 have also gone quickly. Bikini Kill are officially adding some extra Southeastern U.S. dates to their expansive tour, which will begin in their hometown of Olympia, Wash., on March 13 and now end on Sept. 27 in Birmingham, Ala.
The tour will wind through the West Coast, the East Coast and the Midwest, then go overseas to Europe before coming back to the U.S. and hitting Florida, North Carolina, Tennessee, Kentucky and Georgia, among other states.
Also featured on the tour are feminist rapper Princess Nokia, L.A. punk legend Alice Bag and Portland minimalist-punk band Lithics, to name a few. Table Sugar, Mecca Normal, Donkey Bugs, CB Radio Gorgeous and Pineapple RnR will also play with Bikini Kill on select dates.
Tickets go on sale Friday, Feb. 28, at 11 a.m. ET here. There will be a pre-sale code for Bikini Kill fans sent out through their newsletter on Feb. 27 at 11 a.m. ET.
Check out the full list of Bikini Kill 2020 tour dates below.
Bikini Kill Tour Dates:
March
13 – Olympia, Wash. @ Capitol Theater & (Benefit For Interfaith Works) [SOLD OUT]
14 – Olympia, Wash. @ Capitol Theater # (Benefit For Interfaith Works) [SOLD OUT]
16 – Seattle, Wash. @ Paramount Theatre & [SOLD OUT]
17 – Seattle, Wash. @ Paramount Theatre #
19 – Victoria, B.C. @ Distrikt # [SOLD OUT]
20 – Victoria, B.C. @ Alix Goolden Performance Hall
22 – Portland, Ore. @ Crystal Ballroom & [SOLD OUT]
23 – Portland, Ore. @ Crystal Ballroom ^ [SOLD OUT]
May
10 – Silver Spring, Md. @ The Fillmore Silver Spring
12 – Silver Spring, Md. @ The Fillmore Silver Spring % [SOLD OUT]
13 – Philadelphia, Pa. @ Franklin Music Hall %
14 – Boston, Mass. @ Boch Center Wang Theatre %
16 – South Burlington, Vt. @ Higher Ground % [SOLD OUT]
18 – Montreal, Que. @ M Telus
19 – Toronto, Ont. @ Danforth Music Hall [SOLD OUT]
20 – Toronto, Ont. @ Danforth Music Hall [SOLD OUT]
22 – Cleveland, Ohio @ Agora Theatre $
23 – Royal Oak, Mich. @ Royal Oak Music Theatre ~
24 – Milwaukee, Wis. @ Riverside Theater *
June
05 – Barcelona, Spain @ Primavera Sound
07 – Bologna, Italy @ Locomotiv
08 – Milan, Italy @ Magnolia
10 – Hamburg, Germany @ Gruenspan
11 – Berlin, Germany @ Astra Kulturhaus
July
11 – Oakland, Calif. @ Burger Boogaloo
August
04 – Brooklyn, N.Y. @ Prospect Park Bandshell
07 – Katowice, Poland @ OFF Festival
10 – Budapest, Hungary @ SZIGET Festival
12 – Oslo, Norway @ Øya Festival
14 – Gothenburg, Sweden @ Way Out West
15-16 – Helsinki, Finland @ Flow Festival
September
12 – Miami, Fla. @ The Ground at Club Space
13 – Miami, Fla. @ The Ground at Club Space
15 – Orlando, Fla. @ The Plaza Live
16 – Ponte Vedra Beach, Fla. @ Ponte Vedra Concert Hall
18 – Carrboro, N.C. @ Cat's Cradle
19 – Charlottesville, Va. @ The Jefferson Theater
20 – Asheville, N.C. @ Orange Peel
22 – Knoxville, Tenn. @ The Mill & Mine
23 – Louisville, Ky. @ Headliner's Music Hall
25 – Nashville, Tenn. @ Marathon Music Works
26 – Atlanta, Ga. @ Variety Playhouse
27 – Birmingham, Ala. @ Iron City
October
21 – Morrison, Colo. @ Red Rocks Ampitheatre =
(& w/ Table Sugar)
(^ w/ Lithics)
(% w/ Alice Bag)
(# w/ Mecca Normal)
($ w/ Donkey Bugs)
(~ w/ CB Radio Gorgeous)
(* w/ Pineapple RnR)
(= w/ Princess Nokia)