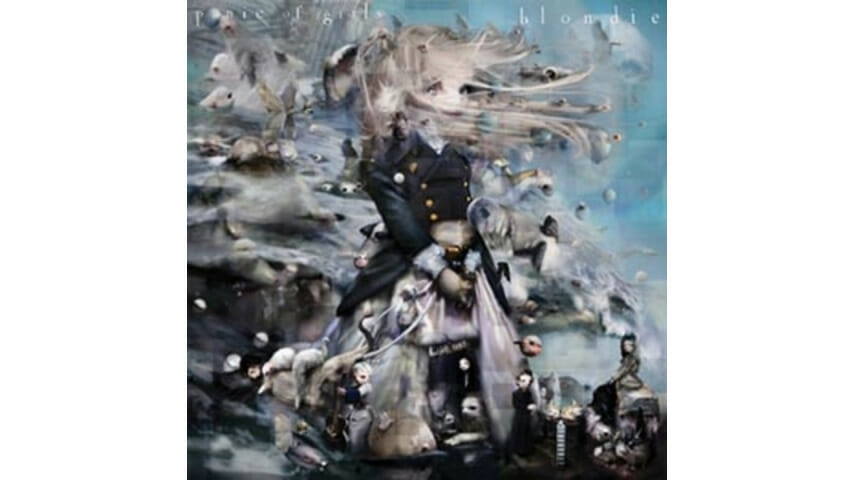 When new wave erupted on the back-end of punk, there was Blondie, all crisp beats, silent screen star peroxide beauty and a sense of '50s pop undertow that was equal parts innocence and pulp fiction knowing. Fronted by the soignée Deborah Harry, a former Playboy Bunny, and anchored by Chris Stein, a lean guitarist who recognized the palpable collision that was vintage pop with punk's aggression, the band created an almost art project that blazed trails and winked at those bright enough to get that this wasn't just another fad.
The amyl nitrite-feeling soprano wielded by Harry belied that cold knife to the throat force that she actually packed, and it instilled in her an urgent, deadly desperation. This wasn't pillow-swallowing writ large, but a sense of the hunter being drawn by the game— be it the disco-throb "Call Me," the techno-reggae-rap of "Rapture" or the girl group "Hanging On The Telephone."
With Panic of Girls, nothing has changed: the Blondie allure remains potent as ever: polyrhythmic, organic, dance-floor current and always driven by waves of sangfroid postmodern feminism; the first spawn of CBGBs carve grown-up punk for a new millennium.
As Clem Burke's drums roll and tumble, Blondie opens with the kinetic "D-Day," embraces the serious "Mother," (an homage to a New York City club long gone), and celebrates French cinematic icon Serge Gainsbourg in the accordion-tinged "Le Bleu" flexing cultural and musical dexterity without a fleck of sweat.
Whether it's the swirling, synth-driven "Love Doesn't Frighten Me" or the free-thinking declaration of autonomy "Words In My Mouth," Panic is an almost hypnotic brew of independence from expectation, yet it's a complete affirmation of sense of self.
As always, Blondie trolls the curbs and corners for intriguing covers—plundering Sophia George's reggae "Girlie, Girlie" and Brooklyn-based hipsters Beirut's "A Sunday Smile"—to expand their already "rhythm of the street"-centric feel. The result, along with the shuffling apocalyptic "The End, the End," creates a sense of fatalism tempered with an "enjoy the moment while the moment's your's to enjoy" feel.
Ennui is not the commodity, nor is nihilism with a bubblegum exterior shell. This is feel-good realism for a world imploding under its own arrogance and ignorance. In a place where post-Warhol art-as-disposability has turned into all Snooki/Britney/Lindsey/Khardashians all the time, Blondie strikes a blow for pop culture that's not stupid, wasted and empty.