A New Bob Dylan Film Directed by Martin Scorsese Is Coming to Netflix in 2019
Rolling Thunder Revue: A Bob Dylan Story by Martin Scorsese does not yet have a release date
Photo by Joe Sia/Wolfgang's
Music
News
Bob Dylan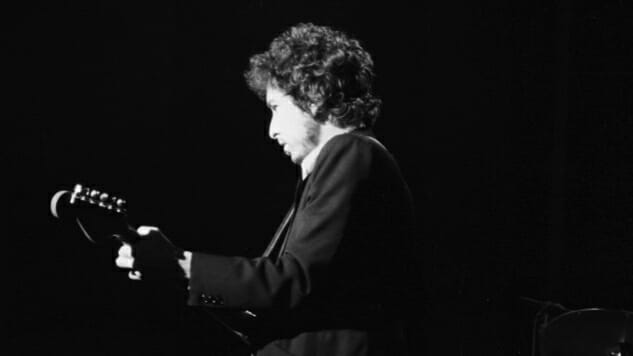 Two artistic titans are colliding once again in Rolling Thunder Revue: A Bob Dylan Story by Martin Scorsese, which, according to a new report, is exactly what it sounds like. The long-rumored Scorsese-directed documentary on Dylan's 1975-76 Rolling Thunder Revue tour is real, and it's coming to Netflix sometime in 2019.
The streamer's synopsis of its previously under-wraps film, provided exclusively to Variety, paints it as less of a conventional documentary than Scorsese's previous Dylan doc, No Direction Home: Bob Dylan (2005), with a Variety source noting, "There's a reason the word 'story' appears in the title."
Netflix's complete "thumbnail description" reads:
Rolling Thunder Revue: A Bob Dylan Story by Martin Scorsese captures the troubled spirit of America in 1975 and the joyous music that Dylan performed during the fall of that year. Part documentary, part concert film, part fever dream, Rolling Thunder is a one-of-a-kind experience, from master filmmaker Martin Scorsese.
Netflix also confirmed to Variety that Dylan himself was interviewed for the film—hardly a given, considering the Nobel Prize-winning musician's near-notorious reticence to publicity—along with many who participated in the Rolling Thunder Revue tour, with Dylan's longtime manager Jeff Rosen conducting "most if not all of" the interviews. Some tell Variety they were interviewed for the film as long ago as the late 2000s, suggesting that Scorsese's film has been many years in the making.
The Rolling Thunder Revue's participants were wide-ranging, as the tour was designed as a loose, free-wheeling caravan of creatives. Joan Baez, Bob Neuwirth, Roger McGuinn, T Bone Burnett, Ramblin' Jack Elliott, Ronee Blakley, Mick Ronson, Scarlet Rivera, Allen Ginsberg and Sam Shepard (who published a 1977 book about the tour) all joined in the fun, while Joni Mitchell, Ringo Starr, Patti Smith, Bette Midler, Kinky Friedman, Dennis Hopper and Phil Ochs all made lesser appearances. It's unclear as of now which of these artists will appear in Scorsese's film.
The film has no set release date as of now—asked by Variety to confirm whispers that the film would appear as early as spring 2019, a source maintained that even the announcement of a premiere date is "months away."
Follow along with Paste for further details of Rolling Thunder, as we imagine an official announcement from Netflix can't be far behind, and in the meantime, watch a 1988 Dylan performance from the Paste archives below.