The Surprising History Behind Folk's Buzziest New Supergroup, Bonny Light Horseman
The trio's new self-titled album, out Friday, can trace its origins back hundreds of years
Photo by D. James Goodwin
Music
Features
Bonny Light Horseman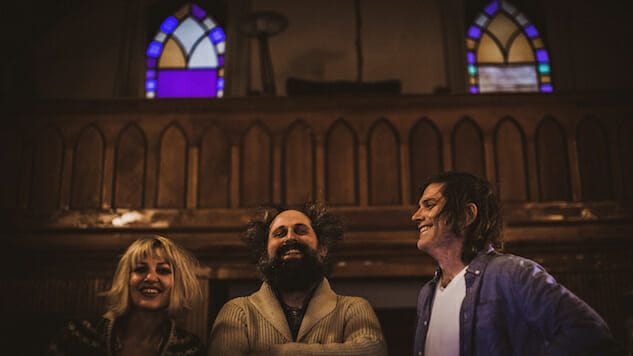 What is a "bonny light horseman" anyways? Formally, it refers to the nimblest, most handsome rider in the calvary, but here it's also the name of an age-old folk ballad. The song dates back to the early-1800s Napoleonic Wars, which carried on extensively with England during the era when Napoleon I wore the French crown. Irish, English and even American printers picked up the tune during that time, and since then leagues of folk singers, like Mary Ann Carolan, Nic Jones and Siobhan Miller, have covered it through the ages.
Now there's a new version of the song like you've never heard it before (maybe even because you've never heard it before) sung by a trio of modern folk/rock titans. The tune's nomenclature is also what this group has decided to call themselves: Bonny Light Horseman, comprised of Anaïs Mitchell, Fruit Bats' Eric D. Johnson and Josh Kaufman (a producer who's worked with Hiss Golden Messenger, Bob Weir, Josh Ritter and The National, among many others), will release their self-titled debut album on Friday, and it's a gold mine for historical musical references and twinkling folklore that feels familiar, but is often something entirely new. Last year, Mitchell cleaned up at the Tony Awards for her Broadway musical Hadestown, a reimagining of the ancient Greek myth of Orpheus and Eurydice and her 2010 concept album of the same name. Like Hadestown, Bonny Light Horseman is a project where the past and present blur seamlessly, the old and the new dancing a soft, sly jig. If you're a fan of folk or traditional music, or any melodic acoustic music at all, for that matter, this record will capture you in an entirely new way. While it taps into specific time periods, it's timeless, and it's a majestic, but never too heavy, journey through musical and historical moments.
The eponymous title track isn't the only song on Bonny Light's gleaming debut that has an ancient flair. "The Roving," a reworking of the classic traditional song "Loving Hannah," features a fresh chorus newly written for an ancient ballad structure. As Johnson pointed out in a recent press release, the lyrics could fit any time period, which is why they're so universally affecting. On "Mountain Rain," Johnson takes center stage again to tell the story of African American folklore hero John Henry.
"This record is about timeless humanity," Johnson said in the press materials. "These 500-year-old lyrics are so deeply applicable. 'The Roving' could be the plot of an '80s teen movie: 'I had a wild summer with this awesome girl then she broke my heart!' How incredible is it that as humans we still just want to love and have sex and feel sad and fight? It's ancient music that feels, emotionally, right now. It's thoroughly modern."
"Blackwaterside," too, refurbishes the ancient form of chorus-less balladry for 2020 listeners. Johnson and Mitchell trade off lead vocals before sinking into a hypnotic harmony. They use the old English expression "Fare thee well" (a phrase that's repeated several times on the album) throughout the song as they sing a mournful marriage chant. "Deep In Love" is as entrancing as anything on this album, but it's actually an old Fruit Bats draft. Johnson wrote it for his 2019 album Gold Past Life, but it's arguably more at home among these swirling songs of old. This one in particular features a beautiful harp. "Don't you break my heart," Johnson sings over and over. It's less of a threat and more of a gentle warning, plastered on the outside of a fragile package.
The plucky "Jane Jane" features a call-and-response courtesy of Johnson and Mitchell. "Children go where I send thee / How shall I send thee?" Mitchell sings. It's equal parts nursery rhyme, hymn and dark folktale. So why does it sound so distinctly modern, even poppy, too? It's nearly inexplicable, but that's part of Bonny Light Horseman's appeal. This music is transatlantic, multi-cultural and century-spanning.
This magical group first formed at Justin Vernon's 2018 Eaux Claires festival, so it's only fitting that the Bon Iver singer should appear somewhere within this monumental folk event. Vernon supplies guest vocals on "Bright Morning Stars," a short but thoroughly chilling carol and the last of five singles from the record. It's indicative of the best of what this group can do: Use the timeless structures of harmony and folk songs to make something that's never been done before. There's something vaguely spiritual about "Bright Morning Stars," a kind of send-off to the dearly departed that could be likened to "Down To The River To Pray." "Oh where are our dear fathers?" Johnson sings. "They've gone up to heaven shouting / Day is breaking in my soul." When you hear that delivery, chances are your soul will brighten up, too.
Bonny Light Horseman is out this Friday (Jan. 24) on 37d03d Records.