The 10 Biggest Broadway Turns By Rock Stars
From Bruce Springsteen to P. Diddy to Elton John, here's a look at what happens when rock stars invade the Great White Way.
Music
Features
broadway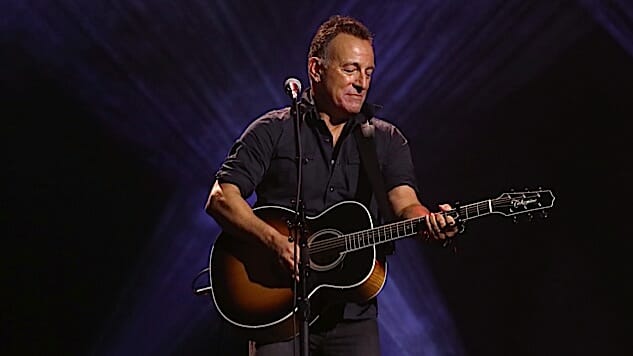 Bruce Springsteen has performed at just about every great venue on the planet: the Stone Pony, Madison Square Garden, the O2 Arena, the Hollywood Bowl, Red Rocks Amphitheater, football stadiums, state fairs, and now…Broadway? On Tuesday, the 67-year-old icon began preview performances for his scheduled four-month run at the Walter Kerr Theatre, a 975-seat room on West 48th Street whose notable productions include Anton Chekhov's The Seagull, Tony Kushner's Angels in America: Millennium Approaches and Arthur Miller's The Crucible.
If any rock star seems suited to the Great White Way, it's Springsteen, whose unmatched stage presence and penchant for mid-song monologues are about as dramatic as rock music gets. But he's far from the first bona fide rock star to attempt a takeover of the theater. From U2 to P. Diddy to Elton John, artists across genres have attempted the transition to Broadway, with varying degrees of success.
Below, you'll find a collection of 10 such starts. To be considered, artists must have contributed original efforts for the stage and/or served as part of the creative team to mold old work to the theatre medium. Thus, not every musician who has appeared on Broadway qualified. For example, Disney kid and solo artist Nick Jonas has starred in a number of productions, including A Christmas Carol, Les Misérables, Beauty and the Beast, Annie Get Your Gun and How to Succeed in Business Without Really Trying. But he actually made his start on Broadway, debuting onstage long before he started playing his own music with his brothers. Similarly, The Who's Tommy, the ABBA-based musical Mamma Mia and the the Carole King-based musical Beautiful were all adapted into award-winning shows, but the scores weren't created specifically for Broadway.
With more and more musicians interested in seeing their names on Times Square marquees, it seems we're entering a new era of Hollywood East on Broadway. For now, here's a look at the 10 biggest appearances by rock stars on Broadway.
10. Spider-Man: Turn Off the Dark
Artist: Bono and The Edge (Lyrics)
Spider-Man marked something a midlife crisis for Bono and The Edge, which is fitting because U2 provide the soundtrack for many midlife crises. Most probably remember this show for the bad press that surrounded it—frequent injuries, the longest preview period in Broadway history, and really, really terrible reviews. The music itself, co-written by the pair, is genre-less and confusing. Overall, Spider-Man was a flop (literally, for a couple of the stunt performers), as were the Broadway debuts for the members of U2.
9. Chicago
Artist: Usher (Performer)
In the 2006 revival of Chicago, Usher joined the cast to play a greedy criminal attorney Billy Flynn. If the decision to cast the gregarious R&B singer-songwriter as an acerbic litigator sounds like a bizarre one, well, that's what a lot of people thought. The New York Times wrote of his debut, "Usher doesn't make the mistake of trying too hard, but it might be more interesting if he did." Matthew Miller of Talkin' Broadway also dug in, eviscerating him by writing, "His choices are ill formed when they're at all discernible, his comic timing is at best rudimentary, and he never seems more natural than when fondling the eye-popping women of the ensemble."
8. Hands on a Hardbody
Artist: Trey Anastasio of Phish (Music)
Premiering at the Brook Atkinson Theatre in April 2012, Hands on a Hardbody was the brainchild of Trey Anastasio, founding guitarist and vocalist of Phish. The show was adapted from a documentary about a real-life contest, which takes place annually at a Nissan dealership in Longview, Texas, to see who can keep their hand on a pickup truck for the longest period of time. Unsurprisingly, a documentary about perhaps the dullest, most bizarre competition known to man didn't fare well on Broadway, but Anastasio's orchestration was lauded by audiences and critics alike. They enjoyed himself.
7. Raisin in the Sun
Artist: P. Diddy (Performer)
It's not difficult to see why Sean Combs, aka P. Diddy, would be drawn to the role of Walter, the troubled main character working hard to create a better life for his family, in Raisin in the Sun. Raised in a working-class family just outside of New York, Combs's upbringing wasn't much different from the environment depicted in the play. But it seems that the creative team of the Raisin revival weren't totally sold, as they reportedly forced him to jump through multiple hoops before casting him in the role. Ultimately, his performance was met with lukewarm reviews, with most griping that he was unable to encompass the depth of the character. Regardless, Combs's Walter Lee Younger lives on; this revival of Raisin in the Sun was ultimately taped for film and is still used when teaching the play to high-school students today.
6. American Idiot
Artist: Billie Joe Armstrong from Green Day (Music, Lyrics, Book)
American Idiot is basically the Mamma Mia of punk rock: Though there was a loose storyline and a great effort to flesh out the musical's characters, the score didn't change much from the Green Day album of the same name and the narrative strained hard to fit the music. However, unlike the ABBA jukebox musical, Green Day frontman Billie Joe Armstrong was heavily involved in the production process: He collaborated with Michael Meyer on the writing of the book, is credited for writing all the lyrics, and even played the lead role when originating cast member John Gallagher, Jr. had to take leave. The show got overwhelmingly terrible reviews, but ultimately ended up winning two Tony Awards for its scenic and lighting design, along with a Grammy for Best Musical Show Album. As weird as it may seem, we may be closer to a world where Billie Joe Armstrong has an EGOT than one would think.
5. Waitress
Artist: Sara Bareilles (Music and Lyrics)
Based on Adrienne Shelly's offbeat 2007 film of the same name, Waitress is a powerful musical about a woman who puts her magic recipes to work in a pie shop. Singer/songwriter Sara Bareilles did a magnificent job of creating a score with tracks that can stand alone while serving the narrative arc of the show. Like Billie Joe Armstrong, the singer even stepped in as the lead for Jessie Mueller when she took leave.
4. Natasha, Pierre & The Great Comet of 1812
Artists: Josh Groban and Ingrid Michaelson (Performers)
Despite the production controversy that mired the the show, a musical based on Leo Tolstoy's War and Peace, Josh Groban and Ingrid Michaelson were initially great additions to Natasha, Pierre, & The Great Comet of 1812 as the title characters. Groban surprised everyone by proving himself capable of the transition from Spotify to stage, with a performance that was lauded by most. Michaelson, the folky singer-songwriter responsible for hits like "Just the Way You Are" and "Be OK", was similarly stellar when cast later in the run, and there are even rumors of her returning to Broadway in the near future.
3. Kinky Boots
Artist: Cyndi Lauper (Music and Lyrics)
It makes sense that "Girls Just Wanna Have Fun" singer-songwriter Cyndi Lauper would compose one of the most fun, sequin-filled musicals to ever hit Broadway. Inspired by the British film of the same name, Kinky Boots tells the story of a drag-queen cabaret star who saves a family's failing shoe business. It had a rough start when it premiered in 2012, but by the time awards season rolled around, the musical had gathered a respectable 13 Tony nominations, ultimately winning six. Lauper made history by becoming the first woman to win alone for Best Score. Since then, the musical has attracted star power of its own, with singer-songwriter and Let's Make a Deal host Wayne Brady and Panic! at the Disco frontman Brendon Urie making appearances during its long run. As a side note, Lauper has also appeared on Broadway as an actress: She played Jenny in a 2006 revival of Bertolt Brecht and Kurt Weill's The Threepenny Opera.
2. Memphis
Artist: David Bryan of Bon Jovi (Music and Lyrics)
With or without attachment to the Bon Jovi name, Memphis is one of the greatest original musicals of our time, period. The show was loosely based on Dewey Phillips, one of the first white DJs to play black music on the radio (he was also the first to broadcast Elvis Presley's debut record, "That's All Right/Blue Moon Of Kentucky"), and won four Tony awards. It transitioned to the West End stage following its Broadway debut and even did a run in Japan. Keyboardist David Bryan, a founding member of Bon Jovi, offered his talents in crafting the lyrics and music, ultimately helping to deliver on one of the more successful musical endeavors of the late 2000s.
1. Lion King, Aida, Lestat, Billy Elliot, The Devil Wears Prada
Artist: Elton John (Music)
When it comes to rock stars transitioning to Broadway, the buck stops at Elton John. He wrote The Lion King for Disney, which, after premiering on Broadway, ultimately topped The Phantom of the Opera for the highest-grossing title in history. High off of his Lion King success, John wrote the score for Aida, a musical based on Giuseppe Verdi's 1871 opera of the same name. The musical was also a hit, earning the cast a Grammy for Best Musical Show Album and a Tony for John for Best Score. In 2005, John took to Broadway again with Lestat, a show based on the Anne Rice novel series The Vampire Chronicles. The musical had a short run, and though it garnered nominations for a few Tonys, it's largely regarded as a flop. In the same year, Billy Elliot, with music also written by John, premiered on the West End. The show earned rave reviews and made its move to Broadway in 2008. Along the way, it picked up a Laurence Olivier Award for Best Musical, a Drama Desk award for Best Musical and a Tony Award for Best Musical. More recently, it's been announced that John is working on the music for a new show based on the 2006 film The Devil Wears Prada.