Listen to Bruce Springsteen Perform in NYC Just After the Release of His Debut Album
Photo by Monty Fresco/Evening Standard/Getty
Music
Features
Bruce Springsteen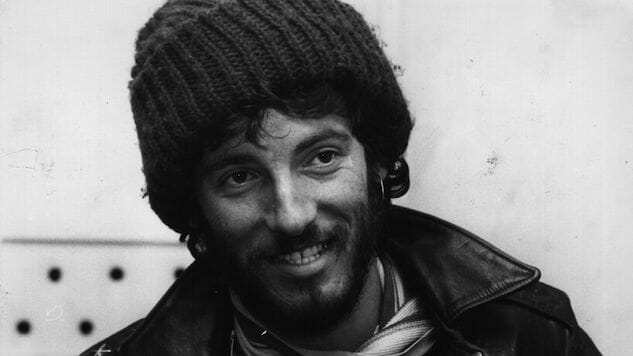 On this day in 1973, Bruce Springsteen performed at New York City's famous Max's Kansas City, and at that point, it's unlikely that the 23-year-old Springsteen knew just how huge he would become. On that day, he performed just a few weeks after the release of his debut album, Greetings from Asbury Park, N.J., which was eventually certified double Platinum.
This performance featured Springsteen and the E Street Band's original lineup: Springsteen (lead vocals, guitar, harmonica), Clarence Clemons (saxophone, vocals), Danny Federici (organ, piano, accordion, keyboards, vocals), David Sancious (organ, piano, clavinet), Garry Tallent (bass, vocals, tuba, horn, background vocals) and Vini Lopez (drums, vocals). The gig was recorded as part of the first installment of the King Biscuit Flower Hour syndicated radio show, which aired on Feb. 18, 1973. The premiere KBFH program featured a triple bill of Blood, Sweat & Tears, Mahavishnu Orchestra and Springsteen, each recorded just weeks before.
Springsteen was booked for six nights at Max's Kansas City, opening for American comedian and singer-songwriter Biff Rose. This recording was taken from the first of those six nights, when he played two shows. He performed tracks from his first two albums (his second record, The Wild, The Innocent & The E Street Shuffle was released just seven months later) and even a few tracks that never appeared on any Springsteen LP.
Listen to Bruce Springsteen perform live on this day in 1973 below.