Built to Spill Share Cover of Daniel Johnston's "Life in Vain"
Photo by Natalie Behring/Getty
Music
News
Built to Spill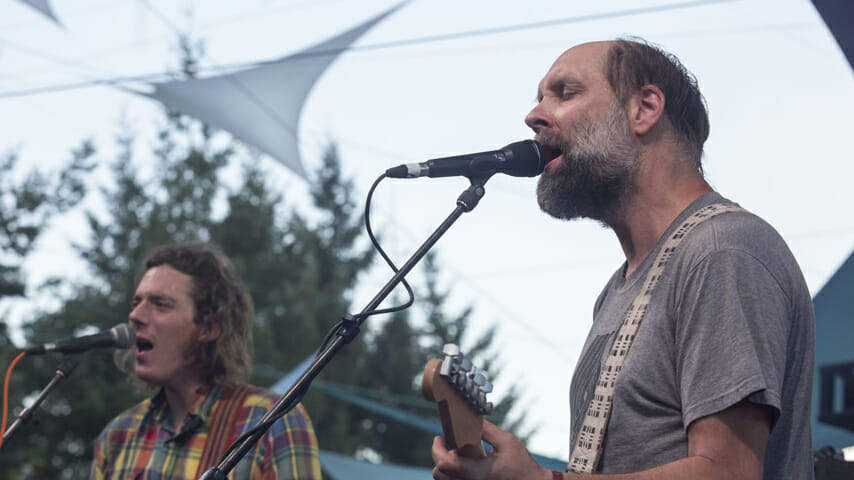 Last month, Built to Spill shared "Bloody Rainbow," the first cover from their forthcoming Daniel Johnston covers album Built to Spill Plays The Songs of Daniel Johnston. Tuesday, they followed up on that with their rendition of the late artist's "Life in Vain," from his 1992 album Fun.
The covers album was recorded during Built to Spill's time backing Johnston back in 2018. Doug Martsch said of the album, "Basically we wanted to get a good documentation of what our rehearsals were like."
Built to Spill Plays The Songs of Daniel Johnston is out via Ernest Jenning Record Co. on May 1. Built to Spill will be embarking on an extensive tour later this month, running until the end of August.
Folk icon Johnston died at age 58 back in September. He has been celebrated since by many artists, from The Mountain Goats to Beck. You can check out a 2009 Paste clip of Johnston at Radio Room performing "Life in Vain" beneath Built to Spill's rendition below.
Built to Spill Tour Dates:
March
22 – Portland, Ore. @ Aladdin Theater
23-24 – Seattle, Wash. @ The Crocodile
26 – Boise, Idaho @ Treefort Main Stage Area
27 – Salt Lake City, Utah @ Metro Music Hall
28 – Estes Park, Colo. @ Stanley Hotel
30 – Albuquerque, N.M. @ Launchpad
31 – Tucson, Ariz. @ 191 Toole
April
01 – Flagstaff, Ariz. @ Orpheum Theater
02 – San Diego, Calif. @ Music Box
03 – Pioneertown, Calif. @ Pappy & Harriet's
04-05 – Berkeley, Calif. @ The Cornerstone
04 – Las Vegas, Nev. @ Bunkhouse Saloon
June
05 – Phoenix, Ariz. @ The Crescent Ballroom
06 – Santa Ana, Calif. @ Observatory
07 – Santa Barbara, Calif. @ Soho Restaurant & Music Club
09-10 – Los Angeles, Calif. @ Echoplex
11 – Santa Cruz, Calif. @ Rio Theatre
12-13 – San Francisco, Calif. @ Slim's
14 – Sacramento, Calif. @ Harlow's Restaurant & Nightclub
16-17 – Portland, Ore. @ Wonder Ballroom
18-19 – Seattle, Wash. @ The Showbox
20 – Spokane, Wash. @ Lucky You Lounge
21 – Missoula, Mont. @ Wilma Theatre
July
16 – Dallas, Texas @ Granada Theater
17 – Houston, Texas @ White Oak Music Hall
18 – Austin, Texas @ Mohawk Austin
19 – Baton Rouge, La. @ Varsity Theatre
20 – Pensacola, Fla. @ Vinyl Music Hall
22 – Nashville, Tenn. @ The Basement East
23 – Atlanta, Ga. @ Variety Playhouse
24 – Asheville, N.C. @ The Grey Eagle
25 – Charleston, S.C. @ Music Farm
26 – Carrboro, N.C. @ Cat's Cradle
28 – Richmond, Va. @ The Broadberry
29 – Washington, D.C. @ 9:30 Club
30 – Philadelphia, Pa. @ Union Transfer
31 – Jersey City, N.J. @ White Eagle Hall
August
04-05 – New York City, N.Y. @ Brooklyn Bowl
07 – Cleveland, Ohio @ Grog Shop
08 – Detroit, Mich. @ St. Andrew's Hall
09 – Kalamazoo, Mich. @ Bell's Brewery
11 – Milwaukee, Wis. @ Turner Hall Ballroom
12 – Chicago, Ill. @ Thalia Hall
13 – Maquoketa, Iowa @ Codfish Hollow Barnstormers
14 – Minneapolis, Minn. @ First Avenue
15 – Omaha, Neb. @ Waiting Room Lounge
16 – Denver, Colo. @ Bluebird Theater