CHVRCHES Denounce Former Collaborator Marshmello for Working with Chris Brown and Tyga
Photo by Nathan Zucker
Music
News
CHVRCHES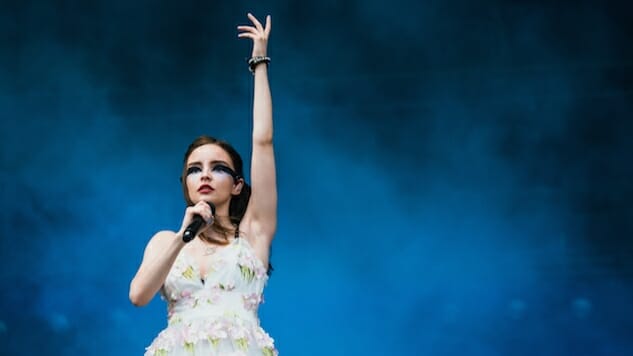 Scottish synth-pop group CHVRCHES have called out their former collaborator Marshmallow for choosing to work with Chris Brown, who has a history of abuse.
"We are really upset, confused and disappointed by Marshmello's choice to work with Tyga and Chris Brown," the band said in a post shared to their various social media channels. "We like and respect Mello as a person but working with people who are predators and abusers enables, excuses and ultimately tacitly endorses that behaviour. That is not something we can or will stand behind."
CHVRCHES recently worked with the EDM producer on his song "Here With Me," which was released back in March and has been enjoying a slot on the Billboard charts since. Marshmello's song with Tyga and Chris Brown, "Light It Up," was released Thursday.
Brown was arrested back in 2009 on felony charges for the assault of his then-girlfriend Rihanna, to which he later pleaded guilty. Since completion of his probation in 2015, he has faced weapons charges, as well as a civil suit by a woman who claimed she was sexually assaulted while on his property. Tyga, meanwhile, was accused by a woman of sexual battery in 2012, but settled the case out of court, only to reportedly stiff his accuser on much of what he owed her. He was later accused of exchanging inappropriate text messages with a 14-year-old girl.
Lauren Mayberry, CHVRCHES' lead singer, is known for being vocal about issues of gender inequality both onstage and on social media. CHVRCHES' Instagram post has received support from fellow musicians including Phoebe Bridgers, Lo Moon, and Tegan and Sara, while rapper Tyga fired back in an Instagram comment, "Everyone makes mistakes no ones perfect. [sic]" Marshmello has yet to respond publicly.
Check out CHVRCHES' post (you'll need to view it on Instagram to see the aforementioned artists' responses) below, along with the band's 2013 Daytrotter Session.