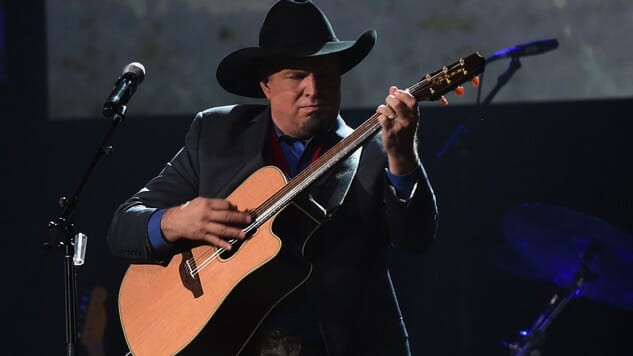 This year marks the 25th anniversary of Garth Brooks's "We Shall Be Free." In 1992, the controversial song received limited airplay on country radio thanks to its progressive stance on a multitude of issues including racism, marriage equality, indigenous rights and the environmental protection. Brooks has since said he released the track in response to the Los Angeles riots of 1992, which broke out after the acquittal of the four LAPD officers who were videotaped beating Rodney King.
Fast-forward to 2017 and racial tensions are still running high in America (especially in the wake of the violent alt-right gathering in Charlottesville). Although it may seem stereotypical to lump radio-friendly country music together by themes of Southern identity and patriotism, there's some truth to genre's history of conservatism: A 2004 Gallup poll found that 60 percent of country fans identify as Republicans.
When country artists offer songs or views that contradict a long-standing narrative or opposing political viewpoint, it can come as a shock to fans. The backlash over the Dixie Chicks' criticism of George W. Bush in 2003 remains one of the most famous examples. More recently, Jason Isbell took some fire for his latest album, The Nashville Sound, with songs like "White Man's World" and "Hope the High Road" addressing gender inequality, indigenous rights and white privilege.
But when fans see their musical heroes singing and speaking about contemporary issues, it can also be educational, inspirational and unifying. Here are 10 of the most progressive country songs of all time.
1. Garth Brooks, "We Shall Be Free"
While the feel-good, gospel-tinged anthem encourages inclusivity, unity and peace, the accompanying video really drives home the progressive stance that Brooks assumed. This year, to mark its 25th anniversary, he updated the original version to include more contemporary voices, like Al Gore and Colin Powell. The '92 original includes images and video footage of religious intolerance, angry Confederates, indigenous exploitation and environmental disasters. It stands as a powerful reminder of the progress that still needs to be made.
2. Jason Isbell, "White Man's World"
An honest response to the evolved understanding of his privilege, Isbell writes unabashedly about gender and race, citing examples from his own life. While the song serves as an acknowledgement, it's also a call to action, as he sings, "There's no such thing as someone else's war / your creature comforts aren't the only things worth fighting for."
3. Kris Kristofferson, "The Eagle and the Bear"
Few country artists are more deserving of respect than Kris Kristofferson; his talent is matched only by his dedication to activism and public service. After many visits to Central America in the 1980s, Kristofferson wrote this song in response to the aggressive military presence in Nicaragua during the Sandinista Revolution. He sings, "And I'll just pray to God for Nicaragua, and the sorrow of El Salvador today. And I'll say until the day we free Mandela, all the world will be in chains."
4. Woody Guthrie, "Deportee"
The original American troubadour, Woody Guthrie penned this song in 1948 after 28 forcibly deported migrant workers were killed after their plane crashed over Los Gatos Canyon en route to Mexico. Guthrie noticed that newspapers were neglecting to report the names of the victims, instead calling them "Deportees," and he was inspired to write the song in response. He sings, "Some of us are illegal. And others not wanted. Our work contract's up, and we have to move on / six hundred miles to that Mexican border, they chase us like outlaws, like rustlers, like thieves." The song has been covered by the likes of Emmylou Harris, Steve Earle, Ani DiFranco and Joan Baez.
5. Steve Earle, "Mississippi, It's Time"
Released in 2015 during heated debates surrounding the removal of the Confederate emblem from the Mississippi state flag, "Mississippi It's Time" laments the painful history tied up in the symbolism that blankets his home state. Earl told Rolling Stone Country, "I know that I'm not the only Southerner who never believed for one second that the Confederate battle flag is symbolic of anything but racism in anything like a modern context. [This song] is about giving those Southerners a voice."
6. Willie Nelson, "Delete and Fast Forward"
Country's beloved hippie has been outspoken on more than just marijuana reform. Here, he bemoans his frustration with the results of the most recent election, singing, "Had a chance to be brilliant and we blew it again. So delete and fast-forward, my friend."
7. The Drive-By Truckers, "What It Means"
Nearly every song off 2016's American Band could make this list. It is arguably the most progressive protest record to come out of the South in years. The Truckers address racism, immigration, and gun violence without reservation. Narrated similarly to Bob Dylan's "Hurricane," "What It Means" dissects the murders of Michael Brown and Trayvon Martin, denying the term "post-racial," poignantly speak-singing, "I mean Barack Obama won. And you can choose where to eat. But you don't see too many white kids lying, bleeding on the street."
8. Loretta Lynn, "The Pill"
Written in 1975 and subsequently banned, "The Pill" is a brave anthem released during a time when birth control was a taboo subject (that is, even more than today). The song not only brought attention to reproductive rights, but also introduced the pill as an available resource for many women without many options. "There's a gonna be some changes made, right here on nursery hill. You've set this chicken your last time, 'Cause now I've got the pill."
9. Brad Paisley, "Welcome to the Future"
It's safe to say that even with the best of intentions, Brad Paisley has had some hiccups in his attempt to confront racism (see his duet with LL Cool J, "Accidental Racist"). Alternatively, he fared well with the release of "Southern Comfort," which bucks Southern stereotypes and encourages folks to experience other cultures. First performed live in front of Barack Obama during a July 4th celebration, "Welcome to the Future" encourages racial betterment and was released in response to the 44th president's historic win.
10. Tim McGraw, "Red Ragtop"
To the dismay of many of his fans, Tim McGraw came out strong in support of President Obama, declaring himself a "blue-dog Democrat." He received even more flack from pro-gun activists after he performed at a benefit concert for the Sandy Hook Promise Foundation. Unbeknownst to many, "Red Rag Top" subtly addresses the issue of abortion, and was banned from many country radio stations for its normalization of the right to choose.