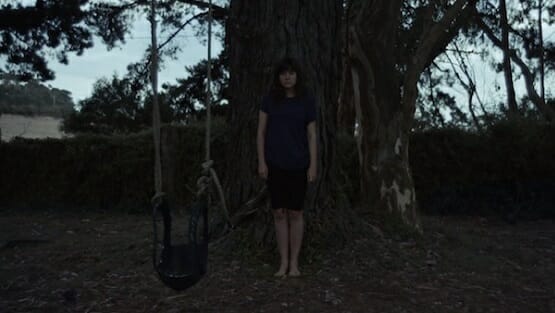 Courtney Barnett has premiered the music video for "Kim's Caravan," the single from her recent LP Sometimes I Sit and Think, and Sometimes I Just Sit. She describes the song as "an apocalyptic tale of our world painted black with oil and soot, painted red with blood and greed. The song was born when blessed with time to reflect, feeling the frustration and helplessness of the destruction of my environment and the litter of humans within it," and the music video appropriately conveys that feeling of desolation.
Directed by Bec Kingman, "Kim's Caravan" sees Barnett wandering around her childhood haunts and presents old places that hold good memories as faded homes of darkness, which Kingman keenly captured after hearing Barnett's song for the first time. Kingman said of the clip:
In conceptualizing a film clip for the track I am keen to explore the adult attempt to return to that place of childish innocence. If you have ever returned to a childhood holiday haunt in the offseason, it's likely you've discovered the sad realisation that the place barely resembles your idyllic memories. As grown ups we all yearn for a time and place where our biggest concerns were the sand in our bathers and the mosquito's eating us alive.
You can watch the music video for "Kim's Caravan" above. Check out Barnett's tour dates below.
Read our recent feature on Barnett here.
Courtney Barnett Tour Dates
April
24 – Hobart Tas, Australia @ Wrest Point
30 – Adelaide, Australia @ The Gov @
May
1 – Adelaide, Australia @ The Gov @
2 – Perth, Australia @ The Bakery @
3 – Perth, Australia @ The Bakery @
7 – Sydney, Australia @ The Metro @
8 – Sydney, Australia @ The Metro @
9 – West End Qld, Australia @ The HiFi @
14 – Melbourne, Australia @ The Forum @
15 – Melbourne, Australia @ The Forum @
16 – Melbourne, Australia @ The Forum @
18 – Boston, MA @ The Sinclair $
19 – New York, NY @ Bowery Ballroom $
20 – New York, NY @ Bowery Ballroom $
21 – New York, NY @ Bowery Ballroom $
22 – New York, NY @ Bowery Ballroom $
22-25 – George, WA @ Sasquatch Festival
27 – Morrison, CO @ Red Rocks #!
29 – Napa, CA @ Bottle Rock Napa Valley
30 – Los Angeles, CA @ The Roxy Theatre $
31 – Los Angeles, CA @ The Roxy Theatre $
June
2 – San Diego, CA @ Casbah $
5 – Austin, TX @ The Mohawk $
6 – Dallas, TX @ Club Dada $
7 – New Orleans, LA @ One Eyed Jacks $
9 – Atlanta, GA @ Vinyl $
10 – Cary, NC @ Koka Booth Amphitheater %
11 – Manchester, TN @ Bonnaroo Music Festival
13 – Washington, DC @ 9:30 Club $
14 – Washington, DC @ 9:30 Club $
15 – Philadelphia, PA @ Union Transfer $
18 – Kansas City, MO @ Uptown Theatre +
19 – Pemberton, British Columbia @ Pemberton Music Festival
26-28 – Glastonbury, England @ Glastonbury Festival
July
19 – Chicago, IL @ Pitchfork Music Festival
24 – Oro Medonte, Ontario @ WayHome Festival
25 – Newport, RI @ Newport Folk Fest
August
12 – Oslo, Norway @ Oya Festival
13 – Gothenburg, Sweden @ Way Out West Festival
22 – Biddinghuizen, Netherlands @ Lowlands Festival
@ with Teeth & Tongue
$ with Chastity Belt and Darren Hanlon
with Spoon
! with the Decemberists
+ with Belle & Sebastian
% with Alabama Shakes