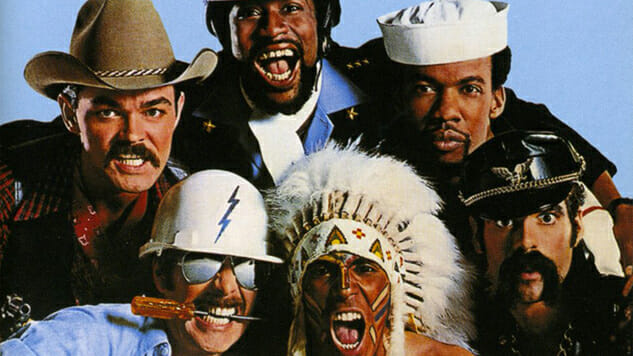 The magic of a dancefloor classic is its timelessness. Most pop songs, upon their release, meet some sort of success in the danceable arena, but they also tend to run their course fairly quickly. These songs, however, excel in both their range of genre and universal acceptance over the years. Little kids and elderly grandparents can get down to these songs; they're appropriate at proms, bar and bat mitzvahs, quinceañeras and weddings. After polling Paste's staff and writers, here are 60 of the best dancefloor classics from throughout the ages.
60. Los del Río, "Macarena"
This dance is so easy. In all of 11 steps even the most left-footed of dancers can fit in with the masses. In this case, the dance probably usurps the popularity of the song itself—a repetitive, moderate-tempo, clave-led dance hit. —Hilary Saunders
59. PSY, "Gangam Style"
PSY's "Gangam Style" took over the internet in 2012; the video even broke YouTube's view counter. But that Christmas, as 50 drunk Iranians were dancing to it in my living room and my uncle Kaveh sang along in stupor, I realized the song had broken through the internet and become so much more than a meme. That holiday season, "Gangnam Style," along with a steady flow of alcohol, tightened the bond with my extended family. And that is the power of a true dance floor classic. —Sarra Sedghi
58. The Go-Gos, "Vacation"
The Go-Go's girl group-evoking, surf-guitar-grazing first song off Vacation was equal parts tart and broken hearted, thanks to Belinda Carlisle's vocals. With a melody that builds and loads, "Vacation" offered a boppy bit of delight for spring breakers, college grinders and anybody desperately needing a break. —Holly Gleason
57. Miami Sound Machine, "Conga"
You couldn't go to a party or quince or a getty without hearing this song in certain parts in Miami during the 1980s or '90s. Actually, it's pretty much is omnipresent even today, as one of the biggest hits from Miami's reigning musical queen. Gloria Estefan and the Miami Sound Machine broke through Latin radio to pop radio with "Conga." True to name, their signature song features heavy conga percussion, but the bleating trumpets and sultry vocals helped it become such a mainstream success. —Hilary Saunders
56. The Bangles, "Walk Like An Egyptian"
Tambourine-driven and whistle-punctuated, somehow the Bangles figured out how to maintain the last bit of their punk cred on the danceable "Walk Like An Egyptian." With gnawing guitars, throbbing bass, a buried gong and their thick "way-oh-WAY-ohhhhhh" harmonies, The Bangles hit the top of the charts and ignited a dance craze with this somewhat novelty single. —Holly Gleason
55. The Clash, "Rock The Casbah"
The Clash's rebuke to a ban on Western music following the 1979 Islamic Revolution makes its often-political music equal parts whimsical and fist-in-your-wind-pipe. The track—featuring dinky toy keyboards, hand claps and guitar buzzing —is largely the work of Topper Headon, but it's Joe Strummer's protest lyrics that brought the insurrection over pop music in the Middle East into slogan-sized nuggets. With its lean, syncopated churn, the punk icons had their greatest pop radio hit that can be enjoyed with or without political context. —Holly Gleason
54. Billy Ray Cyrus, "Achy Breaky Heart"
"Achy Breaky Heart" may be the single biggest dance sensation to come out of country music. A little bit Hokey Pokey, a few dashes Tush Push, and just a tad bit of the Ally Cat, the "Achy Breaky" got people who didn't even like country music into the clubs and out on the floor. For the former club rat with big dreams, Cyrus strained to rock, but in the end, his pop confection was too great to withstand. —Holly Gleason
53. Thin Lizzy, "The Boys Are Back In Town"
Good times follow bad boys; that's a fact proven by Thin Lizzy. With a double guitar attack, tumbling drum work that hits a rapid fire pound down after the bridge, and a sense of urgency nonpareil, "The Boys Are Back In Town" culminates with a chorus suited to hoisting drinks and screeching along off-key and with gusto. Celebrating any night out anywhere, "The Boys Are Back In Town" remains a cheap beer, blue-collar thrill. —Holly Gleason
52. Blondie, "Call Me"
The CBGB siren Debbie Harry, in her razor bangs and Stephen Sprouse DayGlo, seemed the antithesis of Studio 54 chic. Yet, Blondie's retro new wave was as much kitsch as it was punk. At the height of the disco movement—when even the Stones were dropping the hot desert "Emotional Rescue" for dance floor currency—Giorgio Moroder teamed with the downtown upstarts for the theme to Richard Gere's breakout film American Gigolo.
Building from a frenzied pace, the synthesizers rise and tumble and the bass line bubbles like a lava lamp set on boil. But it's Harry's oxymoronic earthy, yet, ethereal sangfroid that that sets this track on fire. Pop radio couldn't get enough, and "Call Me" took the band to superstardom. —Holly Gleason
51. Aerosmith, "Walk This Way"
Long before Run D.M.C. chopped and raked Aerosmith's classic, the squealing Joe Perry riff and Steven Tyler's motor mouth eruption of sensual overload and silver bullets took hold. Anything goes dance-wise. Air guitars and drums are de rigeur. S-wave body rocking and a lot of shoulder rolling and arm thrusting make this the non-dancer's spasm of delight. No matter how you choose to color in the crescendo every two lines, everybody's got a way to walk, or strut, this way. —Holly Gleason
50. Men Without Hats, "Safety Dance"
Sheets of synthesizer swirl, mechanical and ebullient, as Men Without Hats brought post-new wave to the dance floor. The herky-jerky waving side-to-side that became all the rage in the mid-'80s was suited to this song—purportedly inspired by the singer being kicked out of a punk club for pogoing. Even with one of the most repetitive (and yes, kind of dumb) lyrics, it feels good do the "Safety Dance." And thus Men Without Hats did, with hair AquaNetted into flat planes and DayGlo t-shirts chopped into unlikely shapes. —Holly Gleason
49. Madonna, "Papa Don't Preach"
From the moment "Holiday" snuck up on pop radio. Madonna was the queen of the dance floor. But with "Papa Don't Preach," our lady of the holy navel raised the stakes. Suddenly, the layers of synthesizers and showers of guitars were building a tide to carry a message of emancipation and consequences: the knocked up teen, in trouble and needing help, was also saying, "don't lecture, love me" in a right to choice decision that supported—wait for it—right to life! —Holly Gleason
48. The Foundations, "Build Me Up Buttercup"
Not only is this song great for karaoke, it's also very danceable. Break out those '60s moves you've seen on re-runs of the Ed Sullivan show, because this is a good song to show your grandma you can really hang. Even the echo chorus ("build me up…") is easy to sing along to, so basically everyone will think you're really up to game on your The Foundations discography even if you're completely faking it. All in all, it's a great song to pretend like you know what you're doing, even if you don't. Of course, if you actually know and love this song, more power to you. It's a great one. —Annie Black
47. The Commodores, "Brick House"
Like most Southern soul bands, The Commodores played enough frat parties and college keggers they understood that getting the stank on it meant getting the next booking. Though they'd yet to break wide open before this song, "Brick House"—sung by the Walter Orange, not Lionel Richie—turned into a Top 5 single, celebrating the attributes of a solidly built girl against a bass line throb that suggested lusty appreciation. —Holly Gleason
46. Robin Thicke featuring Pharrell and T.I., "Blurred Lines"
"Blurred Lines" was unavoidable before the VMAs, and maybe now we'd just hope the whole package would go away. But strip away all the Cyrus controversy (see what I did there?) and the fact that Thicke is getting sued for sounding a little too much like Marvin Gaye, and you've got a soul-fueled hit that's impossible to wipe from your recent memory for good reason. —Tyler Kane
45. Cyndi Lauper, "Girls Just Want to Have Fun"
Cyndi Lauper may be singing that only girls just want to have fun in her 1983 breakthrough, but dancers of all ages and genders get down to this synth-pop jam. In fact, Lauper didn't even write it; Robert Hazard, a musician and songwriter (who was also the son of an opera singer) penned "Girls Just Want to Have Fun" in 1979, proving that everyone wants to have fun on the dance floor. —Hilary Saunders
44. Van Morrison, "Brown Eyed Girl"
Originally titled "Brown Skinned Girl", this Calypso-kissed AOR staple about an alleged interracial tryst and deemed too hot for pop radio upon its release was without question the biggest hit from Morrison's ill-fated tenure with groundbreaking producer/songwriter Bert Berns and his Bang Records label. Van claimed he never saw a penny of royalties and the contract he naively signed rendered him liable for all expenses incurred during the recording process, which is probably a big reason why he doesn't consider it one of his favorite songs from the catalog. However, whether he liked it or not, "Brown Eyed Girl" has since become his reluctant calling card, the one Van Morrison song everyone seems to know about due to its firm place on classic rock radio, its appearance in such acclaimed films as The Big Chill and Born on the Fourth of July and the fact its a song in regular rotation in the iPods of no less than two American presidents. —Ron Hart
43. George Michael, "Faith"
After all the PG-13 of Wham!, George Michael came back as a clean-cut, yet full-tilt sex symbol. After a bit of churchy pipe organ, "Faith" dropped the beat with a choppy acoustic guitar and a sexually frank opening line that declared, "Well, I guess it would be nice / If I could touch your body."
Lusty without being raunchy, Michael tapped into the rhythms of sex and pushed his single into a place where coitus comes with a deeper attachment than the disco hit and run. As the song evolves, Michael's supple tenor grips the melody like a bedpost and suggests an Elvis-esque desire. Needless to say, the stop-start arrangement—vocal forward and guitar cresting—was catnip for the gay clubs, high school dances, cruise ships and wedding planners. —Holly Gleason
42. Eddie Grant, "Electric Avenue"
Though synthesizer and drum loop-anchored, Eddie Grant's "Electric Avenue" borrowed heavily from the ska and reggae music permeating London's Brixton neighborhood. With a flat, haunted voice that had that rock steady delivery, the massive 1983 smash was a political rejoinder that most people missed for the sake of the promise that, "We're gonna take it higher." It was both political manifesto and expression of social unrest, but it had a good beat and the kids chose to dance to it. —Holly Gleason
41. Bon Jovi, "Livin' on a Prayer"
"Livin' on a Prayer" is one of the most optimistic narratives in rock 'n' roll. The 1986 single perfectly captures hair metal flair, making it ideal for big groups of partiers to rock and shake their locks in unison. But when the key changes at the end of the song and Jon Bon Jovi hikes up the "Ooooh we're halfway there" to impenetrable heights, it's impossible not to wail the chorus together." —Hilary Saunders
40. Martha and the Vandellas, "Dancing in the Street"
The has the word "dancing" is in the title, so obviously, this 1964 girl-group hit is great for any party. And as much as we love David Bowie and Mick Jagger, the fact that their ridiculous cover of this has nearly twice as many YouTube views as the classic original is an absolute crime. —Bonnie Stiernberg
39. Guns N' Roses, "Sweet Child O' Mine"
"Sweet Child O' Mine" is a savior of a song for rock 'n' roll fans who are less than graceful on a dance floor. With Slash's signature guitar riff and Axl's howling vocals, this 1988 single allows for even the clumsiest of bodily movements disguised as headbanging. —Hilary Saunders
38. Daft Punk featuring Pharell, "Get Lucky"
Robin Thicke's mega-hit might have out-partied "Get Lucky" in sheer saturation, but there's no denying that Pharrell's appearance with the chrome-domes is, without a doubt, the summer jam that reigns supreme in quality. Daft Punk and Pharrell's not-so-subtle mission statement is slicked over by Nile Rodgers' virtuosic take on glossy rhythm guitars, forming an alliance we'd never imagine—but we're perfectly happy listening to the outcome. —Tyler Kane
37. Rick James, "Superfreak"
On the brink of reaching a creative high with his Stone City Band, "Superfreak" took Rick James—the King of Punk Funk¬into a corkscrew drift that was all bass bounce and synthesizer swirls for his voice to spin around like a stripper pole. With a flaunting, taunting theatrical basso profondo on the verses, he barks the chorus like a dog celebrating his bone.
James pushed society's propriety buttons with "Superfreak" (as it should be for a song about the lurid pleasures of after show gymnastics and carnality). All dreadlocks and sweat, he created a template for eroticism that pushed the envelope in the early-'80s. Add in background vocals from the Temptations and a saxophone blast from Maceo Parker, and you've got an iconic, timeless performance. —Holly Gleason
36. AC/DC, "You Shook Me All Night Long"
The strippers' national anthem, Brian Scott made his first gravely, growling vocal appearance on this raging ode to stamina and "American thighs." With a burning guitar lick and a riff on Willie Dixon's blues classic, the Australian hard rockers slammed the beat so hard, the frat boys and stiletto heeled drunk girls can't resist charging the dance floor and jumping vertically arms in the air or grinding sloppily in time. Even good girls get a little wild when this one's cued up. Heck, even Shania Twain plugged it into one of her concert TV specials. —Holly Gleason
35. Kool & the Gang, "Celebration"
Kool & the Gang knew how to make a moment feel good for everyone. Changing up the rhythms, working a major key and having enough bass to let the bottom do the work, "Celebration" became the band's only No. 1 hit. Beyond its perennial status at weddings, bar mitzvahs and sweet sixteens, the 1981 chart-topper has been a sports favorites for points scored and games won. It's easy to dance to and even makes your lame uncle seem funky for the moment. Okay, he's probably still lame, but the magic of Kool & the Gang's classic is its ability to get even that uncle on the dance floor for a song and having fun. —Holly Gleason
34. Neil Diamond, "Sweet Caroline"
Growing up, I attended a lot of Florida Gator football games. Not the biggest football fan as a little girl, I was pretty bored (sorry Dad) and the Florida Fightin' Gator Marching Band's random musical interludes kept me entertained. As do most marching bands, these kids would play a spirited rendition of the Neil Diamond hit erupting in a chorus of "bum, bum, bum" across the stadium. I fully believe that this song is so popular for the dance floor because it emulates that feeling of comradery found at a college game. —Annie Black
33. The Beastie Boys, " "(You Gotta) Fight for Your Right (to Party)"
From the very first, "Kick it!," you know you're in for a rager with the Beastie Boys' "(You Gotta) Fight for Your Right (to Party)." These snarky hip-hop heroes capture teenage angst with this rap-rocker that features a solo from Slayer's Kerry King. On the dance floor, the energy culminates as the trio rhythmically shouts, "Your mom busted in and said, 'What's that noise?'" Even huddled in groups, donning your best black tie garb, you can't help but join in the catharsis of, "Aw, mom you're just jealous it's the Beastie Boys!" —Hilary Saunders
32. Brooks & Dunn, "Boot Scoot Boogie"
The song that launched the phenomenon of strip mall tonk, "Boot Scoot Boogie" turned two journeymen songwriters into one of country's biggest acts. Originally recorded by Texas swing icons Asleep at the Wheel, Tulsa club veteran Ronnie Dunn reclaimed his song for the duo he was putting together with Louisiana beer joint hit-writer Kix Brooks.
The back and forth bass line, drum rim fills and barrelhouse piano propelled Dunn's athletic, chainsaw voice and sparked a blue-collar dance revival that hadn't been seen since "Urban Cowboy." Classes began filling up at local YMCAs and redneck bars to learn "The Boot Scoot," a dance that was inspired by the eternal call to get out, get gone and get lost on a roadhouse dance floor. —Holly Gleason
31. Prince, "1999"
If we're being honest, the majority of Prince's discography belongs on this list, but in the interest of variety, we've got to go with "1999" as our Purple pick. Its message is simple: "But life is just a party / And parties weren't meant to last / War is all around us / My mind says prepare to fight / So if I gotta die / I'm gonna listen to my body tonight." Y2K turned out to be nothing, but it feels eerily relevant in 2017—we're all gonna die eventually, so we might as well try to enjoy ourselves before we do. —Bonnie Stiernberg
30. Jackson 5, "I Want You Back"
Well, lemme tell ya now: With that piano slide and a bassline that just can't be beat, this one's a shoe-in. We've never met a human being who will admit to disliking this song (that's your cue to take to the comments section if you exist, you poor, misguided souls), and for good reason; no matter how many times we hear this one, it simply doesn't get old. — Bonnie Stiernberg
29. The B-52s, "Love Shack"
Its simple beat makes "Love Shack" easy to bop around to, which means you'll inevitably wind up standing in a circle of your friends yelling Fred Schneider's part at each other (examples: "Got me a Chrysler, it seats about 20, so HURRY UP AND BRING YOUR JUKEBOX MONEY!" "Funky little shack! FUNKY LITTLE SHACK!" "Hop in my Chrysler, it's as BIG AS A WHALE, AND IT'S ABOUT TO SET SAILLLLLLLL"). And honestly, that's the true beauty of "Love Shack"—a room full of people having fun reveling in its absurdity. —Bonnie Stiernberg
28. The Beatles, "Twist & Shout"
Nothing represents this track better than Ferris Bueller's Day Off, that iconic scene where Ferris commandeers a float during the parade and performs this song about as emphatically as possible. Though the Beatles' version is a cover, it's arguably the best version of the track. John Lennon's vocal-straining hollering makes it great for the dance floor. The song literally tells you what to do with your body, so even those who say they can't dance have no excuse. —Annie Black
27. M.I.A., "Paper Planes"
Can you even listen to this song without doing the finger gun dance? This one is great because the moves are so simple, but if you know them you feel like you're in on something much larger than yourself. M.I.A herself probably wouldn't do this dance, but hey. Live a little. —Annie Black
26. Montell Jordan, "This Is How We Do It"
How they did it was by taking a healthy sample from Slick Rick's "Children's Story" and letting this L.A. New Jack Swing pioneer get growly and lascivious over it. This debut single from Montell Jordan went straight to No. 1 on the Billboard charts, and it's not hard to guess why. It's a song that felt hard and soft at the same time, and the kind of jam that, once he sings that first "This is how we do it!" sets the tone for what is going to be a great, great night. —Robert Ham
25. Nelly, "Hot In Herre"
Remember a couple of years back when a Bay Area radio station played nothing but Nelly's "Hot In Herre" for three days straight? The goal was to drum up some attention for a format chang— which was a smashing success once it went viral—but as someone who listened to the internet stream of the station for a few hours as it was going on, I gotta admit, I didn't mind so much. Nelly can thank The Neptunes for that, as the production team was at the peak of their commercial powers and came up with one of the slinkiest, filthiest grooves ever. Nelly responded in kind with a sweaty powerhouse of a performance that locked his place in the greater pop universe for always and eternity. —Robert Ham
24. Queen, "Another One Bites the Dust,"
"Another One Bites the Dust" was Queen's biggest hit in the United States. Deacon wrote this song, as well, which may be why it has such an iconic bass line. At times, "Another One Bites the Dust" feels restrained, but then Mercury bursts through with his vocals to give the song a real intensity. Apparently the song is about the St. Valentine's Day Massacre, but it's still great even without knowing that gory backstory. —Chris Morgan
23. Taylor Swift, "Shake It Off"
As of this writing, the video for T. Swift's "Shake It Off" has 1.9 billion plays on YouTube. Some of that traffic could be due to the fact that 1989 isn't available on Spotify, but still…that's a shitload of views. While some of the fun is in watching our beloved pop princess getting goofy while dressed like a cheerleader and a b-boy, the real draw is that. sick. beat. Max Martin and co. created another hit that is like a juke joint about to rock off its foundations. All Swifty can do is try to hold on for dear life as she shakes it off. —Robert Ham
22. Wham!, "Wake Me Up Before You Go-Go"
The feel good charm of "Wake Me Up Before You Go-Go" is like the Disney of dance music. this Brit-pop nugget was so squeaky clean and adorable that it made the duo of George Michael and Andrew Ridgely a stadium-sized headliner on their first American tour. Still, though, everyone from little kids to old ladies turn up this song when it comes on, hurling themselves at dance floors to do the jitterbug. —Holly Gleason
21. The Supremes, "Stop! In the Name of Love"
The Supremes were, bar none, the most successful Motown girl group. The iconic chorus features Diana Ross, Florence Ballard, and Mary Wilson all singing in unison, throwing up choreographed hand gestures that undoubtedly inspired the wrist-twisting of Beyoncé's "Single Ladies (Put A Ring On It." —Hilary Saunders
20. Sir Mix-a-Lot, "Baby Got Back"
Believe it or not, this ode to the posterior was the second-best selling song of 1992 (beat out only by Whitney Houston's show stopping version of "I Will Always Love You"). Although initially panned for sexist lyrics, the twist in "Baby Got Back" is Sir Mix-a-Lot's disregard for conventional standards beauty. "Silicone parts are made for toys," he rips, giving voice and attention to POC in the '90s. But even on the most superficial level, ignorant to social issues, "Baby Got Back" unites partiers with its gender-specific call-and-response lyrics. The "Fellas" part generates some lower-octave kickbacks, but when Mix hollers, "So, ladies! (Yeah!) Ladies! (Yeah) / If you wanna roll in my Mercedes (Yeah!)" all the women on the floor do as he says: "Turn around! Stick it out!" before everyone shouts, "Baby got back!" —Hilary Saunders
19. ABBA, "Dancing Queen"
ABBA started what I suppose is a long tradition of Swedish songwriters controlling the zeitgeist of American popular music. (Max Martin now has the most Billboard No 1 hits of anyone outside of The Beatles). In the spirit of pop music's transient nature, most of ABBA's songs have faded into the temporal tapestry…or rather, they're now better known as show tunes, thanks to the astounding success of Mamma Mia! on Broadway. But "Dancing Queen" has endured, perhaps because everyone from Bobby Moynihan's drunk uncle to your adorable six-year-old cousin can sing along to its chorus. There's a swagger to the bass line, and the strings lead feels like it's been etched into our culture by the violin bow. — Zach Blumenfeld
18. Earth Wind & Fire, "September"
Earth Wind & Fire's greatness has expressed itself in many ways over the years since the group formed in Chicago. But there's no better testament of their brilliance than making the sounds of disco seem timeless with this gem. Released as a single in 1978, in the full throes of the lighted dance floor and leisure suit era, the song was an instant smash, riding a bubbly groove, love-struck lyrics and that ever faithful chorus ("Ba-de-ya!") to glory. —Robert Ham
17. Rednex, "Cotton Eyed Joe"
If you haven't seen Swiss Army Man, you won't appreciate this as much (but you should have seen the film, so that's on you). The movie featured one of the best film score of last year, written by Manchester Orchestra's Andy Hull and Robert McDowell and composed almost entirely of layered voices, including those of Paul Dano and Daniel Radcliffe. At its heart, Swiss Army Man is about the reasons we live and the wonders of life that we should be enjoying. For Hank (Dano), one of those little things that comes back to him during his ordeal is "Cotton Eyed Joe." Who knows how it got in his head—some sporting event, a party from the days before he was stranded—but it stuck. Because "Cotton Eyed Joe" is a classic, no matter how annoying we find it, and its stupid little melody and even stupider dance will always be lodged in the back of our minds for emergency use whenever the world has turned to shit. — Zach Blumenfeld
16. MC Hammer, "U Can't Touch This"
Like nearly all of early rap, "U Can't Touch This" has another song to thank for its catchiness—Rick James' "Super Freak" (which, quite frankly, could have also made this list). But MC Hammer bounces his verses along with a joviality that hasn't existed in hip-hop since Tupac and Biggie. Many rappers still boast like nobody's business (see: West, Kanye), but seldom anymore are they spitting about how well they can spit it. Listening to "U Can't Touch This" is a return to the genre's roots as dance music for block parties, and it's thus accompanied by an innocence and blitheness that everyone seeks to feel when they're getting into a groove. This song comes on, and there's no more thinking—there is only Hammertime. — Zach Blumenfeld
15. Pharrell, "Happy"
This song is popular for many reasons. It's popular from that one interview with Oprah where Pharrell cried, from Despicable Me 2 fame, and from Top 40 radio playing it practically on the hour every hour for months. Despite the oversaturation potential, this track has stayed strong nearly three years after its introduction. It has become a party anthem, celebrating joy in an otherwise dark world. Perhaps it is time to propel "Happy" back into the spotlight, yes? —Annie Black
14. Mark Ronson featuring Bruno Mars, "Uptown Funk"
"Uptown Funk" is one the most recent song on this list; that's what happens when you take the collected clout of several old hits (this new copyright infringement suit against Mark Ronson and his co-writers is not the first), repackage them in a gleaming box of production, and pump the result out the mouth of pop's most widely appealing artist. One of the most important aspects of a true dance floor classic is its magnetism to all ages, and Bruno Mars, perhaps alone among major artists today, has true cross-generational draw. You've heard "Uptown Funk" at weddings, kids' birthday parties, packed, drunken clubs…it hasn't really gone away since its November 2014 release. Even the Stranger Things kids got in on the fun at the Emmys. — Zach Blumenfeld
13. Mr C The Slide Man, "Cha Cha Slide"
Everyone I knew growing up in my Chicago suburb learned the "Cha Cha Slide" during the bar mitzvah days of middle school. We had enough Jews that every kid in the grade, even the most antisocial loners, had been to at least one, and every single bar mitzvah ever has played the "Cha Cha Slide." There's always that one kid who screws it up, too, who slides the wrong way and bumps into someone and starts a chain of awkwardness. But the best thing about the "Cha Cha Slide" is that "Cha cha now, y'all" is always there to save you. It doesn't care that you hopped the wrong number of times and crushed your crush's foot, or that you accidentally did a 360 when the guy says, "Reverse!" The song always comes back around to the cha cha, and you can get your sexy (or, rather, self-perceived sexy) on as you step forward and back. — Zach Blumenfeld
12. The Weather Girls, "It's Raining Men"
Just as Paul Shaffer was settling into his longtime gig as the leader of The World's Most Dangerous Band (or The CBS Orchestra) next to longtime pal David Letterman, he co-wrote one of the great dance singles of all time, "It's Raining Men." This track takes the central metaphor of a downpour of dudes to the near breaking point yet never feels cheesy thanks to the gospel soul of singers Martha Wash (the vocalist on another club classic: C + C Music Factory's "Gonna Make You Sweat") and Izora Armstead. Like all good disco-pop hits, it's as silly as it gets but so much fun to shake one's groove thing to. —Robert Ham
11. Justin Timberlake, "SexyBack"
Take me back to high school Homecoming 2006, when times were simpler and I had an 11pm curfew. "SexyBack" is a special mix of cheesy, catchy and—somehow for lack of a better word—sexy. I will admit that I don't think this song would have had the same impact had it been by another pop star of the mid-aughts, but somehow JT and Timbaland nailed it with this one. I'm not entirely sure where sexy went, but thank God Justin found it and brought it back. —Annie Black
10. Sugarhill Gang, "Apache (Jump On It)"
This 1981 Sugarhill Gang cover of the Incredible Bongo Band became iconic to a certain generation after it was featured on The Fresh Prince of Bel Air in 1995. When it came on at school dances, we knew it was time to do "the Fresh Prince dance"—mean-mugging, hands on your hips, pelvis thrusting counterclockwise to the beat before the cries of "Apache! Jump on it!" mean it's time to wave an imaginary lasso and gallop around in a circle. But here's the thing: somehow, everyone knows this dance, and they're all willing to get on the floor and do it. My parents know this dance. My cousin's kids, who are in high school and weren't even alive when that Fresh Prince episode aired, know this dance. It transcends generations, and it will continue to be played at every wedding and bar mitzvah for years to come. —Bonnie Stiernberg
9. Michael Jackson, "Thriller"
Coming off a series of solo hits that included the disco favorites "Off The Wall" and "Don't Stop Til You Get Enough," as well as the pop "Billie Jean" and the Eddie Van Halen guitar-powered "Beat It," The King of Pop was seeking to bring it all together and supersede everything he'd previously done. Beyond its John Landis-directed horror movie video, "Thriller" took a bass line that picked up speed, horn splashes, a chop-stroked guitar part and a sense of drama that built into a blast of sound. Even if you didn't learn the zombie dance from the video's culmination, "Thriller" still lent itself to mad freestyling, with its rhythmic structure that people could samba, hustle, jitterbug or strip to. That kind of versatility has brought the dance floor to a climax in just about every kind of club from the mid-'80s to today. —Holly Gleason
8. James Brown, "I Got You (I Feel Good)"
The first of two appearances James Brown made on The Ed Sullivan Show included this song and "Papa's Got A Brand New Back" (see below) back in 1966. "I Got You (I Feel Good)" is his highest-charting single, though, lead by Brown's squeals, yelps, and shaking hips. How could you not feel good with all those saxes and bass?—Hilary Saunders
7. Gloria Gaynor, "I Will Survive"
How do people decide a once-dead genre is cool again? Or, at least, when does it stop inducing cringes and start inducing nostalgia fever? I wasn't around when disco died in the early '80s and I don't know why it became listenable again in the late '90s, but "I Will Survive" had to be one of the first 45's dusted off, because it is the Platonic form of disco. The song combines Gloria Gaynor's soaring vocals with one of the more singable melodies ever concocted, lays the mixture over a classic hi-hat-heavy beat and tasteful orchestral flourishes, and ends up with a bombastic anthem to self-respect—which serves to encourage even the worst of dancers to strut their stuff. "At first I was afraid, I was petrified," they think to themselves…but now they will survive even the worst embarrassment on the dance floor. — Zach Blumenfeld
6. Outkast, "Hey Ya!"
I don't care who you are; I already know two things about you: 1. You have heard "Hey Ya!" by Outkast at least once, but, realistically at least 1,000 times, and 2. You will dance to it. It's just science. You don't even have to be a good dancer! As long as you can shake it like a Polaroid picture, you'll be doing alrightalrightalrightalrightalrightalright. This song is the great equalizer—proof that even the least cool among us are capable of being ice cold. —Bonnie Stiernberg
5. Beyoncé, "Single Ladies"
If you're a single woman and you didn't dance to this song at the last wedding reception you went to, did you really go to a wedding? It's inevitable: this song plays, and the dance floor is crowded by women young and old pretending their hardest to be Queen Bey herself. I know that I spent way too much of my senior year of high school memorizing the choreography from the iconic music video, and I know for a fact that I am not the only one. As far as party songs go, this is a definite go-to for a full dance floor. Wedding DJs, take note. —Annie Black
4. Aretha Franklin, "Respect"
Nearly 50 years after its release, "Respect" is still ubiquitous. This classic Otis Redding cover is not only one of the best Aretha tracks, but also one of the best songs of all time. From that very first "WHAT you want…" it's clear this is an anthem, one that timed out perfectly with the civil rights era and the feminist movement, but it can be applied to pretty much anyone who's looking for a little R-E-S-P-E-C-T. Aretha demanded her propers, and nearly half a century later, she still reigns as the Queen of Soul, thanks in no small part to this undeniable track. — Bonnie Stiernberg
3. Marvin Gaye and Tammi Terrell, "Ain't No Mountain High Enough"
This legendary duet ranks among the best of all time—Motown or otherwise—and it wouldn't have been possible without the help of songwriter Nick Ashford. It's inspired countless "singing into a hairbrush" moments, in film and real life alike. Plus, it helped those boys in Remember The Titans work out their differences. — Bonnie Stiernberg
2. Stevie Wonder, "Signed, Sealed, Delivered, I'm Yours"
For the first time, Motown agreed to let their boy wonder Stevie produce one of his own records. And that little measure of trust paid off big time, as what came out first was this smash hit that stayed at the top of the R&B charts for six weeks. Quite an achievement for any singer let alone one who had just turned 20. And just listen to it: it starts off so unassumingly before settling into that effortless-sounding groove and before Wonder and his backup singers burst onto the scene to deliver a message of steadfast love and happiness. —Robert Ham
1. The Village People, "YMCA"
When I was the water polo team captain my senior year of high school, the greatest challenge was getting the guys excited about jumping in the pool at 5:45am three times a week, especially in the frigid air of February and March. Warm bed to cold outdoors to freezing water sucks in infinite ways.
But I was the captain, so I had to put on a brave face and get REALLY AMPED for treading water without the use of our hands. What to do with your hands if you can't use them to keep your head from sinking beneath the surface? The YMCA, of course, complete with the requisite moves. All the guys knew it, because everyone knows it, and screaming out the words to the Village People's woke everyone up and rendered us absolutely shameless. I'll leave you to judge the optics of a bunch of jacked dudes in speedos belting out this song. — Zach Blumenfeld