Death Cab for Cutie Preview New Album with First Single "Gold Rush": Listen
Watch the video for "Gold Rush," the first single from Thank You for Today
Images courtesy of Eliot Lee Hazel, Atlantic Records
Music
News
Death Cab for Cutie
Ben Gibbard laments the changing nature of his beloved hometown of Seattle in Death Cab for Cutie's latest single, "Gold Rush." The single has been released ahead of the band's newly announced album, Thank You for Today.
Gibbard confronts the feeling of alienation that comes from watching the physical places to which our memories are connected being torn down or remodeled. "Now that our hearts have taken flight," he sings, "and been replaced with construction sites / how I feel like a stranger here / searching for something that's disappeared."
A music video for "Gold Rush," directed by Alex Southam, has also been released and it features Gibbard walking through an increasingly busy cityscape, echoing the claustrophobia that comes when you no longer recognize a place that was once near and dear. As he walks and sings, even the people around him begin to change. The outfits of the first passersby mimic the '50s style but they evolve with each block until Gibbard is surrounded by people ogling their smartphones.
Thank You for Today is the band's ninth studio album and will arrive on Aug. 17 via Atlantic Records. The album was produced and mixed by Rich Costey, and features Dave Depper and Zac Rae, both of whom have been apart of Death Cab for Cutie's touring band since 2015. Thank You for Today is the follow-up to 2015's Kintsugi.
The band has announced a fall tour in support of the new album. Check out those tour dates and Thank You for Today's tracklist and artwork, as well as the video for "Gold Rush" and a Death Cab for Cutie performance from the Paste archives, all below. You can preorder their new album here.
Thank You for Today Tracklist:
01. I Dreamt We Spoke Again
02. Summer Years
03. Gold Rush
04. Your Hurricane
05. When We Drive
06. Autumn Love
07. Northern Lights
08. You Moved Away
09. Near/Far
10. 60 & Punk
Thank You for Today Album Art: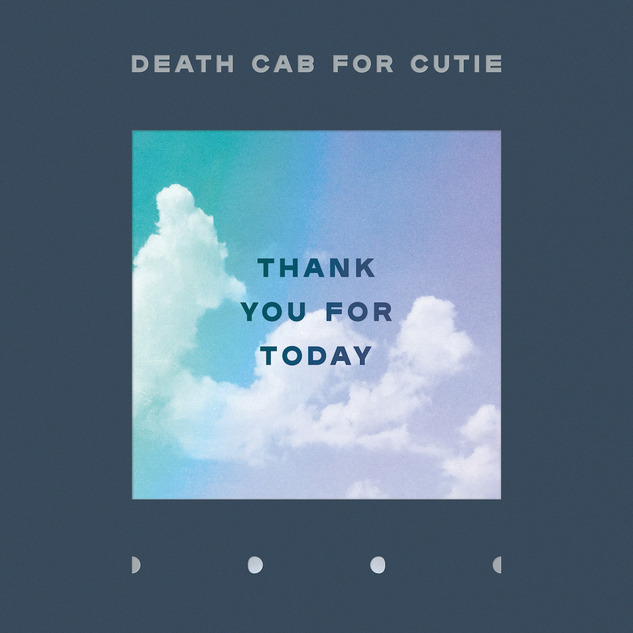 Death Cab for Cutie Tour Dates:
June
16 – Amstelveen, Netherlands @ Amsterdamse Bos Theater *SOLD OUT*
18 – London, U.K. @ Robert Smith's Meltdown at the Southbank Centre *SOLD OUT*
19 – London, U.K. @ Scala *SOLD OUT*
23 – Seattle, Wash. @ Paramount 90th Anniversary Celebration
August
02 – Salt Lake City, Utah @ Red Butte Garden Amphitheatre *SOLD OUT*
03 – Boise, Idaho @ Summerfield at Memorial Stadium
04-05 – Missoula, Mont. @ Travelers' Rest
11 – San Diego, Calif. @ 91X X-Fest 2018
12 – Long Beach, Calif. @ ALT 98.7 Summer Camp 2018
September
21 – Las Vegas, Nev. @ Life is Beautiful Music & Art Festival
24 – Eugene, Ore. @ Hult Center for the Performing Arts *
25 – Portland, Ore. @ Keller Auditorium *
27 – Berkeley, Calif. @ The Greek Theatre at UC Berkeley †
29 – Phoenix, Ariz. @ The Van Buren * *SOLD OUT*
October
01 – Dallas, Texas @ Bomb Factory *
02 – Kansas City, Mo. @ Arvest Bank Theatre at The Midland *
03 – Madison, Wis. @ The Sylvee *
05 – St. Paul, Minn. @ Palace Theatre *
07 – Chicago, Ill. @ Auditorium Theater *
09 – Upper Darby, Pa. @ Tower Theater *
10 – Upper Darby, Pa. @ Tower Theater *
12 – Brooklyn, N.Y. @ Kings Theatre *
13 – Brooklyn, N.Y. @ Kings Theatre *
14 – Boston, Mass. @ Boch Center Wang Theatre *
15 – Boston, Mass. @ Boch Center Wang Theatre *
17 – Washington, D.C. @ The Anthem *
18 – Charlottesville, Va. @ Sprint Pavilion *
19 – Atlanta, Ga. @ Coca Cola Roxy Theater *
20 – St. Augustine, Fla. @ St. Augustine Amphitheatre *
22 – Miami, Fla. @ The Fillmore Miami Beach *
23 – Orlando, Fla. @ Hard Rock Live *
November
10 – Santiago, Chile @ Fauna Primavera
11 – Buenos Aires, Argentina @ Personal Fest 2018
15 – São Paulo, Brazil @ Popload Festival
18 – Mexico City, Mexico @ Corona Capital