Deerhunter Announce New Album, Share Video for New Song "Death in Midsummer"
Why Hasn't Everything Already Disappeared? is out Jan. 18, 2019, on 4AD
Photo via 4AD
Music
News
Deerhunter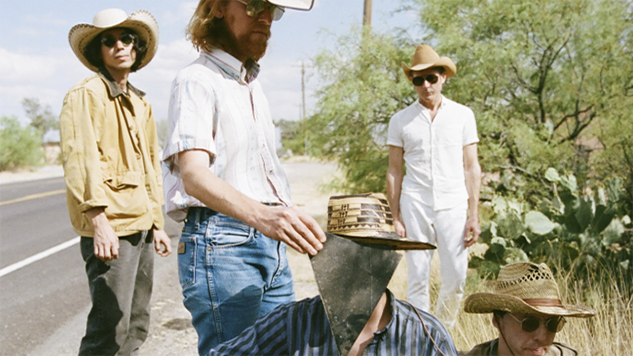 After months of live teasers and cryptic Instagram videos, Deerhunter have finally shared "Death in Midsummer," the first single off their forthcoming album Why Hasn't Everything Already Disappeared?, out Jan. 18, 2019, on 4AD.
"Death in Midsummer," along with the rest of the album, was recorded in Marfa, Texas, and the band seem to have taken the feel of the surrounding flatlands to heart when crafting the album. Built around an incessant, looping harpsichord figure, "Death in Midsummer" feels at first both endless and featureless. Those Instagram videos—as it turns out, b-roll from the song's music video—were fitting teasers, with their focus on lonely figures walking down lonelier desert highways. The song feels much the same way at first, almost oppressive in its simplicity. It of course unfolds, like all Deerhunter songs do, into an origami bloom of rhythms and textures, but the focus remains on endlessness.
If the question possessing the band is "Why hasn't everything already disappeared?" then they offer no easy answers on "Death in Midsummer." There's no affirmation they can, no easy justification for continued existence. "Some worked the hills / some worked in factories / worked their lives away," frontman Bradford Cox croons over a hurdy-gurdy stomp. "And in time / you will see your own life fade away." Things are disappearing, the song posits. The great tragedy is that they don't all disappear at once.
The band will be touring throughout the rest of the year and into 2019. A full list of those dates can be found further down, along with the album art and tracklist.
Watch the "Death in Midsummer" video (or stream the song via your platform of choice) and a 2009 Deerhunter performance from the Paste archives below.
Why Hasn't Everything Already Disappeared? Album Art: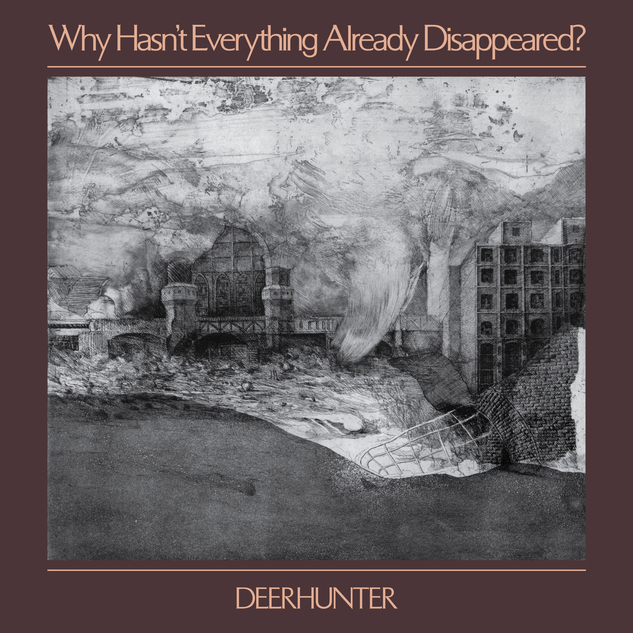 Why Hasn't Everything Already Disappeared? Tracklist:
01. Death In Midsummer
02. No One's Sleeping
03. Greenpoint Gothic
04. Element
05. What Happens To People
06. Détournement
07. Futurism
08. Tarnung
09. Plains
10. Nocturne
Deerhunter Tour Dates:
November
04 – Sao Paolo, Brazil @ Balaclava Festival
08 – Santiago, Chile @ Blondie
10 – Santiago, Chile @ Fauna Primavera
11 – Buenos Aires, Argentina @ Personal Fest
13 – Quito, Ecuador @ La Ideal
14 – Lima, Peru @ Sala Raimondi
January
17 – Los Angeles, Calif. @ Lodge Room (with Confusing Mix Of Nations)
21 – Osaka, Japan @ Bigcat (with Gang Gang Dance)
22 – Nagoya, Japan @ Electric Ladyland
23 – Tokyo, Japan @ O-East
February
15 – Nashville, Tenn. @ Cannery Ballroom (with Faye Webster)
18 – Cleveland, Ohio @ Mahall's 20 Lanes (with Mary Lattimore)
19 – Detroit, Mich. @ El Club (with Mary Lattimore)
21 – Toronto, Ont. @ Danforth Music Hall (with Mary Lattimore)
22 – Montreal, Que. @ Le National (with Mary Lattimore)
23 – New Haven, Conn. @ College Street Music Hall (with Mary Lattimore)
24 – Boston, Mass. @ Royale (with Mary Lattimore)
27 – Brooklyn, N.Y. @ Brooklyn Steel (with Mary Lattimore, L'Rain)
March
01 – Philadelphia, Pa. @ Union Transfer (with L'Rain)
02 – Washington, D.C. @ 9:30 Club (with L'Rain)
03 – Baltimore, Md. @ Ottobar
05 – Pittsburgh, Pa. @Mr. Small's Theatre (with L'Rain)
06 – Louisville, Ky. @ Headliner's Music Hall (with L'Rain)
08 – Savannah, Ga. @ Savannah Stopover Music Festival