The Roots and Erykah Badu Perform a Hip-Hop Opus at The Roots Picnic, Putting Every Other Picnic in Existence to Shame
Photo from YouTube
Music
Video
Erykah Badu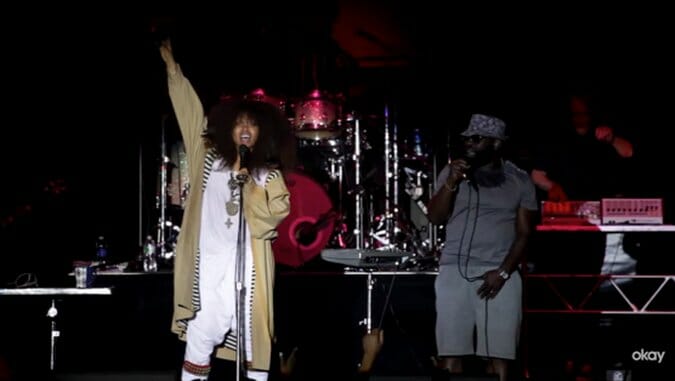 On May 30, the Roots held their 8th annual music festival The Roots Picnic. The widespread lineup included performances by The Weeknd, A$AP Rocky, Hiatus Kayote, Afrika Bambaata and DJ Windows 98 (more commonly known as Win Butler from Arcade Fire). The last act of the day was The Roots with Erykah Badu, and in this last set something truly exceptional happened. Badu and the Roots performed a 20 minute ode to hip-hop. The footage from this "Love of my Life" opus was released today through Questlove (of the Roots)'s music website/online community Okayplayer.
The video showcases the group's incredible synthesis of hip-hop classics throughout the genre's existence, including snippets of songs ranging from Wu-Tang Clan's "Can It All Be So Simple" to Kayne West's "Gold Digger." The piece was a cohesion of Badu's smooth 2002 single "Love of My Life" and The Root's "Act Too (Love of My Life)," as well as an expansion of the two works. Questlove told Billboard: "Initially the idea just started with The Roots and Erykah wanting to mash our songs together … but as the wheels started turning I decided maybe we should turn towards more of a full on tribute to hip-hop … for some reason, a 5-minute song turned into a 20-minute migraine for my manager … but I thoroughly enjoyed it."
This is not the first time Badu and The Roots have collaborated. The worked together earlier in their careers, most notable with the 1999 song "You Got Me." Hopefully, this opus won't be their last collaboration either.
Watch the video above to witness Badu and The Roots nail their tribute, surprise special guests appear, and Badu roll around onstage on some sort of motorized scooter.
Here's a recap of the festival itself below: