The Paste Staff On Our Favorite Love Songs
We go deep and get personal in honor of Valentine's Day and the songs that mean the most
Photo by Rodin Eckenroth/Getty Images
Music
Features
Father John Misty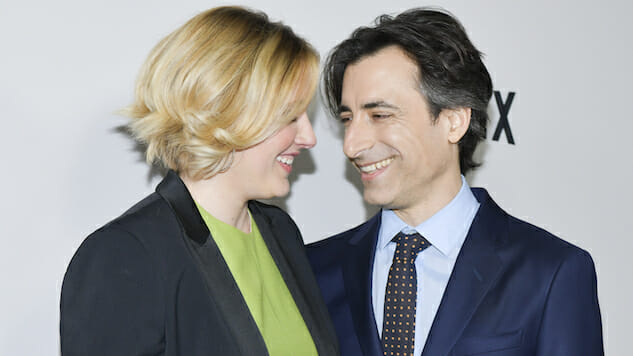 The best love songs are written about a specific person: How could they be truly meaningful otherwise? They're a way for artists to peel back a layer of themselves and write about what may actually keep them going—the relationship with their significant other. As John Cusack once said in High Fidelity, "I wanna live with a musician. She'd write songs at home and ask me what I thought of them, and maybe even include one of our little private jokes in the liner notes." And it's that level of intimacy, maybe not in the liner notes but in the lyrics themselves, that give the best love songs a sense of authenticity and, despite being specific and filled with personal details, makes them universal.
We know these songs aren't about us, but for whatever reason—maybe a cherished memory or a highly applicable lyric—they feel like they are. It's why choosing a first dance song at a wedding is such a big deal to couples: Specific songs have the power to soundtrack our relationships even though we've never met the person who wrote them. Certain tracks can have a profound influence on how we remember first dates, first kisses, first everythings; lyrics make their way into our love letters, most intimate conversations and, in honor of today, our Valentine's Day cards.
Today, Paste's staffers give us a glimpse into their own lives, writing about the love songs most meaningful to them and why. It's a space to allow ourselves to be as mushy and cliché and personal as the tracks themselves—we owe it to ourselves on Valentine's Day, after all.
The Avett Brothers: "I Wish I Was"
This top-tier Avett Brothers song asks a rather bashful question: What do you do when you love someone, but you don't want to get in the way of all their loveliness? "If I pull you in, would I push you out?" Seth sings with light accompaniment from Scott. "I'm at a loss for what to do / But I'm drawn to you." There's that feeling of complete infatuation, but also hesitation, because if you go all in with this person, will it be worth it? Or will it suddenly flicker out like a candle "high up on the mantle"? Rather than risk extinguishment, the narrator wishes he was any number of inanimate nouns: a sweater, a song, a fire—anything that can get him close to her, but not too close. Ultimately, though, he's not any of those things—he's "something better." And the overlying message of one of the Brothers' best-ever songs (and metaphors) is this: When you confidently seek intimacy, it can be better than you ever imagined. —Ellen Johnson
The Beach Boys: "God Only Knows"
"God Only Knows" isn't just one of the greatest love songs of all time, it's one of the best pop songs ever. Pet Sounds was Brian Wilson's baby—the recording process was famously an agonizing pursuit of perfection, but it proved to be a fruitful venture. The few dozen session musicians who appeared on "God Only Knows" had to have known they were making something enduring, even though they probably wanted to strangle Wilson over his insistence on recording as many takes as possible to achieve his vision. It's a fairly complex song, marked by The Beach Boys' trademark layered vocals, harpsichord, sleigh bells, French horn and a dramatic pop cacophony to close. Beyond this rousing, flawless baroque pop composition, the lyrics also sit in satisfying contrast to the popular music of the time. It's quite a dark song about a type of love that runs so deep that ending the relationship would result in complete emotional turmoil and a lack of existential purpose. While it's a crushingly beautiful ode to someone, it's also a stark reminder that without emotional independence, love can become a prison. —Lizzie Manno
Björk: "Cocoon"
The excellence of Björk's most intimate single derives from audience—this song isn't for us, the listeners, but for her lover's ears (the same partner, Matthew Barney, who also spurred inspiration for Björk's divorce opus Vulnicura). From her frank confessions of coital felicity to her diaristic declaration of Barney's vulnerable sensibility, Björk's tongue coils around somnambulant, wintery micro-beats creating a cozy love song of refuge. Her defining show at the Royal Opera House is a testament to the song's simple, nuanced grace; we watch as programming duo Matmos, who are a couple themselves, create scratchy domestic sounds through ruffling the other's hair, or crinkling the fabric of one's back with a loving stroke—the song is aware of the inward nature of love, and through its introversion achieves selfless accord. The most striking element, though, is obviously Björk's bashful sweet nothings, like she's offering hushed prayers. As she releases these thoughts, she veers to protean signals, smiling and covering her face. We weren't meant to hear "Cocoon"—but thank God we got the opportunity. —Austin Jones
Coldplay: "Green Eyes"
As far as love songs go, Coldplay might seem like a sappy choice, but I think their reputation as a painfully sentimental band is a little overblown. Lovesick or not, you can't honestly tell me that you've listened to A Rush of Blood to the Head and didn't feel anything. While the album is known for dramatic piano numbers like "Clocks," "The Scientist'' and "Politik," there's one standout acoustic moment by way of "Green Eyes," and it's exactly what a love song should be—simple but not simple-minded, heartfelt but not schmaltzy and memorable but not tiresome. While the lyrics read as a yearning to a lover, Chris Martin actually wrote the song about his longtime friend and fellow guitarist Jonny Buckland. When Martin's voice climbs in the chorus, it takes you back to those sudden realizations in relationships when you realize how indebted you are to that person. It's comforting and scary, but more than anything, there's that ignited feeling of having your vulnerability pay off. There are a lot of great songs named "Green Eyes," but as someone with ambiguous eye color, this is the only one that made me decide that I do, in fact, have green eyes. —Lizzie Manno
Damien Rice: "The Blower's Daughter"
I first heard this song in Mike Nichols' Closer years ago—it plays over the film's opening moments, as Jude Law and a pink-haired Natalie Portman meet on the streets of London and lock eyes with each other in a slow-motion, romantic lightning-strike sort of moment—and have always associated it with finding someone we need so desperately, we're willing to accept whatever trouble may come just to be with them, opening ourselves up to the entire spectrum of love's pleasure and pain. My wife walked down the aisle to this song, and its heartsick strings and Rice's repeated insistence that "I can't take my eyes off you"—the bittersweet single-mindedness love forces upon us—will always remind me of that day, squinting through the sunset at her, wondering which sight was more brilliant. — Scott Russell
Devendra Banhart: "Shabop Shalom"
"Our story begins on a Sunday afternoon…" Over a bouncy doo-wop-inspired instrumental, Devendra Banhart tells a touching—and extremely Jewish—story about a young boy meeting and falling deep in love with a rabbi's daughter. It's full of vivid descriptions, beginning with a spoken-word intro to set the scene: "A young boy, not yet the cock of the walk he would soon become / Was lying on the grass and taking in the sweet and sensuous scent of hibiscus / That languidly lifted along the summer breeze / It was at this precise moment that he saw her." Though our own love stories almost definitely didn't begin in this exact way, that level of extreme detail—what we were wearing, what we were thinking, hell, what we smelled like—gets so baked into our minds that it's impossible to ever forget it all. And the rest is history: dancing (or "shabopping," if you will) under the banana trees, feeling that fire in the "deep end of my heart giving me the Heebie-Jeebies," realizing that this may be heaven on earth ("I'm ascending tonight with you"). And a major part of the memories from those early days—at least for us music obsessives—are the songs that your significant other turned you onto, the ones that inevitably become inextricably tied to the soundtrack of your relationship. This was the first song my girlfriend introduced me to. —Steven Edelstone
Elbow: "Starlings"
"Starlings," the lead track on 2008's The Seldom Seen Kid, is Garvey's finest moment as a lyricist. Every line in this song is quotable, and every word is of utmost importance. Describing the feeling of being madly in love with a woman who doesn't necessarily love him back (yet!), Garvey details every thought running through his head when he meets up with her at her office: "At the top is stopping by / Your place of work and acting like / I haven't dreamed of you and I / And marriage in an orange grove / You are the only thing in any room you're ever in / I'm stubborn, selfish and too old." But just talking with her is all he needs ("Sit with me awhile and let me listen to you talk about / Your dreams and your obsessions / I'll be quiet and confessional") as he tries to make sense of his thoughts, all while he suffers from low self-esteem ("So yes I guess I'm asking you to back a horse that's good for glue and nothing else / But find a man that's truer than / Find a man who needs you more than I"). The song, which alternates between bursts of energy via a loud-as-hell horn section and downtempo acoustic grooves, resolves in one very lovely verse and string crescendo: "The violets explode inside me when I meet your eyes / And I'm spinning and I'm diving like a cloud of starlings… Darling, is this love?" It's a lyric so touching, so jaw-droppingly gorgeous, don't be surprised if I someday have a daughter and name her Violet. —Steven Edelstone
Father John Misty: "I Went to the Store One Day"
While "Holy Shit" is the representation of Josh Tillman becoming increasingly okay with exposing the vulnerabilities of his relationship, "I Went to the Store One Day" is its next logical step. The Father John Misty character is now long gone. This is all Josh Tillman now (or so he wants us to think). Written about the moment Tillman met his future wife Emma outside of the Laurel Canyon Country Store, there is no bullshit here—no witticisms, no sarcasm, no obscure references to random other things—just a man dreaming about getting married, having seven daughters and buying a plantation house in the South with a sign that says "keep out." I Love You, Honeybear is the story of Tillman's relationship with Emma, an earnest and heartfelt album from a man who is generally not. But by finishing where it all started, the Tillmans' tale is given even more sentimental symbolism: The song and the album ends with a simple realization that Tillman's life would be completely different had he not randomly run errands one fateful day. As a result, its final line, "I've seen you around, what's your name?" leaves listeners with heart-swelling resolve. "I Went to the Store One Day" is not just Father John Misty's finest song, it's arguably one of the best love songs of this millennium. —Steven Edelstone
Iron & Wine: "The Trapeze Swinger"
"Please, remember me," sings Sam Beam to open this nine-and-a-half-minute track, a request I have never been able to deny. "The Trapeze Swinger" makes me tear up every time I hear it, not because of any personal associations, but simply because it's such a sprawling, yet intimate collection of memories both real and invented, a wistful inventory of timeless moments from a love lost ("In the car behind the carnival / My hand between your knees / You turn from me / And said 'The trapeze act was wonderful / But never meant to last'"). And it's just as beautiful when Beam's grand narrative falls away, leaving only his soft "nah nah nah"s, a wandering piano figure, gentle acoustic guitar and percussion, and all the emotion in the world. — Scott Russell
Israel Nash: "Fool's Gold"
During the summer of 2014, I was on tour with Americana band Dead Winter Carpenters, making short videos from the road. When the band was in San Luis Obispo, CA, I had a chance to reconnect with a Norwegian girl I'd known in college, and I jumped at the chance. Our first date eventually ended up back at the pool of The Madonna Inn, and we started comparing playlists. Eva had been a fan of Israel Nash for years, and she introduced me to his Laurel Canyon-ish hippie vibe. I had just become familiar with Sturgill Simpson, so I introduced her to his psychedelic country vibe. She showed me "Fool's Gold" by Nash, and I countered with "Turtles All the Way" by Simpson.
Clearly it all went very well, we got married a few years later.
Fast forward to last year's SXSW, Paste hosted backyard sessions in East Austin. Israel Nash was one of the artists featured, and Eva got to relay our whole origin story to him. Israel Nash is a fairly spiritual/mystical dude, so he received the story in the most gracious way. —Brad Wagner
Jon Brion: "Phone Call"
Plain and simple, "Phone Call" is the feeling of realizing you've completely, madly fallen in love with someone—and comprehending that, somehow, someway, they love you back—put to music. The gorgeous distorted piano represents your heart fluttering from that realization, light but peppy, just oozing pure happiness. It's strewn along by a dazzling, yet slightly melancholy string part, that notion when you want to live inside this feeling forever, but you know deep down that it will never truly be like this ever again. So just for this moment, this incredible life-changing, paradigm-shifting moment which lasts for precisely one minute and three seconds, nothing else in the world matters. It's the most present you've ever been in your entire life, and you know you'll never forget the exact thoughts racing through your mind as long as you live. It's love, unadulterated love, personified in the most perfect possible way. (And yes, this is exactly how I remember the moment my girlfriend and I told each other "I love you" for the first time. I'm also pretty sure this is what was going through Jim Carrey's mind when this song plays in Eternal Sunshine of the Spotless Mind as he leaves Kate Winslet's apartment for the first or second or third time.) —Steven Edelstone
Magnetic Fields: "Nothing Matters When We're Dancing"
I guess I'm just a sucker for songs about people dancing. In truth, I hadn't properly listened to the Magnetic Fields until senior year of college, when my then-boyfriend gifted me a 69 Love Songs CD for Valentine's Day (I thought it was very retro to have a boombox in my dorm room: I hate me too). The first CD was my favorite by far, and in particular this spare tune with just Stephin Merritt's voice, warm and comfortable like an old pair of jeans, and a ukulele (save for when the other band members join in on the chorus). "Nothing Matters When We're Dancing" captures one of the best parts of love, that even if you're in an absolute dive and the bartender is playing terrible songs, your person being there automatically makes it the only place for you. —Clare Martin
Neil Young: "Harvest Moon"
Neil Young's 1992 single was a no-brainer pick for me, as it's going to be the first dance at my upcoming wedding. While I'm thoroughly looking forward to making that memory, I've also cherished playing this song in quiet moments with my fiancé, rocking back and forth on the subway and splitting earbuds like obnoxious teenagers. The lyrics aren't overly mushy (always a red flag for me), but they're simply about taking a moment to dance in the moonlight with your loved one. Nonetheless, the guitar's country twang guitar and Young's gently yearning voice still bring the romance. It's the type of song I can picture playing in the living room decades from now, when my husband and I can just barely shuffle along in our orthopedic shoes, "Because I'm still in love with you / I want to see you dance again." —Clare Martin

Slowdive: "Dagger"
For a time before the recording of Souvlaki, Neil Halstead and Rachel Goswell were a couple. Childhood friends, the two took guitar lessons together and later formed their first band The Pumpkin Fairies. "Dagger," Souvlaki's closing track, is likely an account of the fallout of that relationship, a tale of sustained collaboration and inseparable spirits. If the woman the song addresses is Halstead's "sunshine girl," then he is the dull abrade of an old knife, lacking the capacity to be present for someone who deserves such acuity. Despite his failings, she's still there: "I didn't really lose you / I just lost it for a while." It's at this point that Goswell's voice joins Halstead's in the chorus. The world may be full of inconceivable noise, but they'll sift through it together to find meaning. —Austin Jones
Stevie Wonder: "I Believe (When I Fall in Love)"
I put "I Believe (When I Fall in Love)," the closing track on 1972's Talking Book, on the first mix CD I ever made my wife, Kari, pulling out the big guns from the get-go. What's so great about it as a love song—and the reason we chose it for our first dance at our wedding—is that it mixes romantic ballad with joyous funk jam, encompassing both the reverence and the celebration befitting the act of getting married. It's a crazy leap of faith to take, no matter how inseparable you and your partner are—you have to believe. —Scott Russell