Frances Bean Cobain Shares Snippet of "Raw and Truthful" Song via Instagram
Photo by Dimitrios Kambouris/Getty
Music
News
Frances Bean Cobain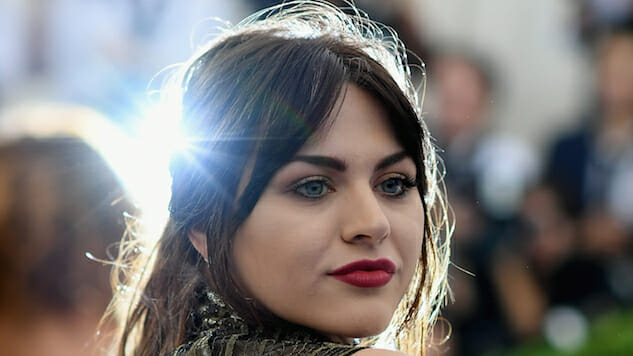 Frances Bean Cobain has shared a new clip of her singing a "raw and truthful" song via her Instagram.
"I know you weren't meant to stay in this place / Sometimes I find it hard to look at / My own face / Maybe one day I will talk to you / If I'm lucky it won't be too soon," Cobain sings on the track. Filled with her sweet and soft vocals, and her acoustic guitar playing, the song is an obvious display of emotions and grief. Most likely about the untimely death of her father, Kurt Cobain, the track seems to strike a chord with Cobain. "They say I'm soft and resemble an / angel / What happens to angels / when they die," Cobain sings in the latter half of the clip.
The snippet of music isn't the first time Cobain has shared her own original material. She released multiple clips of her singing an original track or two back in December 2018. To commemorate the 24th anniversary of her father's death, the singer posted a clip of an original song, but the video has since been deleted. She's also previously covered Leonard Cohen's "Hallelujah," which has also been deleted, and Jimmy Eat World's "The Middle," which her mother Courtney Love reposted via her own Instagram.
Along with the performance, Cobain also promised music coming "soonish" in the caption of the video.
Watch Cobain's Instagram snippet below and view a previous Instagram video of her performing an original song circa December 2018 further down.