Listen to Sarah Silverman & Katie Harkin, Manchester Orchestra Cover Frightened Rabbits' "My Backwards Walk"
Photos by Jimmy Fontaine, Mark Metcalfe/Getty
Music
News
Frightened Rabbit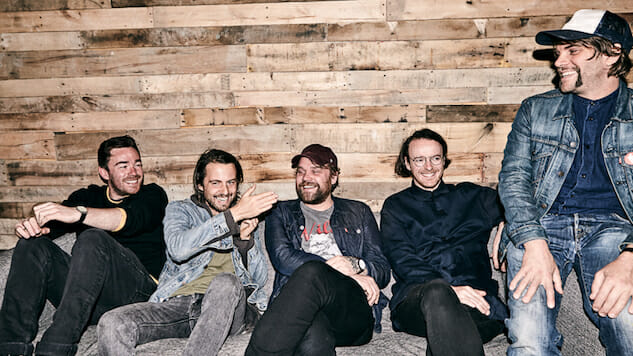 As part of the forthcoming Frightened Rabbit's covers album Tiny Changes: A Celebration Of The Midnight Organ Fight, Manchester Orchestra, and Sarah Silverman & Katie Harkin have released covers of the Scottish band's "My Backwards Walk."
The first cover is from Sleater-Kinney touring member Harkin, with the help of comedian and actress Silverman. Silverman was a good friend of Frightened Rabbit's frontman Scott Hutchison, who passed away in 2018 after the band went on a 10-year anniversary tour for the album. The duo's cover is slow, filled with synths. and puts the melancholic and nostalgic lyrics of the song at the forefront. The duo sing, "I'm working on erasing you / Just don't have the proper tools / I get hammered, forget that you exist / There's no way I'm forgetting this."
Similarly, Atlanta-based indie-rock band Manchester Orchestra focus on the poignant lyrics, but instead give the song a fuller, more cinematic sound. The song opens with frontman Andy Hull softly singing as the backing music builds to the climactic breakdown of the track.
Prior to the release of these "My Backwards Walk" covers, indie singer-songwriter Julien Baker and Scottish rockers Biffy Clyro released covers of "Modern Leper," The Midnight Organ Fight's opening track.
The compilation album arrives July 12 via Canvasback Music/Atlantic and will also feature covers by The National's Aaron Dessner, CHVRCHES' Lauren Mayberry, Josh Ritter, Death Cab for Cuties' Benjamin Gibbard, The Hold Steady's Craig Finn and many more. The album will not only commemorate the 10-year anniversary of Frightened Rabbit's album, but also serve as a memoriam to Hutchison, who had helped envision the covers album before his death.
Accompanying the release of the album, Rough Trade will hold an event hosted by Talkhouse's Josh Modell. The event will feature Finn and Grammy Award-winning producer Peter Katis. Katis was the producer for Frightened Rabbit's original The Midnight Organ Fight.
Listen to Harkin and Silverman's cover of "My Backwards Walk," as well as Manchester Orchestra's cover of the track below. You can also listen to Frightened Rabbit's original recording of the song further down, along with the band's 2011 Paste session.