Here's What The 2020 Grammy Nominations Got Right (And Wrong)
Good: Big Thief, Yola and H.E.R. Bad: All the rock categories.
Photo by Dan MacMedan/Getty
Music
Features
Grammys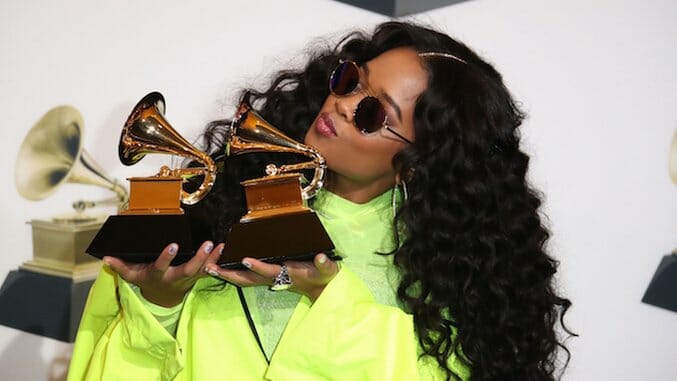 The 2020 Grammy nominations were announced Wednesday morning, and, per the usual, the ticket is a mix of pop behemoths, left-field picks and the spare pleasant surprise here and there. Lizzo, a longtime Paste favorite, swooped in with the most nominations of any artist, gathering eight nods ahead of Billie Eilish's and Lil Nas X's seven each. It's hopeful to see a talented young woman, a black woman and a queer black man lead the pack in terms of nominations, but we should still take the Grammys with a grain—nay, a bucket!—of salt. Unlike other awards bodies like the Oscars (and occasionally, the Emmys), the Grammys tend to emphasize works that are commercially successful, not necessarily the works that should be recognized solely for their content. You'll find all the highlights—and tough looks—from the 2020 nominations below. Find the entire list of nominations here, and then tune into the Grammys broadcast on CBS at 8 p.m. ET on Sunday, Jan. 26.
THE GOOD
Album of the Year
This year's nominees for one of the three biggest categories, Album of the Year, are not only acceptable—they're pretty dang good! Three albums from the lineup—Lizzo's Cuz I Love You, Billie Eilish's When We Fall Asleep, Where Do We Go? and Vampire Weekend's Father of the Bride, landed on our list of the best albums of 2019 (so far) earlier this year. We've also shown some love to Bon Iver's i,i and Lana Del Rey's NFR!, both of which also received AOTY nominations. The Recording Academy is always going to put commercial success at the center of their decisions, but, this year in particular, the commercially successful albums also happen to be really great albums. This category is also fairly diverse in genre and gender: Rap is represented (if rather quietly in Lil Nas X's genre-bending 7), and so is indie rock/folk (looking at you, Vampire Weekend and Bon Iver—what year is it anyway?), and so is R&B, with flying colors in H.E.R.'s I Used To Know Her. And the pop albums that were nominated are also favorites among critics and fans alike. The major snub is Taylor Swift's Lover, but she has had her turn at the Grammys many times over. As to who will win this category, we can't quite say. But there doesn't feel like a wrong choice here.
Best New Artist
This category hits it out of the park for the most part. Six out of eight artists are women, and at least one is queer. Nominations for Lizzo, Maggie Rogers and Rosalía are delightful and necessary but long overdue, whereas Lil Nas X's and Billie Eilish's inclusion here is completely obvious. The unexpected treats on the list are country/soul singer Yola (!!!) and Austin soul-funk favorites Black Pumas, the former of whom we discovered (and fell in love with) at this year's South By Southwest. The glaring omissions are that of Megan Thee Stallion, the Houston rapper who released her much-praised debut album Fever this year, and DaBaby, her fellow 2019 XXL freshman and one of this year's biggest hip-hop chart-toppers.
Best Folk Album
This category is pretty difficult to mess up, but you never know when it comes to the Grammys. This year, however, they pretty much nailed it. Longtime folk troubadour Andrew Bird fittingly received his first nomination for his new album My Finest Work Yet, as did Gregory Alan Isakov for his 2018 album Evening Machines. Joy Williams, formerly of roots duo The Civil Wars, snagged a nom for her delightful 2019 album Front Porch, and underdog Latin/bluegrass supergroup Che Apalache, who recently shared a moving video for their song "The Dreamer," also appeared in the nominations. The supremely talented Patty Griffin received her eighth nomination, and there's absolutely nothing wrong with that.
Best Alternative Album
The Grammys have found every possible way to mess this category up in years past. But it's hard to blame them—"alternative" is more often than not a word used by radio and streaming databases to describe inoffensive soft rock, or anything that doesn't fit neatly into another category. This year, however, it was a chance to give some love to records that wouldn't normally be anywhere near the Grammys. Indie rock giants Big Thief, who've released not one, but two incredible albums in 2019, are included, as are AOTY nominees Bon Iver's i,i and Vampire Weekend's Father of the Bride. Thom Yorke grabbed a nod for Anima, and former Best New Artist nominee James Blake received one for Assume Form. Despite the fact that all the aforementioned albums share almost nothing in terms of style, and therefore probably shouldn't be put up against one another for a a genre-specific award, this category highlights some worthwhile records.
THE BAD
Best Country Album
There's nothing aggressively wrong with this year's country categories. In fact, there's quite a bit of good in here. Maybe the radio won't play Ashley McBryde or the new Tanya Tucker album, but both of those artists received lots of love in the 2020 Grammy nominations. The very worthy Tucker has four nominations, the most of any country artist. Among those was Best Country Album for her 2019 album While I'm Livin' and a Best Country Song nomination for "Bring My Flowers Now," on which Brandi Carlile is a credited writer. Pistol Annies also received a deserved Best Country Album nomination for their 2018 album Interstate Gospel. What's blatantly wrong with these country nominations is the exclusion of one Maren Morris, who released her shining sophomore effort GIRL in March of this year, squarely in the middle of the eligibility period. She just last week took home the CMA trophy for Album of the Year. It was critically favored as well as commercially successful, and Morris remains one of country's biggest stars. She did get a nomination for her duet with Brandi Carlile, the rally for universality "Common," but the omission of her album from the rest of the country categories is downright strange and straight-up wrong, even by the Grammys overly poptimist standards. GIRL is no genre-busting smash in the vein of a Golden Hour, but it's a damn fine country/rock/pop effort that should've been a no-brainer for this year's nominees.
THE UGLY
Best Rock Album
This year's rock categories are where things take a turn for the hurl-inducing. The Grammys will always prioritize name recognition and economics over content. It's not like the Oscars when an early arthouse favorite has the chance to garner clout and acclaim throughout the year, eventually making it to the big night—your favorite indie rock albums will probably never see the light of day at the Grammys. But it's still disappointing to see the Recording Academy's picks for the best of the rock genre, which has been particularly healthy these past few years. Brittany Howard's Best Rock Performance nomination for "History Repeats" is right on the money in so many ways—despite being the frontwoman of one of the decade's most successful rock acts, she's still an underdog, a queer black woman singing from that unique perspective. Her incredible album Jaime missed the deadline for eligibility by a few weeks, so the Recording Academy still has a chance to show it some love next year. Gary Clark Jr. received a nomination for Best Rock Performance (as well a spot on the Best Contemporary Blues Album list), but elsewhere, the rock categories lean startlingly towards white male nothingness. Cage The Elephant received a nomination for one of their worst ever projects, the mostly forgettable Social Cues, and are joined by metal-leaning English rockers Bring Me The Horizon, metalcore staples I Prevail, and blues experimenters Rival Sons, as well as a legacy nom for The Cranberries.
But, I mean, why waste space in this category on metal bands? There are separate categories for hardcore music. I'm not expecting the Grammys to give credit to someone niche like Kevin Morby or Angel Olsen, but they could've at least highlighted someone of mid-tier indie fame, like the Conor Oberst/Phoebe Bridgers duo Better Oblivion Community Center, or even just The National, The Black Keys or The Raconteurs, who all put out decent rock albums in 2019. They could've gone above and beyond and given Sharon Van Etten a nomination—but now I'm just being crazy. That's the Grammys for you: a never-ending rollercoaster of improvements set back by the same old shit, year after year.