Exclusive: Listen to Guster's Stripped-Down Acoustic Version of "Hard Times"
The track is off the band's forthcoming album Look Alive, their first in four years
Photo by Alysse Gafkjen
Music
News
Guster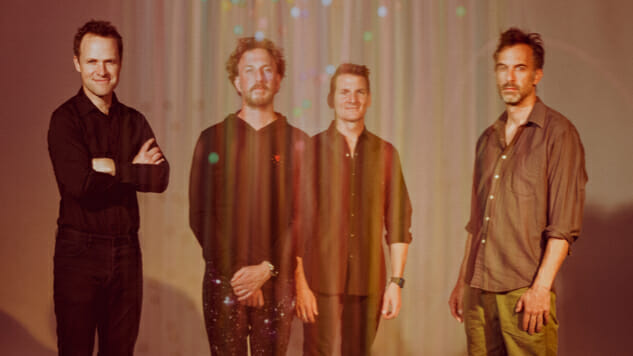 Guster have shared an acoustic rendition of "Hard Times," premiering exclusively here at Paste. The track is off the band's forthcoming album Look Alive, their first new LP in four years, out Jan. 18, 2019, through Nettwerk Music and Ocho Mule Records.
The studio version of "Hard Times" is synth-soaked and atmospheric, full of layered textures and filtered vocals. By stripping that all away, this new acoustic version emphasizes the band's pure songwriting chops, transforming the song into a tender acoustic ballad, one with a sadness behind its beautiful arpeggios and golden choruses.
Guster recorded Look Alive in a vintage keyboard museum in Calgary during the winter. Their producer, Leo Abrahams (Regina Spektor, David Byrne), told the band to pursue "colder" sounds than on previous releases. That coldness is laid bare on this new version of "Hard Times," where singers Ryan Miller and Adam Gardner sound borderline exhausted by the titular times, but keep pushing through all the same.
"Throughout our career, we've put a lot of care and imagination into the sonics and textures of our albums," Miller tells Paste. "'Hard Times,' at first blush, may seem like a radical departure from our usual palette but we hope that this version shows that, ultimately, it all comes back to what has driven this band for over 25 years: a song we can be proud of."
Listen to "Hard Times (Acoustic)" and check out the band's 2011 Daytrotter Session below. Guster will be touring throughout the beginning of 2019—find those dates further down.
Guster Tour Dates:
January
16 – Clifton Park, N.Y. @ Upstate Concert Hall w/ Henry Jamison
17 – Philadelphia, Pa. @ The Fillmore w/ Henry Jamison
19 – Boston, Mass. @ House of Blues w/ Henry Jamison
21 – Montreal, Que. @ Théâtre Fairmount w/ Henry Jamison
22 – Toronto, Ont. @ The Mod Club w/ Henry Jamison
23 – Rochester, N.Y. @ Anthology w/ Henry Jamison
25 – Washington, D.C. @ 9:30 Club w/ Henry Jamison
26 – Washington, D.C. @ 9:30 Club w/ Henry Jamison
30 – San Francisco, Calif. @ Bimbo's 365 Club w/ Henry Jamison // 3 Night Passes Sold Out
31 – San Francisco, Calif. @ Bimbo's 365 Club w/ Henry Jamison // 3 Night Passes Sold Out
February
01 – San Francisco, Calif. @ Bimbo's 365 Club w/ Henry Jamison // 3 Night Passes Sold Out
02 – Santa Ana, Calif. @ The Observatory w/ Henry Jamison
04 – Salt Lake City, Utah @ The Depot w/ Henry Jamison
06 – Estes Park, Colo. @ The Stanley Hotel w/ Henry Jamison
07 – Denver, Colo. @ Ogden Theatre w/ Henry Jamison
08 – Omaha, Neb. @ Holland Center w/ the Omaha Symphony
09 – Minneapolis, Minn. @ First Avenue w/ Henry Jamison
11 – Missoula, Mont. @ Top Hat Lounge w/ Henry Jamison
12 – Spokane, Wash. @ Bing Crosby Theater w/ Henry Jamison
14 – Portland, Ore. @ Wonder Ballroom w/ Henry Jamison
15 – Vancouver, B.C. @ Imperial w/ Henry Jamison
16 – Seattle, Wash. @ The Showbox w/ Henry Jamison
March
02 – Tempe, Ariz. @ Innings Festival
14 – Providence, R.I. @ The Strand w/ Tall Heights
15 – Portsmouth, N.H. @ The Music Hall w/ Tall Heights SOLD OUT
16 – New York, N.Y. @ Beacon Theatre w/ Nada Surf
27 – Houston, Texas @ The Heights Theater w/ Saintseneca
28 – Austin, Texas @ Stubb's Waller Creek Amphitheater w/ Saintseneca
29 – Dallas, Texas @ House of Blues w/ Saintseneca
30 – New Orleans, La. @ House of Blues w/ Saintseneca
April
04 – Nashville, Tenn. @ Cannery Ballroom w/ Saintseneca
05 – Atlanta, Ga. @ The Tabernacle w/ Saintseneca
06 – Orlando, Fla. @ The Beacham w/ Saintseneca
07 – Fort Lauderdale, Fla. @ Culture Room w/ Saintseneca
09 – Charlotte, N.C. @ Neighborhood Theatre w/ Saintseneca
11 – Covington, Ky. @ Madison Theater w/ Saintseneca
12 – Grand Rapids, Mich. @ The Intersection w/ Saintseneca
13 – Chicago, Ill. @ Riviera Theatre w/ Saintseneca