Watch Haim Play New Song, Cover Shania Twain at Pop-Up Show
Photo by Dimitrios Kambouris/Getty
Music
News
HAIM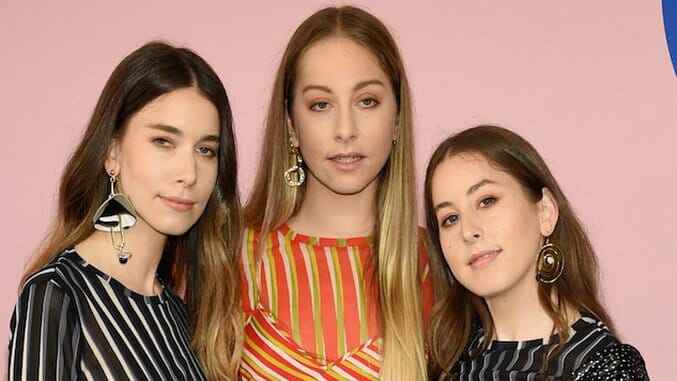 Haim's reappearance has been a long time coming, but it's been well worth the wait. To prepare for their July 7 release of their second album, Something to Tell You, the trio hosted a pop-up show on Saturday that was limited to just 100 fans and was held at the Hollywood community arts space Junior High. Along with a performance of a new song, "Night So Long," the sisters put their own spin on a Shania Twain classic with their stripped-down "Man! I Feel Like a Woman" cover.
While Este, Danielle and Alana have been busy promoting their record, there is never a lack of genuine enjoyment or onstage charisma that make the band so endearing. Their Saturday Night Live performances of "Want You Back" and "Little of Your Love" were energetic and spirited, reminding us why we adore them and their group dynamic. The pop-up show was no different, bringing with them the same energy that they did for the live TV performance.
Watch clips from the pop-up performances below, beneath Paste Cloud audio from the band's 2012 Daytrotter Session. You can also preorder Something to Tell You, which made our list of the 22 Most Anticipated Albums of 2017, right here.
2px); width:calc(100% 2px);">
2px); width:calc(100% 2px">
2px); width:calc(100% 2px">