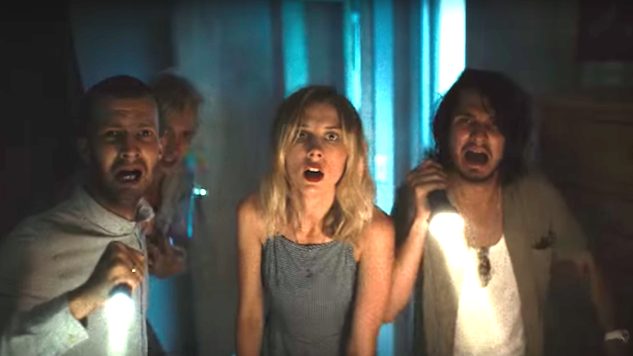 Music videos are an easy way for musicians who also happen to be horror-movie fanatics to embrace their scary, theatrical sides. Whether it's playful Scooby Doo-like chases or straight-up-terrifying mini slasher flicks, horror-inspired music videos are usually just as fun to watch as they were for the artists to make. Instead of listing the most gory, creepiest-of-the-creepy music videos from experimental metal acts and the like, we've compiled a more enjoyable list of songs we love with accompanying music videos that will still make you jump, give you nightmares or, at the very least, weird you out. Paste compiled seven 21st century music videos to help you get into the holiday spirit. Enjoy at your own risk.
1. Wolf Alice: "You're A Germ"
Wolf Alice's "You're A Germ," taken from their debut album, My Love is Cool, is musically and lyrically hair-raising enough on its own, but their zombie-themed video takes it to a whole new level. Featuring a chainsaw-wielding clown, a foiled car chase, blood baths and lots of priceless jump-scare reactions, the video sees band members mostly eluding these horrors, apart from guitarist Joff Oddie, who [spoiler alert] tragically succumbs to the zombies.
2. Sunflower Bean: "Easier Said"
This video's most chilling elements appear in sudden, fleeting bursts of gray and gloom: a sullen, demonic face here, a flame dance there. Brooklyn-based trio Sunflower Bean created in "Easier Said," from their 2016 debut Human Ceremony, something of an indie hit—it's got hooky guitar, a melodic chorus and a catchy beat—and the video followed suit, racking up more than a million views on YouTube. Gray hues eventually darken to black as the video's mood becomes more ominous and the three bandmates—Julia Cummings, Nick Kivlen and Jacob Faber—convulse through clouds of smoke and fire.
3. MGMT: "Kids"
MGMT's "Kids" is one of the first music videos I remember that genuinely freaked me out. The Oracular Spectacular single has well over 100 million views, and it features a toddler who's unrelentingly haunted by monsters no matter where he goes. The toddler's mother is played by Joanna Newsom, and the truly terrifying video drew so much criticism for its apparent treatment of the toddler that the band released a behind-the-scenes video showing the child giggling with the actors in monster costumes.
4. Courtney Barnett: "Pedestrian At Best"
This listing is more curated to the individual, as Courtney Barnett's visuals for her 2015 track "Pedestrian At Best" will probably only spook you if you're afraid of clowns. But if painted faces and red noses do alarm you, this clip is bound to shake you up. A clown-faced Barnett mopes gloomily around a carnival as she weathers an "existential time crisis." Towards the clip's end, a very creepy clown wearing a rainbow wig celebrates winning "Clown of the Year" as Barnett's washed-up clown character—last year's winner—takes a ride on one very depressing carousel.
5. Post Animal: "Special Moment"
The video for Post Animal's "Special Moment" isn't your typical scary music video. The clip is set in an old mansion, and its owner invites a cleaner over to tidy up the property. The cleaner unsuspectingly uncovers a shrine devoted to himself, complete with stalker photos and his name spelled out in candles. The owner of the mansion finds out the cleaner has discovered his secret shrine and plans an elaborate dinner for the two of them. Eventually, the owner ends up poisoning the cleaner's food, and he drags the cleaner's body inside the mansion and puts on his boiler suit. It's an unusual, baleful caper to satisfy all your Clue-esque murder-mystery needs.
6. Father John Misty: "Please Don't Die"
Stop-motion videos always seem just a little bit creepier than your run-of-the-mill animation, and Father John Misty's hellish scenescape is no different. What begins as a hotel room-set pity party becomes the Grim Reaper's welcome ceremony when an animated Josh Tillman sinks through the floor into hell. There, he paddles across the River Styx, where a troupe of zombie-skeletons are waiting to devour and/or dance with him. Then, out of nowhere, Tillman's one true love appears in the sky, pulling him from that demonic grip and flying him away on angel wings. Ah, true love reigns—even in hell.
7. Radiohead: "Burn The Witch"
Radiohead's "Burn The Witch" starts off like a pleasant, whimsical stop-motion clay video, set in a primitive, rural British town. But about a minute-and-a-half or so in, you realize there's something strange about this quaint, little village. A woman is tied to a tree and masked men with antlers surround her, pointing their swords towards her. Then, there's the town's prized possession—a large noose hanging from a wooden beam, decorated with colorful flowers. The grand finale features a giant man-shaped wooden structure in the middle of the town square with a big crowd gathered around. A man is lured inside the wooden structure before it's burned to the ground, and the townspeople creepily wave toward the camera as it burns. Think Wallace and Gromit, if it took place in a superstitious, murderous, old English town.