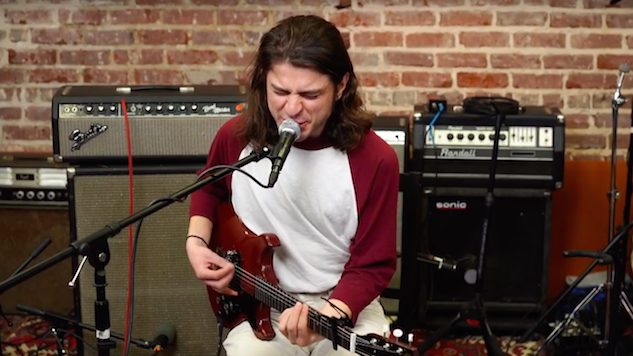 Boston slowcore outfit Horse Jumper of Love stopped by the Paste Studio at our Atlanta HQ to perform a live session in support of their recent album So Divine, out now on Run For Cover Records.
So Divine is their debut for Run For Cover, and it follows their 2017 self-titled first album. In our full review, Paste called So Divine, "the perfect record to listen to on headphones when you're laying in bed at night, lonely and staring at the ceiling, trying to decide what shade of white said ceiling is."
Frontman Dimitri Giannopoulos and drummer Jamie Vadala-Doran performed stripped-back, slightly different arrangements of four tracks: "Bagel Breath" and "Spaceman" from their debut LP and "Ur Real Life" and "Stray Dog" from So Divine.
Paste interviewed Giannopoulos about So Divine back in June, and he talked about his songwriting style ("A lot of the songs come from these really minor details or memories. Like, 'Why the hell does this still resonate with me now?'") and how his stint as a museum security guard influenced his lyricism.
Watch the full session below, and scroll down for Horse Jumper of Love's upcoming tour dates.
Horse Jumper of Love Tour Dates:
February
01 – Denton, Texas @ Rubber Gloves Rehearsal Studio
02 – Austin, Texas @ Cheer Up Charlies
03 – Houston, Texas @ Satellite Bar
04 – New Orleans, La. @ Gasa Gasa
06 – Orlando, Fla. @ Will's Pub
07 – Tampa, Fla. @ Hooch and Hive
08 – Saint Augustine Shores, Fla. @ Sarbez!
09 – West Columbia, S.C. @ New Brookland Tavern
10 – Richmond, Va. @ The Camel
11 – Baltimore, Md. @ Joe2
March
23 – Phoenix, Ariz. @ Lunchbox Prints
24 – San Diego, Calif. @ Soda Bar
25 – Los Angeles, Calif. @ The Hi Hat+
26 – San Francisco, Calif. @ Milk Bar
27 – Reno, Nev. @ The Holland Project+
31 – Seattle, Wash. @ The Vera Project
April
02 – Portland, Ore. @ Polaris Hall+
03 – Missoula, Mont. @ Hockey House+
06 – Denver, Colo. @ Lost Lake Lounge
07 – Omaha, Neb. @ Reverb Lounge+
08 – North Kansas City, Mo. @ The Rino+
09 – Chicago, Ill. @ Beat Kitchen+
10 – Fort Wayne, Ind. @ The Brass Rail+
11 – Gambier, Ohio @ Kenyon College+
(+ w/ Strange Ranger)