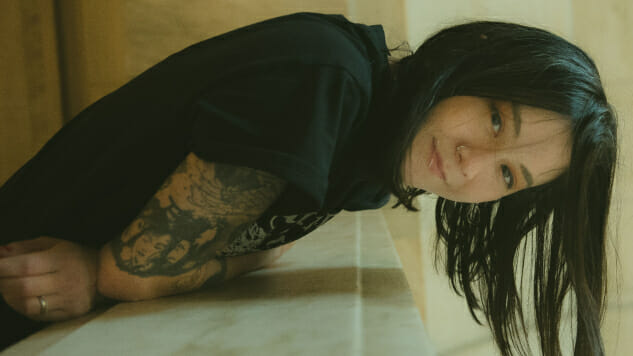 Michelle Zauner has released her newest track as Japanese Breakfast, a sublime, deconstructed cover of "Head Over Heels."
Zauner's take on the Tears for Fears hit is fragile and magnetic. Her soft vocals lilt over and melt into warm, twilight keyboards, lingering as she breathlessly leads into a glum, reverberating chorus. Curt Smith, co-founder of Tears for Fears, calls the recording a "beautiful, ethereal reimagining" of the original in a statement.
"Head Over Heels" is Zauner's second single released via W Records, an imprint from W Hotels Worldwide, preceded by the spacey, frigid delight "Essentially." A portion of proceeds from both tracks will go towards the American Civil Liberties Union (ACLU).
W Records released a mini-documentary about Zauner's collaboration with the label alongside the new release, which you can watch down below beneath the cover.
W Hotels Worldwide launched their imprint label last year to help launch and support emerging artists, and Zauner was the last artist to join W Records' roster in its debut year, which also includes Amber Mark, Perfume Genius and Roosevelt.
Zauner cannot sit still. The musician spent a hefty chunk of 2018 on the road as Japanese Breakfast, but she continues to keep busy as a videogame composer, prolific music video director (think: Jay Som, Charly Bliss, Phoebe Bridgers and Conor Oberst) and memoirist. Zauner's debut memoir of her early childhood, titled Crying in H-Mart, will be released via Knopf at an undisclosed date. An excerpt from the book was published in The New Yorker late last year.
Listen to Zauner's cover below, watch her W Records mini-doc further down, hear Tears for Fears perform a "Broken / Head Over Heels" medley circa 1983 beneath that and revisit our 2017 interview with the artist here.