Watch Jay Som's Joyous "The Bus Song" Video, Directed by Michelle Zauner of Japanese Breakfast
Image via Polyvinyl Records
Music
News
Jay Som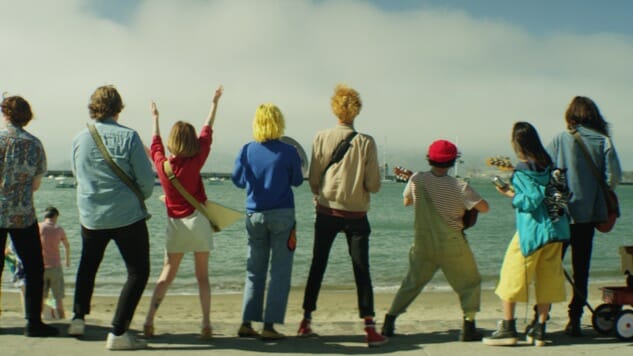 Jay Som's breakout album Everybody Works remains one of the year's very best, and now the singer, songwriter, multi-instrumentalist and producer has shared the video for lead single "The Bus Song" (which also happens to number among the year's best songs). The clip was created in partnership with Amazon Originals, directed by Michelle Zauner of Japanese Breakfast and produced by House of Nod, and it's a sure bet to put a smile on your face.
"The Bus Song" follows Melina Duterte as she gallivants around her hometown with her band members, friends and fellow Bay Area musicians, including Plush, Future Shapes and No Vacation. It's an utterly charming and carefree clip, with Duterte and company handing out instruments to strangers and recruiting them into their traveling band, serenading a dog in a window and performing in the middle of San Francisco's iconic Lombard Street.
Duterte recalled the experience of shooting the video in a statement:
Michelle directing this video was honestly such a dream come true. I'm already honored to call her a friend and past tourmate, so watching her in action in another field of work left me awestruck and so inspired. What made the video even more special was filming it in both Oakland and San Francisco with an ensemble cast of friends/non-actors. It feels like a time capsule of sorts—a goofy reminiscence and portrayal of the Everybody Works album period.
"I adore Melina so much, she's like a little sister to me, my baybee," said Zauner, slyly referencing another phenomenal Jay Som song. "When she asked if I would direct her next music video I was over the moon." Zauner elaborated on her vision for "The Bus Song" thusly:
I worked on the video with Adam Kolodny, my Director of Photography who has shot all the Japanese Breakfast videos. It was important to me to really try to showcase Melina's infectious charm and sense of humor. There is something just so lovable about her, it was great to try to capture her in her element, surrounded by her friends. The video feels like a love letter to the bay area.
It was also important to me to focus on all the dynamic shifts in the song. It has a huge arrangement, all instruments Melina played, and I wanted to make something that really drew attention to that. An ensemble cast, lots of color, captured in a lot of wides and lateral tracking shots really helped us amplify those dynamics and showcase our locations.
Jay Som is currently touring, and Everybody Works is out now via Polyvinyl—you can stream it here or buy a copy here. As Zauner alluded to above, Duterte wrote, recorded, played and produced the entire album herself, and the results are wonderful.
Watch "The Bus Song" below, find Jay Som's tour dates further down, revisit our Best of What's Next write-up on Duterte here and experience a day in the life of Michelle Zauner here.
Jay Som Tour Dates:
October
18 – Sacramento, Calif. @ Harlow's $
19 – Santa Cruz, Calif. @ The Catalyst *
20 – San Francisco, Calif. @ Great American Music Hall $
26 – Portland, Ore. @ Doug Fir Lounge & [SOLD OUT]
27 – Portland, Ore. @ Doug Fir Lounge & [SOLD OUT]
28 – Seattle, Wash. @ The Showbox &
30 – Salt Lake City, Utah @ Urban Lounge &
31 – Denver, Colo. @ Bluebird Theater &
November
02 – Minneapolis, Minn. @ First Avenue &
03 – Chicago, Ill. @ Thalia Hall & [SOLD OUT]
04 – Detroit, Mich. @ Magic Stick &
05 – Columbus, Ohio @ Ace of Cups
06 – Bloomington, Ind. @ The Bishop
07 – Grinnell, Iowa @ Grinnell College
($ – w/ Palehound)
(* – w/ Never Young)
(& – w/ Alvvays)