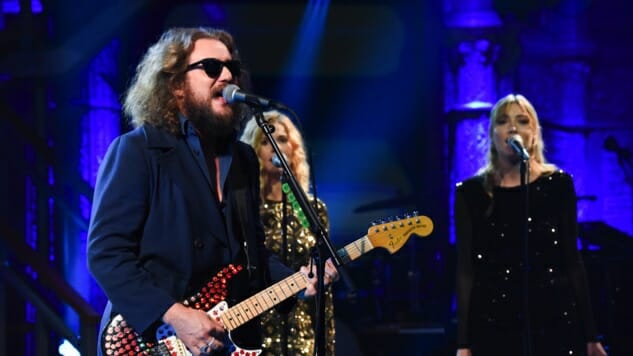 The always-elusive Jim James stepped out on Wednesday to play his newest single, the walloping psychedelic rock track "Just A Fool," on The Late Show with Stephen Colbert. Clad in his usual getup of sunglasses and an ankle-length trench coat, the My Morning Jacket frontman's performance was bolstered when the screen turned black-and-white (we're guessing a producer at CBS thought that would be a nice touch). The noir film did add an extra layer of swagger, and there were also some nifty screen transitions at play. You can watch the entire performance below.
James is once again stepping out on his own—his newest album, Uniform Distortion (out June 29 on ATO Records), is a follow-up to his 2017 solo projects, two covers collections called Tribute To and Tribute To 2. Before that, he released his second album, Eternally Even, which is home to his solo hits "State of the Art – A.E.I.O.U." and "Here In Spirit."
You can watch James on Colbert below. You can also listen to My Morning Jacket playing a 2011 show from the Paste Cloud further down.