Joanna Sternberg Takes a Seat at the Piano on New Single "Mountains High"
The New York folk singer/songwriter's sophomore LP, I've Got Me arrives on June 30 via Fat Possum Records
Photo by Shervin Lainez
Music
News
Joanna Sternberg
Last month, NYC singer/songwriter Joanna Sternberg announced their sophomore LP I've Got Me by releasing the title track. It was a warm, Bukowski-inspired folk song that rang in like a laundry list of self-care reminders. Sternberg taps into what makes artists like the Moldy Peaches and Daniel Johnston still so revered: They crafted all of their own visuals for their albums and songs, and their lyrics signal empathetic, curious gazes upon the lands they rambled across and the people they met and fell in love with all the same.
Likewise, Sternberg is a natural balladeer, attempting to understand how their interactions with others fit in with the world around them. In turn, on new single "Mountain High," they step away from their guitar and perform a solo medley of introspection on the piano. It's a powerful, honest emblem of one person attempting to spin self-doubt into hope and growth. "I once loved someone and now they don't remember my name / I loved them badly although I know they didn't feel the same / It's not their fault, the fault was all mine / I'm trying to feel better, sometimes I feel fine," Sternberg sings.
"I wrote this song when I was trying to do the following things all at once in NYC: Be a freelance visual artist, be a freelance double bassist, be a singer, be a songwriter, babysit, work at elementary schools teaching comics and teach private lessons for songwriting, piano and double bass. The song is about being so busy and so tired while schlepping around NYC and anxiously obsessively ruminating!" Sternberg explains about the track.
Watch the lyric video for "Mountains High" and check out the I've Got Me album artwork, tracklist and Sternberg's upcoming tour dates below.
I've Got Me album artwork: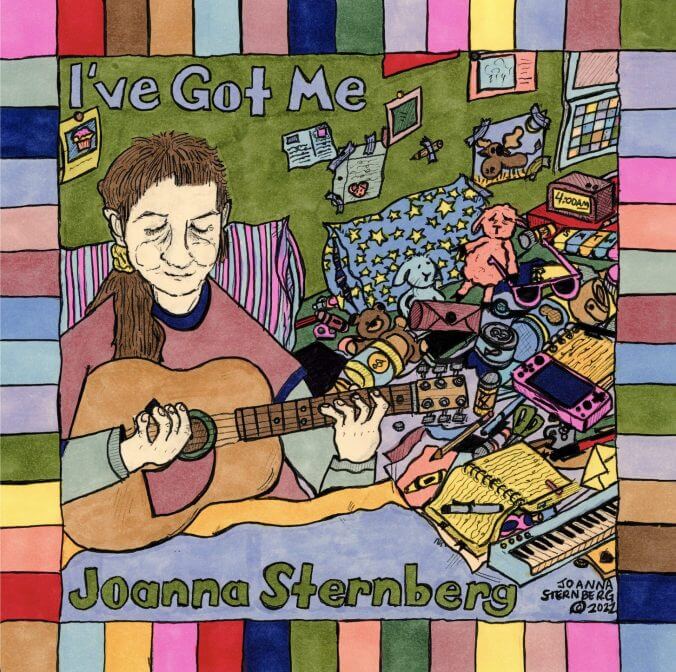 I've Got Me tracklist:
I've Got Me
I Will Be with You
People Are Toys to You
Drifting on a Cloud
Mountains High
I'll Make You Mine
Stockholm Syndrome
Right Here
The Love I Give
She Dreams
The Human Magnet Song
The Song
Joanna Sternberg's Upcoming Tour Dates:
4/21: – Boston, MA @ Cafe 939
4/22 – Northampton, MA @ Bishop's Lounge
4/27 – Wayne, PA @ 118 North
4/28 – Washington, D.C. @ Comet Ping Pong
4/29 – Nashville, TN @ Blue Room (Third Man)*
6/30 – Brooklyn, NY @ Public Records
12/3 – Chicago, IL @ Thalia Hall^
12/5 – Louisville, KY @ Headliners Music Hall^
12/6 – Nashville, TN @ Brooklyn Bowl^
* Supporting Country Westerns
^ Supporting Angel Olsen