Josh Homme Dropped From BBC Children's Show After Kicking Photographer
Photo via BBC
Music
News
Josh Homme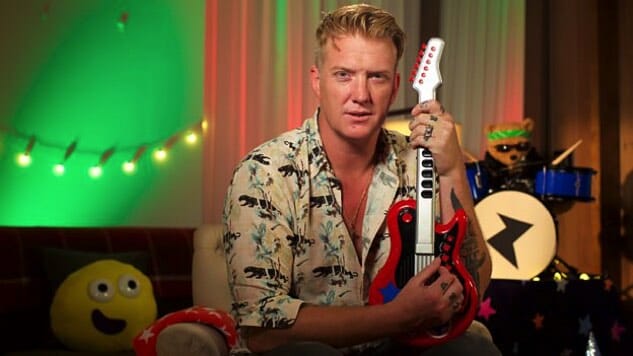 Queens of the Stone Age frontman Josh Homme shot a handful of segments for Bedtime Stories, a show that airs on BBC children's channel CBeebies. However, in the wake of Homme having kicked concert photographer Chelsea Lauren in the face—which he first claimed was an accident, then offered a sincere apology for—a CBeebies spokesperson now tells The Telegraph that the channel will not air any remaining episodes featuring Homme for the foreseeable future.
Homme had pre-recorded three Bedtime Stories, one of which aired in early October. The other two will not be broadcast on CBeebies "until the matter is resolved," the spokesperson said, adding, "we won't broadcast any new material or re-broadcast his previous story."
Other pop-culture figures who have appeared on Bedtime Stories include Tom Hardy, Chris Evans, James McAvoy, David Hasselhoff, Damian Lewis, David Tennant, Warwick Davis, Jessica Ennis-Hill, Guy Garvey, Emilia Fox, Tim Peake, Nadiya Hussain and Maxine Peake.
In his second apology, Homme spoke to Lauren directly, saying, "I don't have any excuse or reason to justify what I did. I was a total dick, and I'm truly sorry, and I hope you're okay." He later added, "I'm gonna have to figure out some stuff, I think. Because rock 'n' roll's a wonderful thing. It's supposed to save and help people, not mess 'em up."
Queens of the Stone Age recently released their acclaimed seventh album, Villains.