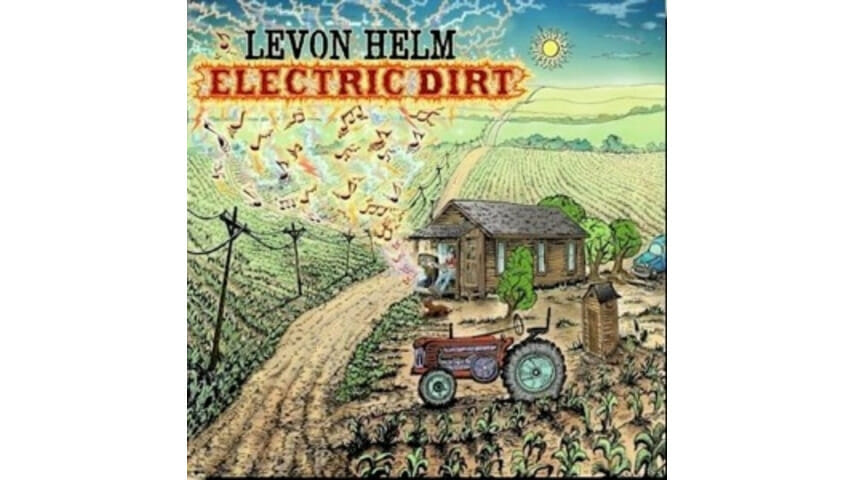 Helm cultivates the soil of his roots to create an intimate, well-crafted record
Listen to Levon Helm's "Tennessee Jed" from Electric Dirt here.
Electric Dirt
is, essentially, an addendum to the critically acclaimed
Dirt Farmer
, with Helm's reverence for the soil an influence both lyrically and musically. The rural, pure, gospel-meets-banjos-meets-trumpets sound of the record is irrevocably essential Helm, yet the soulful songsmith manages to avoid repetition in his new album. Instead, he digs deeper into the dirt he farmed in 2007 to create a poetic, impassioned exhibition of song craftsmanship.
Helm's sinewy spin on the Grateful Dead's "Tennessee Jed" starts the album off, setting the tone for a record that swings back and forth from soulful gospel to swaggering blues. Helm tinges old folk tunes, like Happy Traum's "Golden Bird," with a dash of rootsy rusticity, and his leathery voice adds a beautifully threadbare weight to the song. But Helm's ability to seamlessly switch gears is apparent throughout the record—the mood immediately changes with "Stuff You Gotta Watch," a knee-slapping, jangling tune that, despite its bluesy origins, will likely make you want to boogie.
The throaty warble that characterizes the vocals of former Band member Levon Helm in his recent records wasn't always quite so weathered. After being diagnosed with throat cancer in 1998, Helm's voice took on a huskier tone—yet it seems to fit in perfectly with the earthy, homespun feel of
Electric Dirt
. On his new album, Helm continues on the trail of 2007's
Dirt Farmer
, crafting humble songs that voice Helm's love for the land without ever sounding archaically dusty.