Watch Miley Cyrus, Mark Ronson and Sean Ono Lennon Perform "Happy Xmas (War Is Over)"
Images courtesy of Vevo
Music
News
Miley Cyrus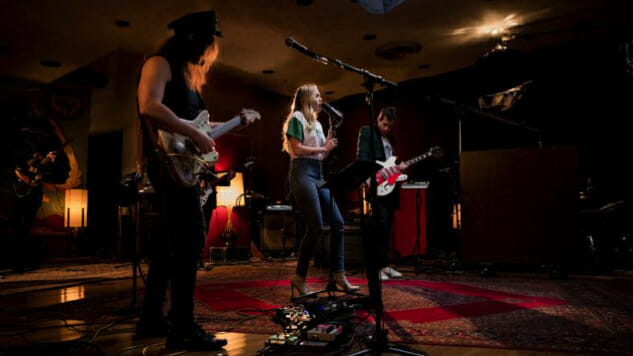 The dynamic trio of Miley Cyrus, Mark Ronson and Sean Ono Lennon joined forces to perform Plastic Ono Band's "Happy Xmas (War Is Over)" at Electric Lady Sound Studios, sharing a video of the special performance via Vevo.
Performing at the historic Greenwich Village, New York City studio built by Jimi Hendrix and John Storyk, recent collaborators and RCA label-mates Cyrus and Ronson—who recently teamed up on "Nothing Breaks Like a Heart," the lead single and title track from Ronson's forthcoming collaborative album—were fittingly joined for "Happy Xmas" by Sean Ono Lennon on guitar and backing vocals, delivering an update on John Lennon and Yoko Ono's oft-covered 1971 holiday single. The trio also performed the song on this past weekend's Saturday Night Live.
Side note: If you like the T-shirt Cyrus is wearing in today's new video, you can get your own: The limited-edition "War Is Over" shirt is available here, with a portion of artist proceeds benefitting Lennon and Ono's Spirit Foundations.
Watch the new video (dir. Micah Bickham) below, followed by the trio's SNL performance. You can stream their rendition of "Happy Xmas" here.