Founding Motörhead Guitarist "Fast" Eddie Clarke Dead at 67
Image via Eagle Vision USA/YouTube
Music
News
Motörhead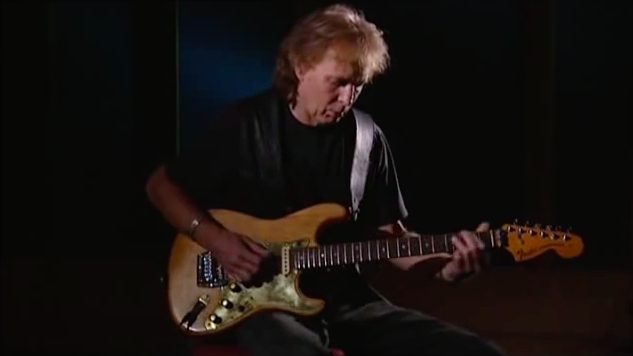 "Fast" Eddie Clarke, the last surviving member of Motörhead's original lineup, died on Wednesday at the age of 67. The band announced in a post on their official Facebook page that Clarke passed away peacefully after being admitted into the hospital and treated for pneumonia. Former drummer for the band Mikkey Dee wrote on Facebook:
Oh, my fucking God, this is terrible news, the last of the three amigos, I saw Eddie not too long ago and he was in great shape. So this is a complete shock. Me and Eddie always hit it off great. I was looking forward to seeing him in the U.K. this summer when we come around with the [Scorpions] … Now Lem and Philthy can jam with Eddie again, and if you listen carefully I'm sure you'll hear them, so watch out!!! My thoughts go out to Eddie's family and close ones.
Clarke is the third Motörhead member to pass away recently, following the loss of Motörhead lead singer Lemmy Kilmister from cancer in 2015 and drummer Phil "Philthy Animal" Taylor that same year. Phil Campbell, who replaced Clarke after he left the band in '82, wrote, "Just heard the sad news that Fast Eddie Clarke has passed away. Such a shock, He will be remembered for his iconic riffs and was a true rock n roller. RIP Eddie."
Born Oct. 5, 1950 in London, Clarke began to play the guitar seriously at the age of 15. He formed Motörhead along with Kilmister and Taylor in 1977, serving as the band's guitarist throughout classic album's like Overkill, Ace of Spades and No Sleep 'til Hammersmith. As the band's popularity grew, Clarke became a key player in developing their iconic fast-metal sounds and aggressive riffs. Clarke left the band in 1982 after the release of Iron Fist due to creative differences in the direction that the band was headed.
After leaving Motörhead, Clarke founded the band Fastway, whose self-titled debut album was released in 1983. The band achieved moderate success with their singles "Easy Livin'" and "Say What You Will," charting high on Billboard's mainstream rock chart. His most recent solo album Make My Day: Back To Blues was released in 2014, returning the artist to his blues roots with the help of Bill Sharpe of Shakatak on the keys.
While Clarke cut ties with Motörhead, the band still sees him as an integral part of who the band became. Losing the last remaining member of the original group is sure to be a blow to the band's surviving members. Nevertheless, the band keeps pushing on in this dark time, ending their Facebook post with a message only true rock 'n' rollers could ever understand:
Fast Eddie…keep roaring, rockin' and rollin' up there as goddamit man, your Motörfamily would expect nothing less!!!
RIP FAST EDDIE CLARKE 5th October 1950 – 10th January 2018
Read the band's full Facebook post here and listen to a 1983 Motörhead performance from the Paste Cloud below.