Sylvan Esso's Amelia Meath Reunites Mountain Man for First New Album in Almost a Decade
Image via Nonesuch Records
Music
News
Mountain Man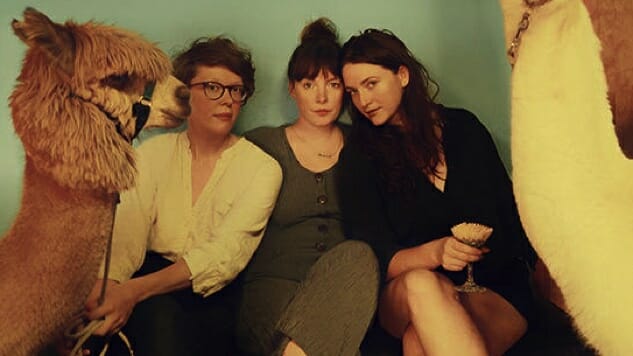 Amelia Meath and her husband Nick Sanborn have put out two very good albums as Sylvan Esso. But before Meath started making festival-favorite electronic dance-pop, she was a member of female vocal trio Mountain Man.
Also featuring Molly Sarlé and Alexandra Sauser-Monnig, the Vermont natives put out their bare-bones acoustic debut, Made The Harbor, in 2010. The group then stepped back into the shadows as its members broke off onto opposite coasts to explore different musical paths. Then, as though the indie-folk powers that be commanded it (really, Meath and Sauser-Monning convinced Sarlé to move closer to them), they all found themselves in North Carolina, where their effortless harmonies could roll down the mountainside once more.
Last year, Mountain Man reunited for a set at Justin Vernon's Eaux Claires festival and now they've announced a follow-up album to their excellent debut. Magic Ship is out on Sept. 21 via Nonesuch Records and ahead of its release, they've shared the first three songs; "Window," "Rang Tang Ring Toon" and "Stella."
The tracks pick up right where Made The Harbor left off, as if no time had passed in between, with all three showcasing how well the singers' voices work together. "Window" is a 55-second a capella track to ease you into the record. "Rang Tang" features simple fingerpicking, allowing the vocals to carry the song. "Stella" is another a capella track on which Meath takes the lead over hummed harmonization. Listen to all three songs below.
Magic Ship is the culmination of two recording sessions in Meath's home studio: "These songs distill eight years of experience between Made The Harbor and now—of sights seen, pleasures had, feelings hurt, forgiveness extended. These tunes are wise and tender, open and honest," the band's website explains. You can check out the full setlist and watch a Mountain Man performance of Sylvan Esso's "Play It Right" from the Paste archives down below.