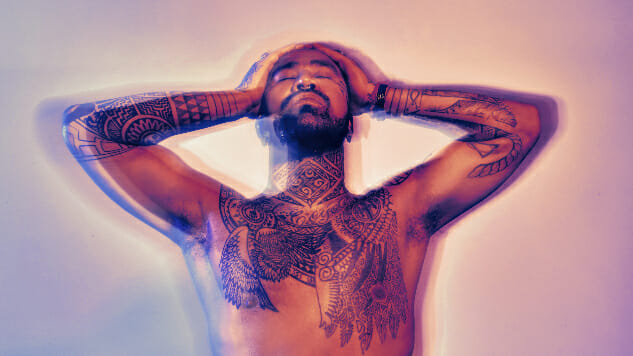 Nahko and Medicine for the People have returned with a new single, "Lifeguard," from their forthcoming record set for release next year. The song, premiering exclusively at Paste today (Oct. 31), uses the traumatic experience of almost drowning to point towards the changes of which frontman Nahko Bear believes society needs to be aware.
Bear holds an uncommon cultural identity that consists of Puerto Rican, Filipino and Apache ancestry, though he was adopted and raised in Portland's suburbs after being adopted at birth into a conservative Christian family. Because of his eclectic background, Bear considers himself a man of the earth, rather than falling into a specific cultural identity. This conviction can be found across his music, as he often focuses on global identity and environmental themes.
"Lifeguard" opens with an upbeat, pensive rhythm that sets the tone for the resonant message to follow—one in which a shifting world becomes a platform for self-reflection. When Bear enters, his voice becomes the central presence as he sings with authority on the developments he sees unraveling before him. Before the song flowers into a joyous chorus, Bear sings, "The world's about to shift again / And we'll never be the same."
Bear explains the lyrical inspiration of "Lifeguard" as coming from his need to discover the altruism within himself and share it with others:
The altruistic motto "Give what you can, take what you need" rings true in the sentiment here. What if more of us held ourselves responsible for unlearning colonialism and took capitalism's bullying more personal? That's what "Lifeguard" is for me, a reflection of oneself within the chaos. As I evolve, so does my sound and with this first single we debut a mature production and a timely message for the world.
You can watch the lyric video for "Lifeguard" and Nahko and Medicine for the People's 2018 Paste session below, and find their upcoming tour dates further down.
Nahko And Medicine for the People Tour Dates:
November
07 – Las Vegas, Nev. @ Brooklyn Bowl *
08 – Salt Lake City, Utah @ The Depot *
09 – Denver, Colo. @ Mission Ballroom *
11 – Flagstaff, Ariz. @ Orpheum Theater *
12 – Phoenix, Ariz. @ The Van Buren *
14 – San Diego, Calif. @ The Observatory North Park +
15 – Los Angeles, Calif. @ The Fonda Theatre +
16 – Los Angeles, Calif. @ The Fonda Theatre +
17 – San Francisco, Calif. @ The Warfield +
18 – Arcata, Calif. @ Van Duzer Theatre +
20 – Tacoma, Wash. @ The Spanish Ballroom +
21 – Seattle, Wash. @ Showbox Sodo +
22 – Vancouver, B.C. @ Commodore Ballroom +
23 – Portland, Ore. @ McMenamins Crystal Ballroom +
24 – Portland, Ore. @ McMenamins Crystal Ballroom +
(+ – Support from Nattali Rize)
(* – Support from Ayla Nereo)