Nap Eyes Share New Single "So Tired" from Their Forthcoming Album Snapshot of a Beginner
Images courtesy of Alex Blouin & Jodie Heartz, Jagjaguwar / Royal Mountain
Music
News
Nap Eyes
Canadian indie-rock band Nap Eyes share the single "So Tired," the opening track from their forthcoming album Snapshot of a Beginner, which is out March 27 via Jagjaguwar / Royal Mountain.
This is the second song released so far from Snapshot of a Beginner, the first being the lead single "Mark Zuckerberg," which is much less robotic than its namesake. "So Tired" is a bit slower and more introspective, but eventually finds a distinct groove amid the anxiety conveyed in the lyrics.
"The 'So Tired' refrain marks a slight shift in perspective and its meaning is twofold," says frontman Nigel Chapman in a statement. "For one, I get frustrated sometimes by what the world seems to require for success at a given task (for example, polished songwriting, coherent and understandable communication), so part of this is just me venting on this subject. Sometimes I would rather flow with free writing than try to box songs into rehearsed, many-times-repeated containers."
"So Tired" was written in an improvised recording session and then further fleshed out by the band, which isn't an out-of-the-ordinary practice for Nap Eyes. The band have long crafted songs through 20-minute voice and guitar freewriting sessions from Chapman, which result in longer collaboration from the band members afterwards.
"At times I find myself wishing people would not hold so many preconceptions about the things in this world a given person might try to communicate," Chapman continues. "Most of us, myself included, usually assume we already know a lot—even about things we've spent very little time thinking about—and because of this attitude, people are often predisposed to misunderstand new ideas, even when they're communicated in straightforward and coherent ways. But there's no doubt, an idea won't ever get through until there's someone around to listen to it."
Watch the lyric video for "So Tired" below, then check out the North American and U.K. tour dates for the band along with the details of Snapshot of a Beginner.
Snapshot of a Beginner Album Art: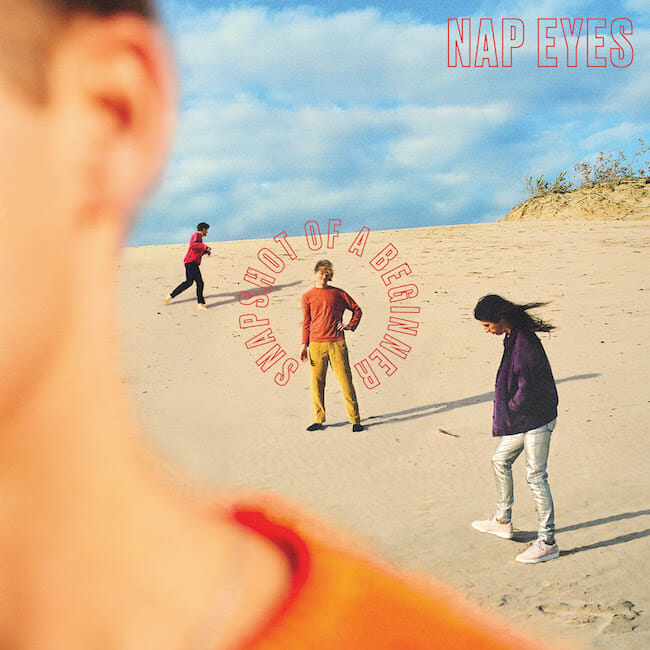 Snapshot of a Beginner Tracklist:
01. So Tired
02. Primordial Soup
03. Even Though I Can't Read Your Mind
04. Mark Zuckerberg
05. Mystery Calling
06. Fool Thinking Ways
07. If You Were In Prison
08. Real Thoughts
09. Dark Link
10. When I Struck Out On My Own
11. Though I Wish I Could
Nap Eyes Tour Dates:
March
04 – Toronto, Ont @ Opera House %
05 – Montreal, Que. @ Theatre Fairmount %
06 – Boston, Mass. @ The Sinclair %
07 – New York, N.Y. @ Brooklyn Steel %
08 – Philadelphia, Pa. @ Underground Arts %
09 – Washington, D.C. @ Black Cat %
11 – Carrboro, N.C. @ Cat's Cradle %
12 – Atlanta, Ga. @ Terminal West %
13 – Nashville, Tenn. @ Mercy Lounge %
14 – St. Louis, Mo. @ Blueberry Hill %
15 – Omaha, Neb. @ The Waiting Room %
16 – Denver, Colo. @ Bluebird Theater %
17 – Salt Lake City, Utah @ Urban Lounge %
19 – Seattle, Wash. @ Neumos %
20 – Vancouver, B.C. @ Vogue Theatre %
22 – Victoria, B.C. @ Lucky Bar (tickets)
25 – Portland, Ore. @ Doug Fir Lounge (tickets)
27 – San Francisco, Calif. @ Cafe Du Nord (tickets)
28 – Los Angeles, Calif. @ Bootleg Bar (tickets)
29 – San Diego, Calif. @ Casbah (tickets)
30 – Phoenix, Ariz. @ Valley Bar (tickets)
April
01 – Austin, Texas @ Barracuda (tickets)
02 – Dallas, Texas @ Three Links (tickets)
04 – Kansas City, Mo. @ The Riot Room (tickets)
05 – Urbana, Ill. @ Rose Bowl Tavern (tickets)
06 – Columbus, Ohio @ Rumba Cafe (tickets)
15 – London, U.K. @ The Moth Club
16 – Liverpool, U.K. @ Leaf
17 – Glasgow, U.K. @ The Hug and Pint
18 – Leeds, U.K. @ Hyde Park Book Club
19 – Birmingham, U.K. @ Hare and Hounds
20 – Brighton, U.K. @ The Hope & Ruin
22 – Paris, France @ Le Point Ephemere
23 – Brussels, Belgium @ Volta
24 – Rotterdam, Netherlands @ V11
25 – Utrecht, Netherlands @ Ekko
August
20-23 – Libanus, U.K. @ Green Man