10 New Albums to Stream Today
Photos by George Salisbury, Bao Ngo, Jerritt Clark/Getty
Music
Lists
New Albums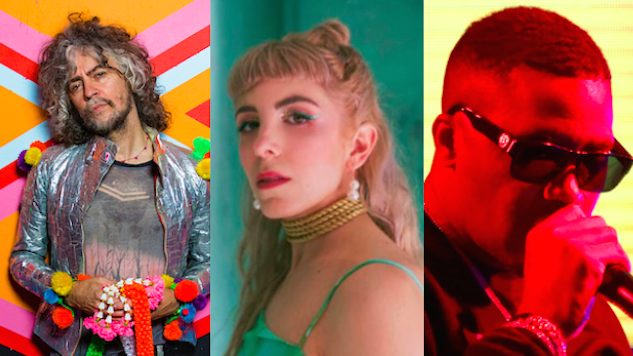 Below we've listed 10 of this week's most essential album releases along with nifty streaming links. Highlights include a collection of unreleased Nas material titled The Lost Tapes 2, a weird new album from The Flaming Lips, which features Clash guitarist Mick Jones, plus the debut album from Saddle Creek's new signing Ada Lea. Scroll down to listen to 10 new albums released today (July 19).
1. Ada Lea: what we say in private
There's no mistaking Ada Lea's debut for anything but a break-up album, but the Montreal singer (real name: Alexandra Levy) manages to navigate around the most obvious tropes of the genre, powering through the heartache without wallowing in it or being unduly cruel. Much of what we say in private is low-key and even hushed as Levy focuses more on reinvention than recrimination, as if she is determined to emerge from her pain a stronger, more self-assured person, and not a bitter one. —Eric R. Danton
2. Freya Ridings: Freya Ridings
Thanks to Ridings' striking vocal instrument, "Lost Without You" became one of 2018's top 20 most downloaded songs in the U.K. and the biggest hit from a new British female artist. The singer-songwriter's debut LP combines six previously released singles and six new offerings. It includes a mix of sedate, minimalist ballads and pop songs that build volume around Ridings' voice and piano with copious strings, backup harmonies, drums and handclaps. —Annie Galvin
3. Generationals: Reader as Detective
Honing in on electro-pop tones, Ted Joyner and Grant Widmer, better known as Generationals, blend crafty lyricism with catchy pop hooks on Reader As Detective. Sonically exploratory, tracks like "Breaking Your Silence" hinge on the nuances of Ra Ra Riot or even The Killers, while "I Turned My Back on the Written Word" is steeped in more experimental nuances from bands like Yeasayer or STRFKR. Reader As Detective is filled with earworm after earworm with an unconventional twist unique to Generationals. —Molly Schramm
4. Goon: Heaven is Humming
Los Angeles-based lo-fi rockers Goon have range, damn it. Their debut album Heaven Is Humming aims to bring two forces together: Pixies' scuzz and Boards of Canada's sun-bleached nostalgia. Frontman Kenny Becker wrote the collection while suffering from a chronic sinus condition that often dulls his senses, even requiring surgery. "People like to romanticize the periods in which, for example, someone like Van Gogh was suffering, but it was actually because he was sick that he would go outside and see a cherry blossom tree and be struck by its beauty," Becker says. —Drew Novak
5. Hunny: Yes. Yes. Yes. Yes. Yes.
HUNNY's debut album Yes. Yes. Yes. Yes. Yes. is filled with pouty '90s-inspired pop. Its standout track, the moody, lovesick "Saturday Night," finds vocalist Jason Yarger gushing about being in love and dreaming of staying in with his dream girl to watch reruns of My So-Called Life over clean, blinking synths and splashes of hurried guitars. —Savannah Sicurella
6. Nas: The Lost Tapes 2
Spitting rhymes since his 1994 release Illmatic, rapper Nas is back with his fifth compilation album, The Lost Tapes 2, which features production from hip-hop's best, such as Pharrell Williams, RZA, Kanye West, Swizz Beats and more. Featuring unreleased tracks from NASIR, Hip-Hop Is Dead, Untitled and Life Is Good, the 16-track album sees the rapper ebb and flow, reminding listeners of his lasting impact on the rap genre. —Molly Schramm
7. Saul Williams: Encrypted & Vulnerable
The poet, rapper, actor, playwright and incredibly important thinker's seventh release is somehow the first one he's declared to be a "spoken word" album. Williams said Encrypted & Vulnerable is "simultaneously a personal and intimately optimistic takedown on struggle, defiance, awareness, aloneness, and a takedown of heteronormative capitalistic patriarchal authoritarian politics in topics ranging from love, technology, religion, war, to migration." —Adrian Spinelli
8. Sleepwalkers: Ages
Following their 2014 debut Greenwood Shade, Ages sees Sleepwalkers delve into the sounds of the '70s and '80s, as their debut did with the nuances of the '60s. Not afraid to bend and break the constraints of genre, some tracks rely on heavy synths, whereas some give way to the edginess of a guitar. Nonetheless, each track on Ages evokes a sense of old-age nostalgia based in catchy melodies and pop production. —Molly Schramm
9. The Flaming Lips: King's Mouth
The Flaming Lips have survived for a third of a century, and Clash guitarist Mick Jones is prominently featured throughout their new album, narrating a head-scratching tale about a giant baby who grows up to be king. The world is strange sometimes. And no band has embraced that strangeness with as much enthusiasm and sheer inexhaustibility as the Lips. —Zach Schonfeld
10. Tony Molina: SONGS FROM SAN MATEO COUNTY
Tony Molina has never needed long to make an impression—his songs typically cut off after a minute or so anyways. On SONGS FROM SAN MATEO COUNTY, a rarities record the Bay Area-based Molina describes as "a bunch of songs that were supposed to come out but never did," he largely ditches the Beatles-esque acoustics of his previous two albums in favor of in-your-face power pop, complete with loads of face-melting guitar solos throughout. —Steven Edelstone